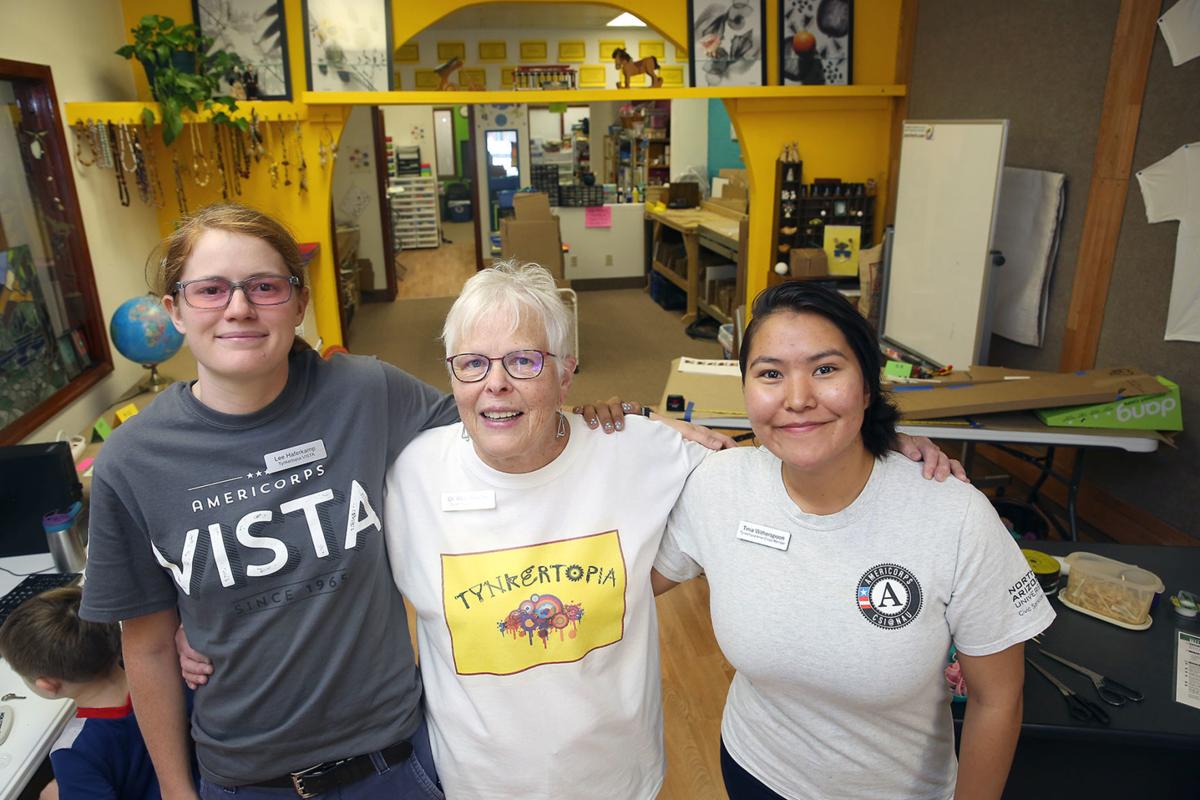 Early Saturday morning, siblings Ben and Silvia Dudine could be found carefully folding construction paper, transforming each piece into a differently shaped pillar and seeing which one would support the heaviest stack of books. One pillar was square, the other triangular and the third circular. The central question: Which shape can hold out the longest under the most weight?
The square tower collapsed with the first book and the triangle followed suit — managing to hold up two paperbacks before crumpling.
"Let's think about it for a second: When you go to famous buildings that were built a hundred years ago, what kind of columns do they have?" said Dr. Alice Christie, educational technology consultant, former teacher, professor and owner of Flagstaff's new STEAM/STEM creation space, Tynkertopia.
Both children were in agreement: "Circular."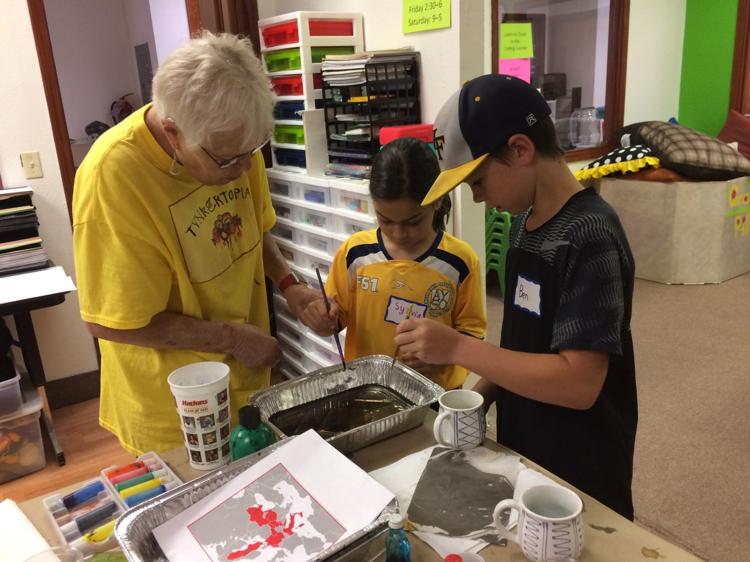 Christie is not new to fostering inquiry within students of all ages and abilities. Since her first day teaching in 1967, she has guided pupils young and old via a creative, process-based method of learning, one that is hands-on and multi-modal. In short, Christie has long utilized a teaching style that falls under today's category of STEAM (science, technology, engineering, arts and math) education.
Thus, Tynkertopia is what Christie calls a natural culmination of her experiences teaching science, as well as reading and writing for over 55 years. Christie holds a master's degree in reading education from Boston University, as well as a Ph.D. in Language and Literacy and Educational Technology from ASU; she began developing the idea for Tynkertopia a little over two years ago.
Having opened three weeks ago, the STEM- and STEAM-focused nonprofit was designed as a safe space where students, parents, teachers, artists and people of all ages can come to create.
"It's meant to place people in a problem solving mindset. To encourage independent thinking," Christie said. "And my whole focus there is creative inquiry."
Tynkertopia contains several rooms dedicated to that creative inquiry, all color-coded depending the activity and supplies therein. The first room contains bottle caps, glue, ribbons, foam, cardboard, cloth — name a supply, Tynkertopia probably has it. The next room is home to wood working tools as well as plastic hammers and wrenches for those not old enough for a real saw just yet. The end room contains a library, more crafty supplies and a television, which Christie hopes will lend itself to future guest speakers' presentations.
"A great deal of this is donated," said Christie, pointing to the "intake" room, where all items given to the nonprofit get sorted. In its first three weeks, Tynkertopia has already established a number of relationships with individuals and businesses locally who bring in materials and objects of all varieties.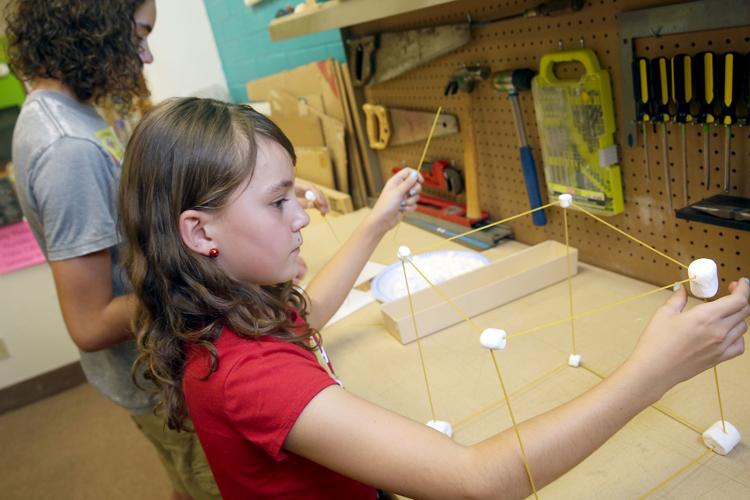 Christie also has bins set up outside of Sam's Club, Print Raven and Cedar Coffee, where she gets old medicine bottles, paper and cups, respectively. Bookmans and Killip are also among frequent donors, she said.
"With this I've been trying to build a culture of repurposing recycled materials … to get out of that mentality of waste," Christie said, pointing to a row of cardboard pre-cut by Tynkertopia employees Lee Haferkamp and Tinia Witherspoon.
With the plethora of materials Tynkertopia has to offer, including technological resources such as iPads and computers for coding workshops, those wishing to tinker can come in with their own idea, or can follow one of Christie's pre-designed workshops. And, it is completely free.
Workshops include I Can Build, made for preschool through first graders, Paper Columns for children grades 2 through 4, a liquid density rainbow experiment for 5th- and 6th-graders as well as exercises and experiments for middle schoolers, high schoolers and adults. Each exercise encourages problem-solving and trial and error — both concepts that are used frequently in engineering fields and thus adhere to the nonprofit's STEM foundation.
The rubber band ball challenge is one example:
"You're given a wide variety of rubber bands so the whole thing is choice, you figure out what tools are going to work best for you," Christie said.
Tynkertopia also took inspiration from Howard Gardner, the developmental psychologist responsible for the theory of multiple intelligences, which asserted that rather than having one intelligence -- that being reading and writing -- that there are in fact seven, among them artistic, social, scientific intelligences, which are differences in children and learners that must be honored. John Dewey, the famous 19th century education reformer who focused on ideas of pragmatism and taking learning into the realm of experimentation and democracy, is another guiding force.
Along the same lines, Christie said, "My concept for STEAM education is what I call Seven C Model," that being create, communicate, connect, collaborate, critique, contextualize and choose.
"It's an iterative circle," she said, "with the learner right in the center."
"Creating, requires communication among the people working together, which requires connection. Then comes collaboration, which is something that people are calling for in industry these days. Then Critique, which has two parts, one is that the learner can think critically, the other is that the learner can make a decision about something. Contextualize: Looking globally at an idea. And finally, choice is probably the biggest thing. I am not giving the learner a picture of what they must build, I am giving them the materials and telling them to get building."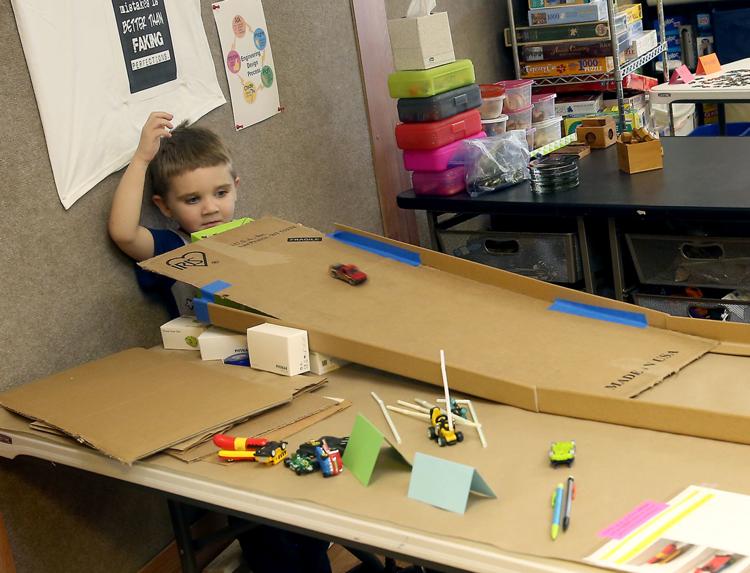 Tynkertopia is working with FUSD to coordinate field trips and it plans to host sessions for Victim Witness Services, home-school students, and the Boys and Girls Club of Flagstaff. Teachers who volunteer 10 hours receive a free field trip to the space for their class and are able to learn what a STEM education space can look like. For Christie, connecting with the community at all levels is crucial.
It is for that reason that Tynkertopia is free and open to the public.
"I felt that if I was going to serve every resident in Flagstaff, it has to be here and I do not want to exclude anyone," Christie said. In the name of accessibility Christie only scouted locations in the East Flagstaff, Sunnyside area.
"Within Flagstaff's STEM community, accessibility is so important, you know cause we have this term but not everyone can reap its benefits," said Haferkamp. Haferkamp, an NAU graduate and Americorps VISTA employee, is one of many bodies helping to keep Tynkertopia running.
As is Tinia Witherspoon, an Americorps member and student working at the nonprofit 40 hours a week while completing her junior year at NAU.
"I started out here helping with grunt work and now I'll be here full-time and paid," Witherspoon said. "I'm hoping to work with kids some way in media in film here, that's what I've done for a while now up on the reservation."
Tynkertopi's employees and volunteers represent a wide variety of ages and skillsets from biology graduates to neighbors and friends; the volunteer-base is dedicated and ever expanding while the business continues to draw newcomers and regulars alike.
"We've visited libraries, makers spaces, and community centers in 39 states, and nothing comes close to Tynkertopia," said Jodie Herr, who brought her children to the space this past Thursday. "This place is amazing. We'll be coming here regularly."
Flagstaff was officially named America's first STEM community in 2012.
"I told myself, I am going to self fund until we can apply for grants, take a leadership role in establishing a Flagstaff community center, if we are America's first Steam community we need a community center." Christie said.
The business news you need
With a weekly newsletter looking back at local history.