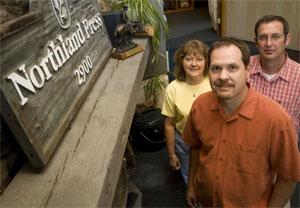 The publisher of Northland Publishing laughed off the first inquiry into selling the company in 1997.
And when Dave Jenney invested his own money to become a co-owner in the company in 2000, he said selling the company "never crossed my mind."
But Northland Publishing laid off a majority of its staff two weeks ago after reaching an agreement with a larger publishing company.
Recent successes put Northland Publishing on the radar of larger publishing companies, who are always looking for their next acquisition.
Northland's "Lasting Light: 125 Years of Grand Canyon Photography," published June 2006, received two national awards.
Gov. Janet Napolitano also brought the company's children's imprint, Rising Moon, into the public eye when she distributed copies of "This House Is Made of Mud" to every first-grader in Arizona.
Emerging as one of the region's steadfast publishers of regional and children's books, Northland Publishing's successes eventually made it an attractive target to Cooper Square Publishing.
"We did thing very well, and it was something that got us noticed," said Jenney. "In part, I think we are victims of our own success."
Bigger publishing companies are interested in buying smaller publishing companies for the libraries and intellectual properties, explained Jenney.
CHRONIC ILLNESS PLAYED ROLE
When Brian Billideau, majority owner of Northland Publishing and owner of book wholesaler Canyonland Publications, received an enticing offer from a general interest trade publisher, Jenney said he gave it serious consideration.
Billideau, who suffers from a chronic illness, eventually opted to sell the company's 150-book catalog to Cooper Square for an undisclosed amount.
Cooper Square is a joint venture company formed by Rowman & Littlefield Publishing Group and a private equity firm.
Formed this spring, the company made its first purchase earlier this year when it acquired T&N Children's Publishing's 200 titles.
Jenney said that although Northland Publishing was successful, Cooper Square has enough clout to break into overseas markets and have influence with major retail booksellers.
"They have a seat at the table," Jenney said.
NOT THE END OF HIS CAREER
But Jenney says the sale of Northland Publishing will not be the end of his career in the book publishing trade.
"I can't see myself doing anything else," said Jenney.
Northland has existing contracts with 16 authors who are in various stages of development.
Rather than include those contracts with their deal with Cooper Square, Jenney said he will help shepherd the books into publication somehow.
"No decision has been made, but they are all good books," Jenney said. "I believe they will get published."
Jenney not disclose how, but wouldn't rule out the possibility that some former employees might be tapped to help design and edit the books.
A designer by trade, Jenney might have a hand in designing some of those books himself.
Sitting in his office in the Northland Publishing office on Fort Valley Road, Jenney remembers the first day he walked into the building 25 years ago.
It was 1982 and Jenney walked in wearing Ray Ban sunglasses and Vans shoes for his first day as a design intern.
His office was across the hall from the publisher's office where Jenney believes she could keep her eye on him.
He said one of his fondest experiences was working on the "Lasting Light" book published last year by Northland.
"It was a pretty good finish for me," Jenney said.
The business news you need
With a weekly newsletter looking back at local history.