What do the Flagstaff Pulliam Airport, the Northern Arizona University Aquatic and Tennis Complex and Flagstaff Athletic Club East have in common? All three facilities are utilizing Electric Torque Machines' exclusive direct drive motors to power high volume, low speed (HVLS) fans up to 24 feet in diameter.
They are just three of the numerous international organizations utilizing this new technology, an efficient and reliable approach to powering systems needing high continuous torque without using a traditional gearbox.
The motors are typically used commercially to power fans, pumps, conveyors, exercise equipment and even kitchen appliances, but residences interested in powering similar systems have also utilized ETM's technology, such as to power large outdoor patio fans. This technology has also been used to power light electric vehicles and prosthetics.
ETM, formerly Motor Excellence, released the design for its direct drive motors in 2013, and has now spent nearly 10 years and $30 million on product development.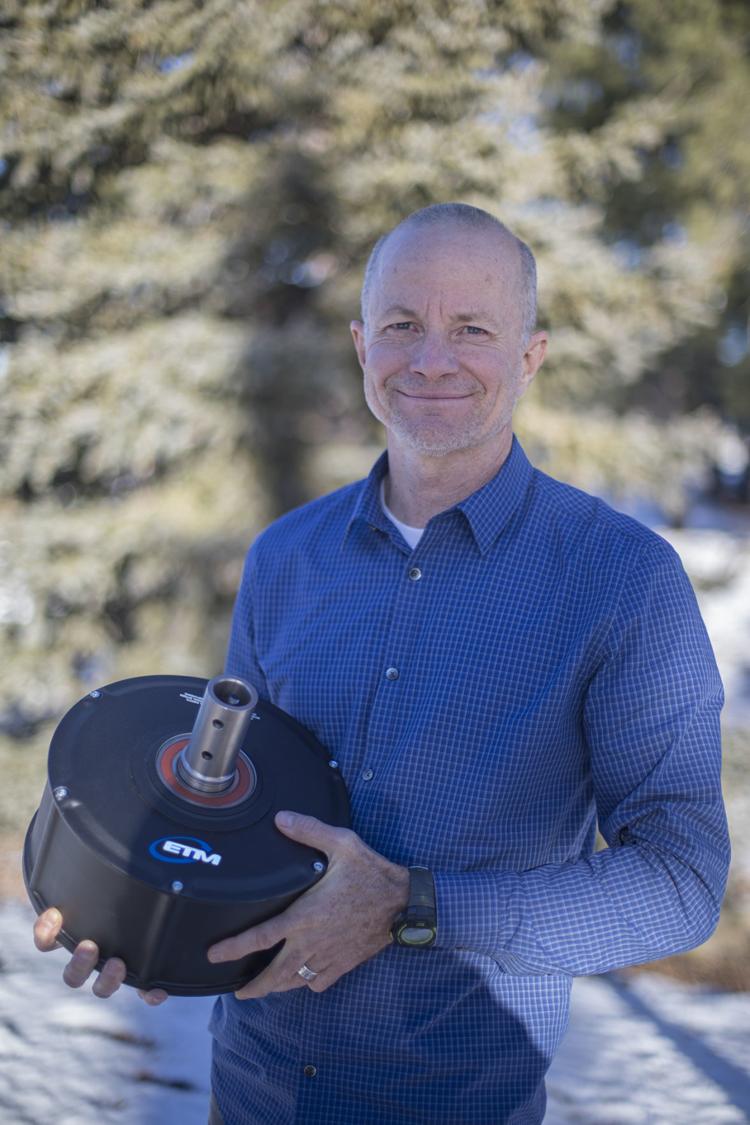 Scott Reynolds, director of engineering, said the technology is unique within its niche.
"There are a bunch of people out there working on motor efficiency, but if you focus on companies that are working on low speed efficiency, that's a small group," he said. "There are no gears and that's highly unusual. There aren't a lot of people trying to do that."
The design got its start in mechanical engineer Tom Janecek's garage, where he and a team of two others worked on an improved direct drive motor design – by removing the need for inefficient gearboxes – that became the foundation for ETM's entire range of electric motor products.
Since its start, the company now holds more than 20 United States patents and employs a team of diverse engineers, with many specializations, including electrical, mechanical and software, who further developed the product line from the ETM facility along Butler Avenue in Flagstaff. This is the headquarters for the company and the only facility in the United States.
Approximately 30 people have been hired by the company locally, mostly in the areas of engineering, manufacturing and product development, with additional employees throughout the country. ETM also has contracted manufacturing facilities and suppliers in Europe, Asia and other parts of North America.
"We're global in terms of both our product sales and manufacturing," Reynolds said. "Even though we're a smaller team here in Flagstaff, we're bigger in terms of global capability."
Locally, ETM is a graduate of the Northern Arizona Center for Entrepreneurial Technology's (NACET) Business Incubator program and is valued for its ability to provide well-paying technical jobs and reduce the environmental impact of electrical equipment like motors, which require resources like copper and aluminum – and the energy needed to spin coils made of these materials.
"It requires fewer natural resources," Janecek said. "When we use one sixth of the material to produce the same results, it has a really dramatic impact on the environment."
Tyler Williams, a mechanical engineer who has worked with the company for eight years, says ETM's products pair well with other technology, such as the fans used in various local businesses.
"We're enabling people who design things to go in a direction that wouldn't otherwise be possible," he said.
What used to weigh approximately 300 pounds and required a crane to install now weighs only 45 pounds and can be lifted easily, Janecek said of the fan motors.
"It's been a really amazing amount of work to get the technology where it is today," he said.
The motors work using ring-shaped coils surrounded by a stator iron – the stationary part of the motor. This is a much simpler and more efficient design than those of conventional motors, which have coils that wind in and out of stator teeth.
"It's a constant process of improvement," Janecek said. "Our motor's got to be better than good. It's got to be so compelling that people are willing to pay the price for it."
The true cost of this equipment is not monetary as much as it is transitional, though. Changing from the traditional to the newfound technology can be a dreaded experience for industrial equipment manufacturers; ETM is working to keep financial concerns out of the equation by focusing on price parity. To achieve commercial success, local developers will strive to replace traditional gearbox-based systems without a price difference by reducing their own equipment costs wherever possible.
Team members expect their designs – the result of local and global endeavors – will drive these efforts because of the equipment's innovative, unmatched characteristics in the direct drive motor industry.
"We figured out how to put these motors together and no one else has discovered how to do that," Reynolds said. "It's cool to know there's a company here that's moved beyond just innovation and ideals and has a commercial product in use 24/7 throughout the world."