When Absolute Bikes opened in 1989, the bike scene was very different in Flagstaff, according to Ken Lane, who founded the shop 30 years ago with two friends.
"The few trails that we had to ride were hiking or motorcycle trails," Lane said, adding that mountain bikes were just starting to gain acceptance back then. "Bike buyers often had to be convinced that a skinny tire, drop bar, 10-speed wasn't really the bike they wanted. Upright bars and wide tires made riding more fun though."
Fast forward three decades and the bikes have gotten much better, along with Flagstaff's bike lanes and trails, Lane said. In fact, Flagstaff is recognized as a Silver Level Bicycle Friendly community by the League of American Bicyclists.
"Flagstaff makes a huge effort as a community to make cycling better, but local governments could focus significantly more resources on improving cycling infrastructure," long-time manager Anthony Quintile said. "More people would ride to work if they felt safer."
In 2001, Absolute Bikes made the switch from using paper and pencil for bookkeeping, payroll, taxes and ordering to using a computer.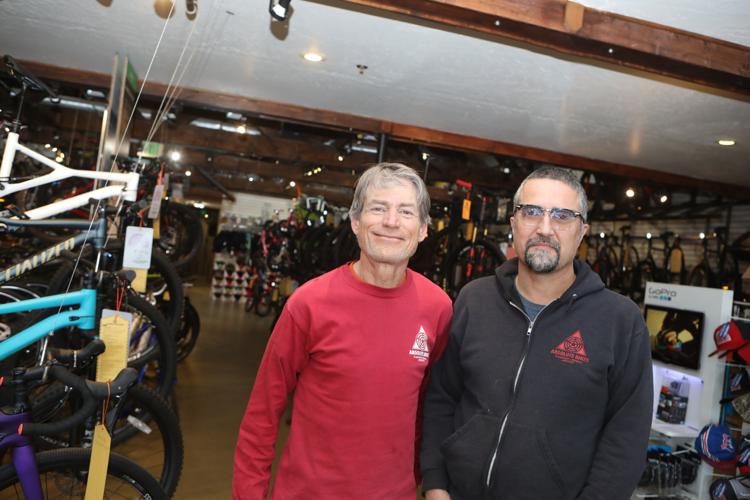 "Bike mechanics now need to understand and service oil damped, nitrogen charged, air sprung suspension; electronic shifting and computer controlled battery assist e-bikes. In 1989, that all would have seemed mind boggling," Lane said.
E-bikes have really taken off in the past few years, Quintile said, adding that although the electric motor assists the rider as they pedal, the rider remarkably ends up getting more exercise out of them than standard mountain bikes.
"Because you're getting more back than you put in, [e-bikes] encourage you to ride a little harder," he said.
Around 2003, Absolute Bikes opened its Sedona location, in which it shares products and staff. Quintile said it was in the last 10 or 15 years that mountain biking really took off in Sedona thanks to the expansion of trails and tourism.
"You can find good singletrack trails with pine trees in Flagstaff or Colorado or Oregon, but the unique backdrop of Sedona really draws people in from all over the world," Quintile said.
Before Absolute Bikes' Sedona location opened, people would come up to Flagstaff from the Verde Valley specifically to go to Absolute, he added.
You have free articles remaining.
In 2008, Absolute Bikes made the move from renting its downtown location on North San Francisco Street (now Brightside Bookshop) to purchasing the building at 202 E. Route 66. The new location provides a much larger area for the bikes to be spread out and for highly-trained staff to help customers, Quintile said.
In the last decade, management has focused on community efforts, enlisting volunteers to help with trail work and community events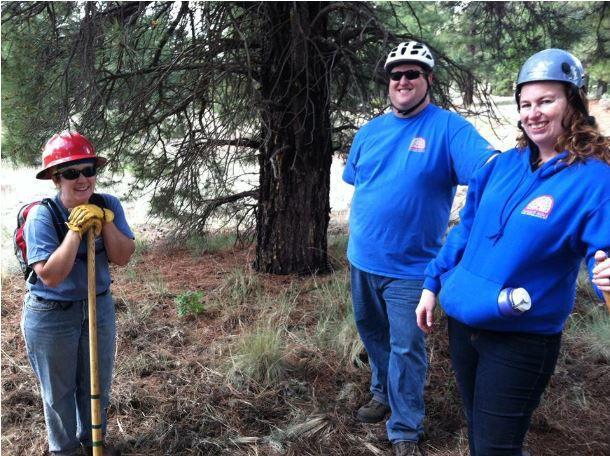 In 2016, Team Absolute Bikes volunteers spent 1,200 hours helping to fix water-damaged trails and representing the bike store at Safe Kids bike rodeos, Bike to Work Week and local race and rides. In return, volunteers received $4,000 in discounts and store credit.
"We don't really have a lot of money to donate, but we want to support cycling and our community actively. This is one way we do that," Quintile said.
Community outreach through the past few years paid off, and besides being named the only platinum-level bike friendly business in the state of Arizona by the League of American Bicyclists, Absolute Bikes was also named one of America's best bike shops by the National Bicycler Dealer Association for five years straight.
On April 13, Absolute Bikes celebrated its 30th anniversary at Flagstaff Elks Club with live music, dancing, drinks, a bounce house and birthday cake.
"We had well over 200 people show up. We got to feed and thank so many of our friends and customers," Quintile said.
In addition, a raffle at the bash raised nearly $1,700 for the Flagstaff Biking Organization Trail Fund.
So what will Absolute Bikes look like in another 30 years?
"We will be selling flying e-bikes and probably also still tuning bikes that we are selling this year," Quintile said.