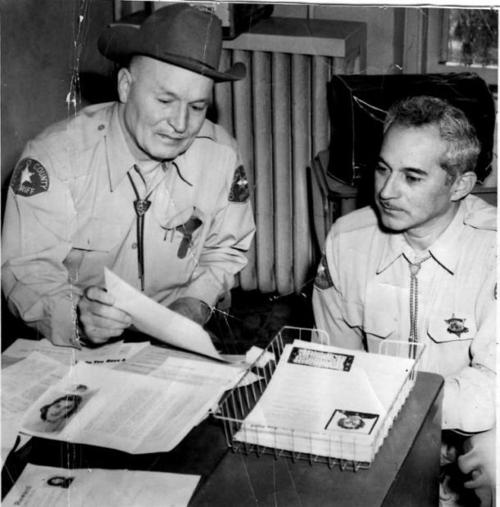 Her skeletal remains were found Oct. 31, 1958, on a little hillside off a dirt road on Skinner Ridge south of Grand Canyon National Park.
Her body was unclothed, prone. The body had been there for nine to 14 months.
The coroner's inquest, conducted while Cecil Richardson was Coconino County sheriff, has been lost to time. The name on her case file is "Little Miss X."
"But it was investigated as a homicide the whole time," said Joe Sumner, volunteer investigator for the Coconino County Sheriff's Office cold case unit.
The cold case unit is currently working on trying to solve nearly 40 cold cases in the county like the Little Miss X's. Sumner, who retired from the National Park Service in 2007 as a criminal investigator, came onto the cold case unit in 2008.
"She's never been identified," Sumner said. "This is our oldest case that's considered a homicide."
Complicating the investigation, clothes were found near the body a short time after Little Miss X's body was discovered. There was also a comb and a nail file case. The clothes did not appear to fit and the nail file case could have belonged to a young woman who went missing the same year out of Southern California named Donis "Pinky" Redman. Redman was eventually excluded. She was 15 and didn't match the physical characteristics of Little Miss X. The car of her boyfriend, Michael Griffin, was found abandoned in Williams.
Bones found in the old Flagstaff Mortuary several years ago from Williams dating back to the 1960s were thought to belong to Griffin. The bones were exhumed by the Flagstaff Police Department recently, but they were determined not to belong to Griffin.
Sumner, who said Little Miss X's case has been popular on the Internet with amateur sleuths, discovered that several young girls were reported missing at the time. Lots of hard work has gone into trying to get Little Miss X identified.
Excluded from the investigation was the case of Mary M. Begay, 20, who went missing at the South Rim in August 1957. Also excluded was the case of Connie Smith, a 10-year-old girl who went missing in Connecticut in 1952. The body, when it was exhumed in 1962, ruled out that it belonged to Smith.
To make the investigation more difficult for the cold case unit, there's a bit of a problem with securing DNA samples for a comparison in the FBI national database.
"We don't know where her body is buried," Sumner said. After the 1962 exhumation, there is no record of where Little Miss X was reburied. He said he believes it is likely back at Citizens Cemetery.
"We've combed over the old burial records of the time and haven't been able to figure out where she might be," Sumner said.
So, what's the key to the case?
"The key, of course, is getting her identified," Sumner said. "It's frustrating, It could be a case that if we do get her identified, everything else might fall into place."
The investigation, although stuck when it comes to securing a DNA sample, is still not dead. There are still detailed dental records, but they are 55 years old.
"She was well cared for," Sumner said. "Somebody was missing her at the time."
If anybody has information about this case, contact the sheriff's office cold case division at 774-4523, or visit the Facebook page.