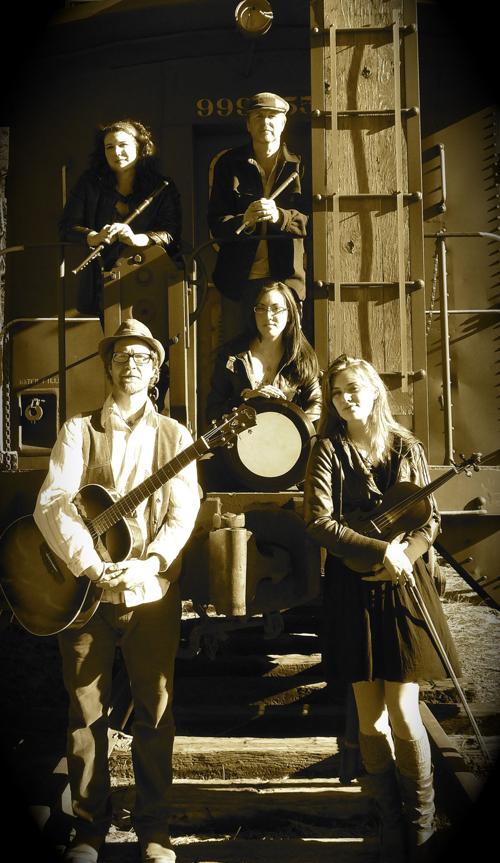 Years ago, The Knockabouts were voted "Flagstaff's best band to have a blackout with." 
"Our claim to fame is they had to shore up the mezzanine here [at the Weatherford Hotel] because of our fans," explained Jacquie McGregor, one-fifth of the Celtic band. "We were playing the Zane Grey [ballroom] and they were jumping up and down as we were playing because they were just trashed, and the bar manager had to make us stop because the floor was sagging."
"As a result, really, we saved this hotel," added her husband John.
Now, the band has earned first in the best local artist category in Best of Flag 2017. They got their start 15 years ago when they played during a St. Patrick's Day celebration for the Irish Foundation (now Celtic Society) and John and Jacquie had just barely started dating. "I wooed her with my penny whistle," John said.
While they've gained and lost members over the years, it's always been the two of them together. The current lineup is John on penny whistle, Jacquie on flute, Craig Yarbrough on guitar, Hannah Prizznick on fiddle and Jacquie's youngest sister Julianne Layton providing percussion with bodhran (a traditional Celtic frame drum) and djembe (a skin-covered goblet drum). Everyone in the band contributes vocal talent.
"We've always stuck to being very traditional," John said. "A lot of Irish and Celtic bands would start adding electric this, electric that. My philosophy was that everything goes back around and a lot of people still want traditional sounds."
Tradition aside, on what's changed through the years besides band members, Jacquie said she feels like the music component is better than it ever has been.
"Our last CD was really professionally done, whereas our first one was literally done for 50 bucks in someone's garage," she said with a laugh.
The Knockabouts' upbeat melodies have provided the soundtrack to drunken pub nights and Irish festivals. And they've even been asked to play at funerals and a rugby party. Performing at different venues has given the band unique exposure in recent years, allowing its fan base to grow.
"We even have children of our fans who are coming out to see us now," John said. "That's been kind of fun to watch."
It's not a stroke of luck either that has given them such longevity. Between the five current members, there are nine music-related college degrees, setting a strong foundation for beautifully crafted songs that speak to heavy or simply drunk hearts, depending on the scenario.
"We still have a very grounded reputation as the party band and we still do it, there's no problem doing the beer songs," John said.
"Now we just have to get a babysitter," said Jacquie.
John and Jacquie have two children—Jackson, who's 5 years old, and Jacob, who's almost 2 years old. Jackson is already involved in shows, jumping up on stage to dance with his parents and aunt, leaving no doubt that he'll officially join them once he's old enough. 
Until then though, the couple plans to continue along their path and see where life takes them, grateful for the opportunities they've had and the people they've met. 
"If people want to come out and see me sing bawdy Irish songs with grey hair [then we'll keep on playing music for them]," Jacquie said. "It's such an integral part of who we are, I don't know if we'll ever give it up."