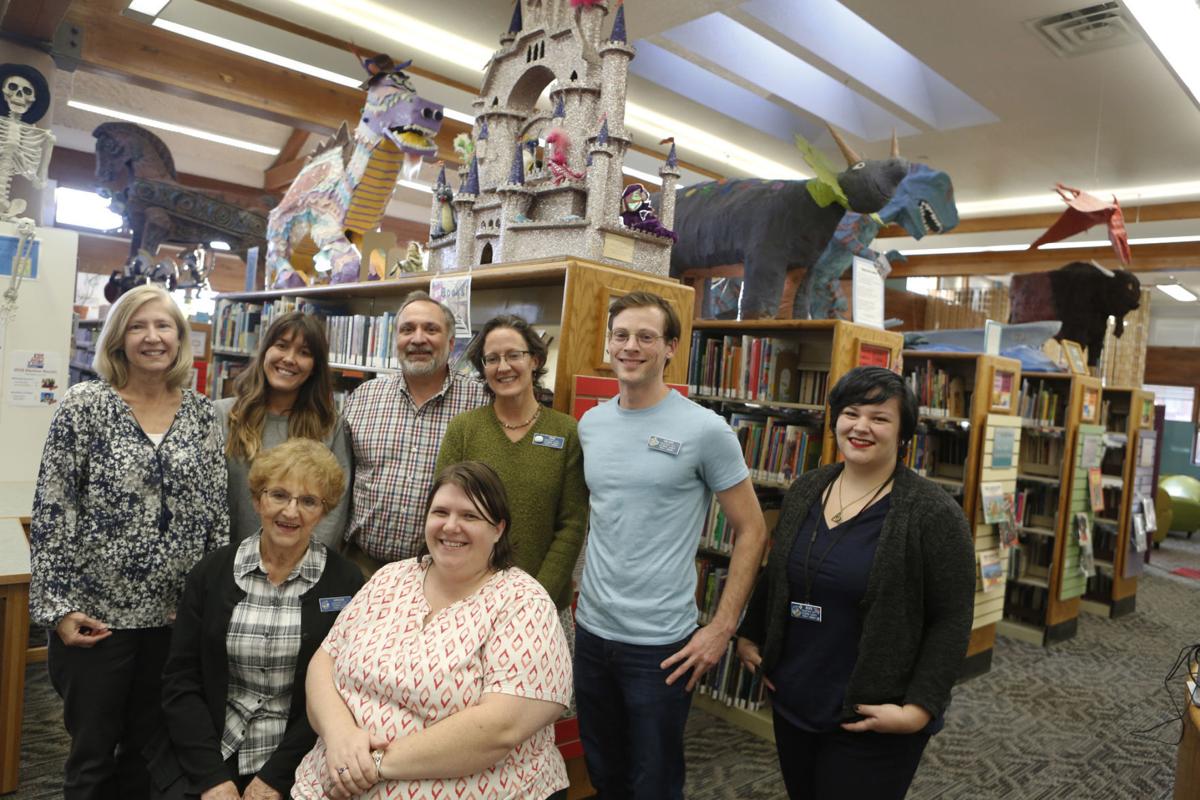 Since Flagstaff's first public reading room opened in 1890, what is now the Flagstaff City-Coconino County Public Library has undergone many transformations to accommodate the needs of the public. Its constant adaptability and continued mission of service have made this important organization Flagstaff's five-time Best Public Agency winner.
Michelle Brosseau, the East Flagstaff Community Library Supervisor, attributes the win to the library's broad appeal.
"Not only do we serve the entire community, but it's one of those places everybody can find something good to say about," she said. "There is just something for everyone at the library."
With over 42,000 card holders in Flagstaff alone, this is an impressive feat. But cardholders are not the only ones with access to the resources the library can provide. Other Coconino County residents and visitors have always been welcome. Last year, in fact, the libraries throughout the county had over one million total visits.
The library is a storehouse of essential information and local connections.
"People come ask us for everything, and we don't do it all, but we are happy to help them find what they need," said Mark Cesare, the library's interim director.
Each visitor brings unique requests, such as access to ever-increasing materials and the internet, or to participate in programs tailored to their needs as well as their wants. The choices already seem endless, but the library has even more to come.
In November 2017, the main library upgraded its scanners and automatic book sorter. It also replaced carpeting throughout the building and added a new steel sign and fireplace screens featuring works from local artists. All the while, it remained open to the public.
Now it is the east branch's turn. After winning a $24,100 Library Services and Technology Act grant, the Fourth Street team has begun creating new "intentional spaces." Brosseau says these areas are designed to make the library more reflective of the people who are using it through new reading spaces, décor and materials.
"We're moving things around, we have murals going in," Brosseau said. "We'll be adding to the collection to add more diversity – more authors of color, Native American authors. We're also working on our LGBT collection."
The library is indeed for everyone; its continual modifications are designed with visitors in mind.
"We're a community hub," Cesare said. "We're where people come to interact, either with other people or resources."
Although the downtown and Fourth Street libraries are located less than four miles from each other, they serve their own communities. The east branch, for example, has a prevalent after-school crowd. Consequently, safety will play a significant role in the renovations. The new design will improve the line of sight throughout the building, so the staff can keep watch and better ensure the safety of its visitors.
In contrast, the main library often draws people doing research.
An archive of Flagstaff historical records is stored here, including phonebooks dating back to the 1930s and publications about historic buildings and local water. These records cannot be found anywhere else, so the library has started a digitization process to make them even more accessible to the public.
"We have the ability to do more in-depth reference and help for people," Cesare explained. "We have staff at the main library who are dedicated to helping people find those hard-to-find answers."
The library has a remarkable history, too.
According to Susan Wilcox's featured writings on the library website, it was plagued by constant overturns and changes in location and ownership throughout its establishment. It faced halts in development and complete restarts due to external pressures like World War I and natural disasters like the 1893 fire that destroyed the library and all its contents.
Flagstaff has always shown extreme dedication to the creation and preservation of its library, though. Patrons faithfully donated materials and hosted a variety of fundraisers throughout its early years to ensure it could sustain itself. Generations of dedicated individuals endeavored to build what the library is today: a core component of Coconino County and home to many materials, resources and programs for both one-time visitors and regulars.
"We reflect the community. We resonate with the community. We succeed with the community," Cesare said. "That connection makes us great. We are doing things the community is already doing; we're just bringing it all together for them."