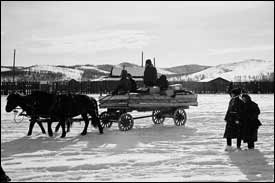 This is the second journal contributed by Meredith Potts for the enrichment of Daily Sun readers detailing her trip to Mongolia in November with other F.I.R.E. volunteers to deliver warm clothing to impoverished Mongolians.
Flagstaff International Relief Effort
In November 2004, seven volunteers divided into three teams to distributed eight tons of clothing divided into 1,200 boxes to 8,000 people in eight out of 20 provinces in two weeks. We worked with over 35 different organizations within Mongolia.
Our amazing distribution team was made up of myself, Peg Swift, F.I.R.E. board member, Ryan Strong, Suzanne Motsinger, Ken Reid, Erika Andersson and Ben Zack. This team of seven local people worked feverishly in the months before the trip in cooperation with many, many other Flagstaff people to raise the funds, and gather and pack the clothing.
So we frantically collected and packed eight tons of clothing last summer. In early September we loaded our shipping container and sent it off to Mongolia. After a very long sea voyage it arrived in Ulaanbataar, the capital of Mongolia the last week of October. It barely made it there before our volunteers arrived.
When the container finally arrived in Mongolia we began what I called the custom dance. During my three weeks in Mongolia I had heard numerous stories about the customs corruption. I anxiously awaited our turn to do the dance, and see what the customs agents left behind for us to distribute. To my amazement. There was no dance, other than the dance to keep warm while we waited for the customs agent to inspect our container. They looked inside our container and said "it looks good." And walked away.
In past years our container has been held up for more than two weeks and ravager by the customs agents taking what they wanted. This year we solved the customs mystery. We shipped our container to a member of parliament who is famous for her stance on anti-corruption. Thanks to her reputation and willingness to work with us, every single piece of clothing and medical supply that was meant for the poor of Mongolia reached the poor of Mongolia.
We spent one week distributing 600 boxes in Ulaanbataar.
Our support from the local community of Ulaanbataar was unprecedented. The budget for the 2004 trip was half of the budget for the 2000 trip. This was a huge motivation to get the community of greater Mongolia involved in our aid efforts. They responded with great enthusiasm. We worked with local LDS Missionaries who helped us unload our container into organized piles.
We sorted our boxes by size into a warehouse donated by the Zorig Foundation, our sponsoring Mongolian NGO (non-government organization).
Everyday our teams of two or three would go to our warehouse and load up a Russian van full of boxes designated for that day's distribution. Each team would have two to three distributions per day. They also had a volunteer translator. These translators were exceptional and very generous. Some of them were from the local International High School. They were the children of executives and diplomats. They gave up their holiday vacation to tour the poor of Mongolia with us. Most of our translators were from the local RotarAct club. These are under-30 go-getters who are not old enough for the official Rotary Club. These young people are the future of Mongolia. There are all exceptional people. Many of them were in college and chose to skip class to donate their time as a translator.
Occasionally we worked with organizations that gathered hundreds of people from the community in a certain spot. The people would form a line and we would open our boxes, handing them items one at a time.
Mostly we distributed clothing as established care centers.
We went into schools, where teachers had identified the children who were not able to come to school regularly due to a lack of warm clothing or who was a member of a family that shared one coat.
We visited homes for the elderly where people were wearing only robes.
We went to Charity Hospital, a hospital for the poorest of Ulaanbataar.
"When I asked the director of Charity Hospital, who is a Mongolian cardiovascular surgeon, what he needs the most, he answered in a soft voice in English, 'Yes, please, everything,'" said Suzanne.
This hospital was full of untreated and undiagnosed patients. The patients did not have pillows and many of them did not have sheets on their beds.
We distributed clothing to children in state run care centers for children found on the streets. Almost have of these children have STD's even as young as 8.
We also distributed a lot of clothing by gong door to door. On these distributions we were accompanied by a social worker who had their finger on the pulse of the community. During these distributions we would see the most poverty. We were taken into their homes. It always the most poor who offered us tea. By going door to door we saw naked children in 20 degree weather. We encountered a starving family of 8 whose 3 year old had just stared walking due to ma-nutrition. This form of distribution was the most effective and the most rewarding, but it is also the most expensive. It takes much longer than it does to go to one spot where 100 people are waiting for you. It also uses much more gas. The cost of gas in Mongolia is about the same as it is here. However, the Russian vans that we use, that everyone uses, get seven miles per gallon.
The appreciation was heart warming. You would find yourself on the verge of tears of sadness immediately followed by tears of joy. One of our teams was offered a cat at a men's prison in appreciation of the clothes they had distributed. In another prison I was given was treasured horse-head fiddled, that had been hand made by the giver and stowed away in a secret hiding spot. We had to smuggle it our of the prison.
The LDS youth group, EFY, donated 300 fleece blankets that they hand made in one afternoon. These blankets were a tremendous hit. Mongolians had never seen anything like them. On one occasion a young girl was so excited by the new blanket that she danced around in circles for 5 minutes. As we drove away we could see her show off her new gift to everyone around her.
For the second week of our distribution we sent 150 boxes —150 boxes south, 150 boxes east and 150 west.
Ivanhoe Mines, a Canadian based mining company supported out distribution in the South. Three volunteers distributed clothing through the south Gobi.
Myself and two volunteers went north to the Russian border. Upon our arrival we discovered that 20 our boxes, which had arrived one day earlier, had been burned in an accidental fire. F.I.R.E. had a fire! To this day, no one has been able to explain why the boxes were close to a fire. All of distributions is this town of 2,000 were house to house.
The day after we arrived we woke up to one foot of snow and 10-degree weather. Our van would not start, but we could not quit. On that day we distributed our clothes, house to house, by a horse drawn wagon. If we had not felt like Santa Claus yet, we definitely did after that day.
Our 2004 distribution trip was a tremendous success. We are currently preparing for our 2005 trip in October. If you have any questions please do not hesitate to contact us. Thank you so much for your interest and support.
F.I.R.E. is hosting a free slide show and presentation about Mongolia on Thursday at 7:30 p.m. at Photography on the Square in historic downtown Flagstaff. Slides by Potts will be featured in the show.
Be the first to know
Get local news delivered to your inbox!