Editor's Note: The war in Europe had begun and Flagstaff was doing its part to aid the Red Cross and other support groups when Dec. 7, 1941, arrived.
Following is the second part of excerpts from the Coconino Sun on the run-up to World War II and the first year after Pearl Harbor, as compiled by Daily Sun contributor Susannah Carney.
Victory Gardens at the corner of Cherry Avenue and Bonito Street are being cultivated by Girl Scout Troop No. 2 with 13 plots accounted for. More plots are available for planting on this land, it having been donated for this purpose by Mrs. Nathan Bankhead and plowed by Pete Michelbach Sr. B.O. Raymond donated 100 pounds of Vigoro and the city is furnishing the water.
Motor trips to the Grand Canyon have been suspended and the Fred Harvey Company has ceased all Rim Drives and other motoring trips at the Grand Canyon itself due to the shortage of rubber for the tires. Other services remain available, including Trail Guides to Phantom Ranch and hotel accommodations.
Due to the rationing of sugar Ted Spencer has taken up the raising of honey bees.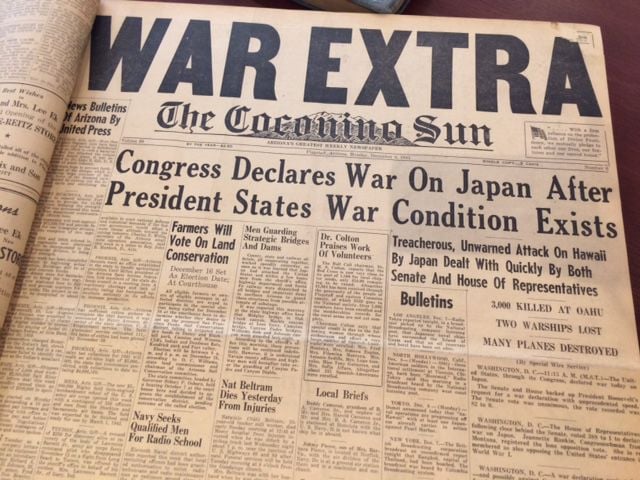 Private Teenie Marinez arrived on Wednesday to spend 10 days furlough with his parents. He is an Air Force Gunner and stationed at Brooksfield, Texas.
June 14 is FLAG DAY. Display your flag.
The 5th registration for Selective Service for Men between the ages of 18 and 20 will be June 30. All young men born after Jan 1, 1922 and on or before June 30, 1921 must register. Major W. W. Midgley, Chairman of the Local County Selective Service.
Nine men left on Tuesday for possible induction into the Army if they pass the physical exam.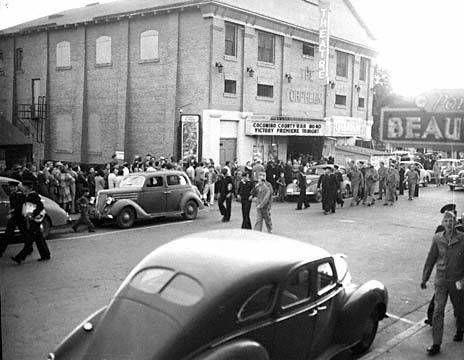 The Red Cross is organizing Ambulance Units here and in Sedona. There are to be two Reception Centers and mass housing units at the State College, Emerson School and Federated Church. H. T. "Jack" Wilson is Chairman of the Ambulance Corp.
Fred Paine, Chairman of the Rubber Salvage Drive, reports that 54,187 pounds came in this week with more arriving by the hour. R. W. Riggin, Fire guard and Garland Prairie Rancher, probably brought the record with 300 pounds, which included some that was over 20 years old.
While A. A. Ward is absent. Mrs. E. G. Williams is instructing the Sheet Metal Class for the war board, she having received a perfect score in the exam.
Beer caps are rationed. Buy by the quart and save 2 caps, Buy by the half-gallon and save 5 caps. Buy at Frank's Place and save money.
For Sale: One 700x17 double duty tire. Good tread. Priced to sell. Ph. 152.
For Rent. Furnished Cabins. Running water, Toilets & Showers. Anchor Guest Ranch 3 ½ miles North of Flagstaff. Fort Valley Road.
The Rationing Board is about to allot sugar for canning purposes.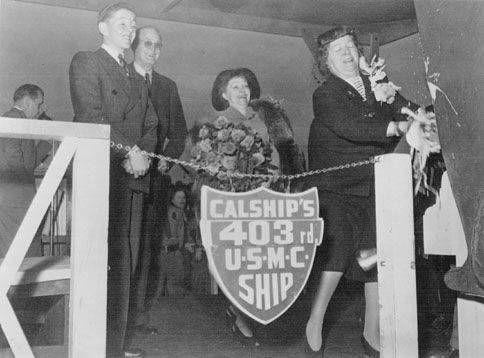 The lumber workers at the Southwest Lumber Mill Camp at Mormon Lake have started a 10% Club. To join the club a worker must buy War Savings Stamps with at least 10% of his earnings. Andy Matson, County Chairman, War Savings Stamp sales.
1st Lt. Carl Trimble has qualified as an officer in the new Paratrooper Branch of the Army. This included three jumps from 1,200 feet.
Lamar Washington, Concrete Superintendent at the Navajo Ordnance Depot, was seriously injured Wednesday morning when a truck backed into him. Among other injuries his pelvis was broken. He was removed from the Flagstaff hospital to his home in Hollywood, California. His wife flew to Winslow in order to meet her injured husband and to fly home with him.
The Air Craft Metal class is calling for new enrollees. All members of the previous class are now employed. Please note a Birth Certificate is no longer required for war work employment.
Merchants must now file a list of ceiling prices for their goods. It is noted that most of the filling stations have not done so.
The Navajo Marines are proving to be great riflemen. The first all-Navajo platoon scored the highest of any platoon ever before.
The Rubber Drive came to a conclusion at midnight Friday with members of the committee having gone house to house in their search for unused rubber. Fred Paine, Chairman.
Thirty-six Flagstaff and Coconino County men left on Monday for Phoenix to report for induction into the U. S. Army forces. Major W. W. Midgley, Coconino Selective Service,
Lodging $15 a month at Bellemont. Men only. Inquire Drew's Sporting Goods or Post Office in Bellemont.
The Red Cross reports that it has shipped 100 Comfort Kits to the Armed Forces.
Major W. W. Midgley announced that the regular 8:30 to 5:30 hours at the Selective Service Office will be extended to 8 p.m. on Mondays for the convenience of those further out of town and in Bellemont.
Lamar Washington who was injured at Bellemont in May is recovering and may be able to leave the hospital in about 10 days.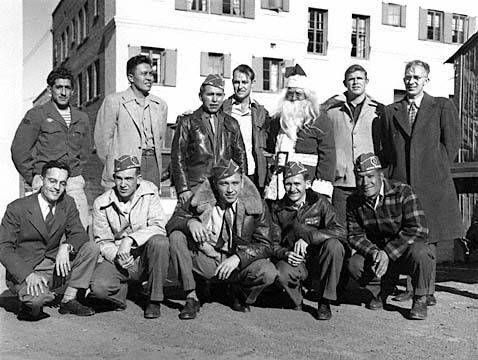 The Civil Service Commission wants graduating seniors and graduates that are now holding examinations. There is a particular need in the fields of Public Administration, Business Administration, Library Science, Economics, Statistics and Math through Calculus.
It is reported that is takes 2,700 pounds of sugar to make enough alcohol to make enough gunpowder to fire one big Navy gun once.
Forest Supervisor R. W. Hussy tells us that when called upon to subscribe the Forest Service employees have pledged to buy War Bonds with 14.5 percent of their wages.
The local Food Rationing Board announced that sugar stamp #7 is now good for a bonus of 2 pounds of sugar. This is being added because an excess of sugar threatens the nation's sugar store rooms. It is good up until August 22. #5 will be redeemable until July 23, at which time #6 will be effective.
Be a Glider Pilot. Train under ideal cool conditions at Prescott's new airport. At the end of the training you can qualify as Staff Sergeant and get $144 plus maintenance per month. Write Lucille Schimmel, Coordinator, Prescott Unit CCP, Box 1231, Prescott.
Flagstaff Boy Scouts are to be offered training as Messengers to serve in cooperation with the Civilian Defense Council program.
Henry James Webber, son Mr. and Mrs. Orrin F. Webber, received his wings at Mather Air Field in California near Sacramento and received his commission as 2nd Lieutenant in the Navigation Division of the U. S. Army.
High praise was given the Santa Fe Railroad men by R. W. Hussey for their work on extinguishing the recent fire near Kendrick Mountain in the Kaibab National Forest. A shortage of manpower developed as the fire was spreading in the wind. The Santa Fe stepped up, loaded all their extra gangs from as far away as 130 miles from Flagstaff, and sent them into the fight.
Wanted: Anyone having rooms for any suitable living quarters are urgently requested to call the Chamber of Commerce to fill their constant demand. Phone 90.
The Legion Auxiliary decided at their Tuesday meeting at the Monte Vista to collect any donations of used recordings for use by the Armed Forces recreation locations.
The weight of the war is on the phone lines. They are getting heavier use with every passing day. We can't build new lines and switchboards because copper, aluminum, rubber and other materials needed for phone buildup are vital war materials. What we have must serve.
Please cooperate, limit long distance calls and do not ask to be advised when a line is free, to ask the time of day or call information for a number, use your phone directory. Avoid calling during busy times of day. Currently only 4 party lines are available. They are a neighborly way to live. We are confident of your continued cooperation in this emergency. Mountain States Telephone & Telegraph Co.
Control methods for Fire Bombs have changed radically. The "Spray" method has been replaced by a full stream JET.
Wanted - Railroad watches due to the shortage. They are urgently needed for safety in the operation of our train transportation facilities. Turn in for cash or for liberal allowance on any merchandise in our store. Townsend Jewlery Co., in Flagstaff and in Williams. Santa Fe Watch Inspector.
Mohave and Coconino County War Boards are to meet to discuss the problem of replacing workers on farms and ranches to meet the need caused by men departing for the war.
Lt. Arthur Pearson, son of Mr. & Mrs. G. A. Pearson of Fort Valley, has been sent to Wright Field in Dayton, Ohio, for licensing as test pilot. He recently received his wings.
25 men left for Phoenix and military duty on Monday. W. W. Midgley, Chairman of the Draft Board.
The Junior Red Cross unit has completed 4 coverlets for the ambulances from wool samples donated by various tailors, cleaners, and merchants of Flagstaff. The supply is now gone. They will be glad to receive donations of scraps of wool materials that you may leave in our library donation Box. Thank you. Mrs. Regina Rouse.
Screening tests for those interested in becoming glider or service pilots will be held at Williams High School on August 29 at 1 p.m. for men ages 27-36 or those between 18 & 26 who have been rejected by the Army Air Corps or the Naval Air Service Selection Board. D. S. Stone, 1805 N. 11th Ave. Phoenix.
Officials of the National Housing Authority will arrive on Monday to hold a meeting in relation to possible Defense Housing. Leo Weaver, Secretary Chamber of Commerce.
The Navy needs skilled men at the Mare Island Navy Yard. 4,000 more housing accommodations for married workers will be open by September. Dormitories for single men are under construction in Vallejo, California.
Sgt. Tommy Fleming, son of Mr. & Mrs. George A. Fleming, arrived on Wednesday to open an Army Recruiting Station. This makes the sixth Station in Arizona.
Salvage is big business in Williams and Chandler. $1,000 a month is being made from things like the tiny bits of brass at the base of light bulbs, and the metal buttons on worn-out pants are being sold at a profit. Grease and tallow from the mess hall is being collected and sold. Bones and raw meat are also gathered and, strangely, oil from sewage is being collected in oil barrels.
Notice: Effective beginning on Sunday Sept. 6 we will be closed all day on every following Sunday. We are forced into this schedule because of a shortage of both labor and merchandise to sell. Sam Hutchinson, Proprietor.
Bean farmers need help badly. County Farm Agent C. G. Tucker say the need at Doney and Black Bill Parks is desperate. Since the harvest has begun 30 acres have already been lost due to the inability of getting help. Anyone willing to step up to harvest beans will certainly be doing a fine patriotic duty in furthering war effort.
All people who are registered at the local Rationing Board are urged to call at the Board Office on 124 N. San Francisco in the Masonic Building to pick up their certificate.
Sugar ration books belonging to men who have joined the armed forces should be returned unused to the local War Price and Rationing Board. In the event of a death it should be returned within 10 days. Howard B. Ross, State Ration Office.
Stamp #8 in your ration book will be valid for 5 pounds of sugar for ten weeks between Aug. 23 & Oct. 31. National OPA Office.
Get your canning sugar before Sept. 15. Certain parties may be able to get more. Call at the Ration Office.
H. T. (Jack) Wilson announced that as of Wednesday this week his buses have made their last trip to the Grand Canyon and that this all other scenic tours have been ended until the end of the war. He will be using his buses to haul defense workers between Flagstaff and Bellemont.
Seventy-two Coconino County men left on Wednesday for examination prior to induction into the U.S. Army.
The Red Cross Relief and Production Unit has moved from Emerson School to 6 Leroux Street through the generosity of Mr. & Mrs. George Walters Jr. There they will be provided with ample space in which to carry on their activities. They are now open in this new location, Mrs. C. W. Isham, Chairman.
Defense workers at Bellemont are buying war bonds payable to the Atkinson Kerr Construction Co. to pay for traffic violations committed within Navajo Depot.
The Orpheum program to sell more War Bonds and Stamps has netted $4,540 in sales.
Area 2 of the city which lies north of El Street is being scoured for war materials. Women have been giving valuable assistance securing pledges of cooperation from all residents of this section. County trucks and volunteers are now picking up scrap pledged.
The Pioneer Picnic in the Verde Valley has been canceled due to the rationing of tires and growing expectation of the rationing of gasoline. President R. W. Wingfield.
The wartime speed regulation of 40 MPH is being rigorously enforced as has been noticed by drivers in a hurry.
Final approval of a civilian pilot training program at the Willliams Airport has been gained. The C A A training will last for 8 weeks at which time another series will be started. Students will be housed at the Williams American Legion Hall and must first pass a screening exam before being admitted to the program. The program originally had 15 as the number required before beginning instruction. Given the popularity that number has been raised to 30. It is being managed as an adjunct to Flagstaff College. Dr. T. J. Tormey, President.