On the eve of a possible second government shutdown of the year, federal agencies in Coconino County are again looking at having to furlough employees, halt public services and put their work on pause. If congressional leaders fail to pass a new stopgap spending deal, here's what to expect from several local federal agencies, parks and monuments.
GRAND CANYON NATIONAL PARK
As with last month's shutdown, Grand Canyon National Park will remain open. A spokesman for Gov. Doug Ducey said the state of Arizona will again put up its own money to make sure the park remains open. The state already wired about $188,000 to the Department of Interior to keep Grand Canyon open during last month's three-day shutdown. It expects to be reimbursed, but could also direct that money to be used if another shutdown begins Friday, spokesman Patrick Ptak said.
The Grand Canyon has been named one of the seven wonders of the world and people come from all over the world to gaze into its depths, but som…
The National Park Service follows a standard procedure during a lapse in appropriations, including the closure of NPS-provided visitor services like restrooms, trash collection, facilities and roads maintenance and public information. At Grand Canyon, that closure has extended to permit offices and entry gates, meaning no entry fees were collected. And during last month's shutdown, campgrounds were open but weren't staffed by employees checking reservations.
People with backcountry or river permits have been able to use those permits while concession-run lodges, restaurants, retail and services on the South Rim remained open.
The North Rim is closed for the winter season with reopening scheduled for May 15. 
FLAGSTAFF AREA NATIONAL MONUMENTS
Walnut Canyon National Monument, including the visitor center, trails and picnic area, will be closed with no public access allowed and no services provided during the shutdown.
Sunset Crater Volcano National Monument visitor center and associated restrooms will be closed and while the visitor use areas, trails and vault toilets will remain accessible, no services such as trash pickup or cleaning and restocking of restrooms will be provided. The Scenic Loop Road connecting Sunset Crater Volcano and Wupatki National Monuments will be open but will not be patrolled or maintained.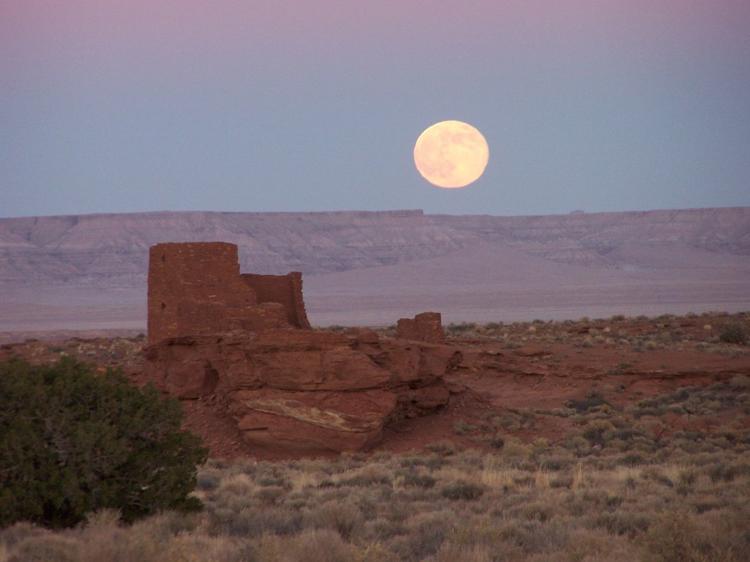 Wupatki National Monument visitor center will be closed and access will be closed to all of the archaeological sites including Wupatki Pueblo, Wukoki Pueblo, Citadel/Nalakihu and Lomaki/Box Canyon Pueblos in order to protect those cultural resources. Services like trash pickup or restroom cleanup will not be provided. The Doney Picnic Area and associated vault toilet will remain accessible.
FOREST SERVICE
Firefighters, law enforcement officers, those charged with protecting federal property and employees tasked with emergency or natural disaster response and preparedness are among the Forest Service employees exempt from federal shutdown procedures.
A fall and winter defined by record or near-record dryness has skyrocketed the measures of fire risk around Flagstaff for much of the past sev…
But as last month's three-day shutdown showed, many other employees who staff Forest Service offices and handle public service functions like the issuing of wood cutting permits won't be working if there's another lapse in federal appropriations. Minimal personnel are expected to staff occupied facilities like campgrounds as the shutdown is implemented.
NATIONAL WEATHER SERVICE
The nation's weather forecasters cancel and postpone scheduled activities during a government shutdown but continue to provide forecast, watch and warning information.
U.S. GEOLOGICAL SURVEY
The majority of the 190 employees at the U.S. Geological Survey's Flagstaff Science Campus are furloughed during a government shutdown, said Scott Vanderkooi, chief of the Grand Canyon Monitoring and Research Center. Just a handful of employees are needed to stay on to secure the facility as are a few scientists who are working with live animals. Those scientists are allowed to spend a few hours a day caring for the animals, Vanderkooi said.
Generally, work that was supposed to happen during the shutdown period simply gets postponed, he said. The longer delays, like the 16-day shutdown in 2013, begin to pose bigger challenges and problems for USGS staff to meet their deadlines, he said.
Employees not exempt from furlough status have a few hours on the day a shutdown goes into effect to complete shutdown activities.
"That's when you try to scramble to reschedule things," Vanderkooi said. But rescheduling is also difficult because no one knows when the shutdown will end, he said.
As for his thoughts on the current budget negotiations to avoid a shutdown Thursday at midnight?
"I have things to do on Friday," Vanderkooi said. "I'd like to be here to get them done."