The members of the nonprofit BLE Flagstaff have a unique responsibility. Each is given a set amount of money, then is tasked with carrying out random and unexpected acts of kindness throughout Flagstaff and beyond.
Jen Saunders has folded $5 bills into BLE-labeled booklets and tucked them into restaurant menus or put them under people's windshield wipers. Tammy Nelson went downtown and handed out cash to people during the Christmas season. Another board member bought 100 tickets to the Coconino Flagstaff high school football game and gave them out to people in line.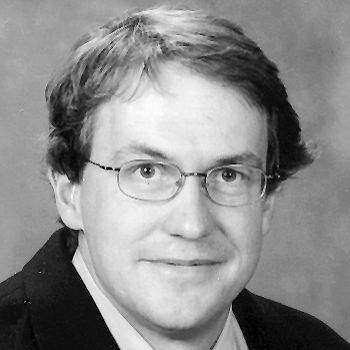 Two years after it was formed, BLE Flagstaff has kept true to its mission of random, unexpected giving, but that's not the only thing on the organization's plate. The board is also gearing up for the BLE Super Epic, Self-timed, Sorta 5kish, Mega Party Run Walk or Stand on Sunday, Sept. 24 starting at 4 p.m. The annual event, now in its fourth year, draws hundreds to Buffalo Park for an afternoon of running, walking, games, food, beer and music.
On top of that event, just this summer board members decided to go bigger with their giving — they bought a steer at the county fair, then will donate the processed meat to local nonprofits.
But even the larger-scale projects aim to stick to the principle of unpredictability.
"We don't know how often we'll do them. That's the beauty of it," Nelson said.
"It will probably be something different next," board member Walt Taylor added.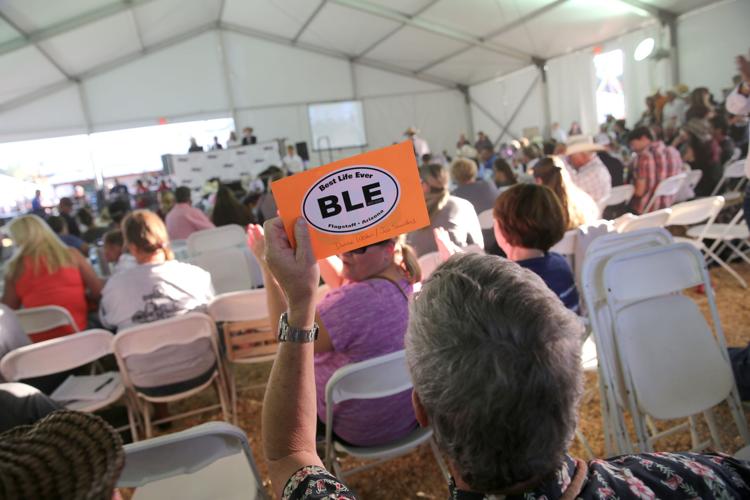 This unconventional operating plan is rooted in the giving habits of the man who inspired the organization's creation, Nate Avery. The father, husband, pediatric neurosurgeon, Flagstaff local and well-known community member died after a freak fall at Lake Powell in 2012.
After his death, many people wanted to make donations in his name, said Annette Avery, Nate's wife. She had already been involved with the Arizona Community Foundation of Flagstaff, so Annette Avery set up an account in her husband's name, not yet knowing exactly what should be done with the money. It was three years later when the answer came together, in the form of BLE Flagstaff.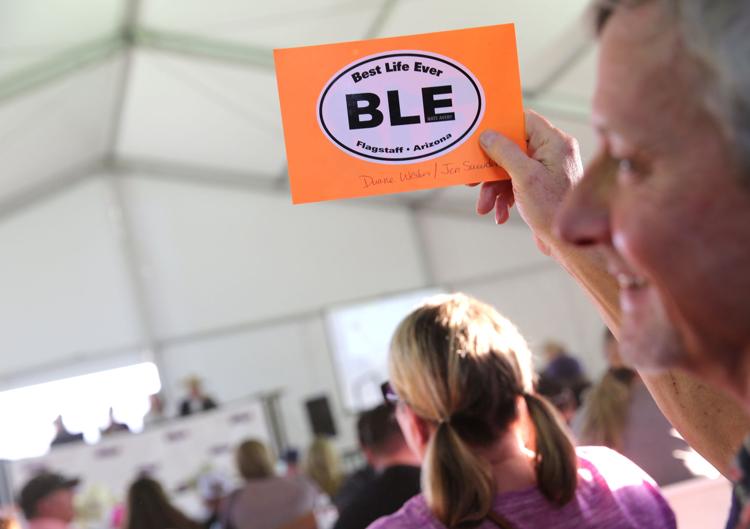 The name is a nod to an agreement at his celebration of life that Nate Avery "would no doubt acknowledge his life as the 'Best Life Ever,'" the foundation's website says.
Board members said their goal is to have an impact on Flagstaff in a nontraditional way while honoring the way Nate Avery lived his life.
"There were no rules for how he gave," Annette Avery said. She said Nate Avery would buy 20 cups of coffee for people or mow someone's lawn one day or give money to a local school.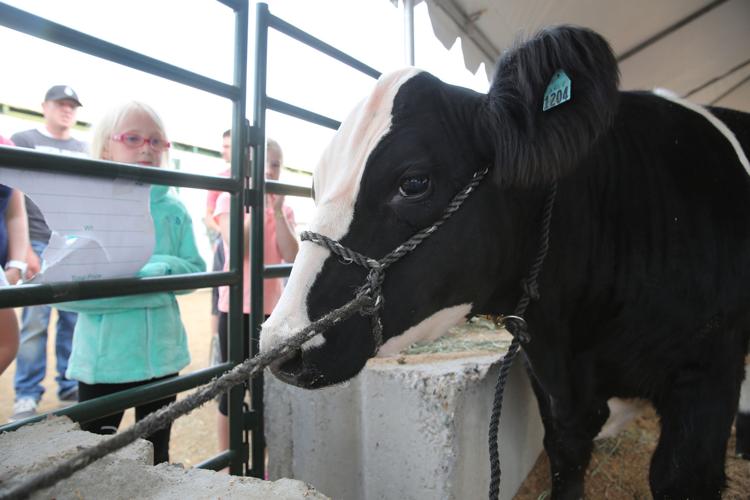 The nonprofit formed in 2015 with a board of five community members, which has now grown to seven. In 2016, the board infused $10,000 into the Flagstaff community, according to its website.
Unique about the organization's giving is it is purely unsolicited. People don't apply for money and it doesn't donate to other organizations. Also, board members don't necessarily give only to people in need.
"Rich, poor, black, white you name it there is no criteria," Annette Avery said. It could be a millionaire who is having a bad day and buying them a cup of coffee could make all the difference, she said.
Adopting that practice is "a mindset shift for sure," Nelson said.
Also unique about BLE is that while many nonprofits look to bigger projects and larger donations, BLE wants to continue to keep things small so it can spread its impact to more people. Smaller amounts are also easier to pay forward, and part of BLE's goal is to inspire other random acts of kindness, Saunders said.
The board doesn't have lots of bylaws or other constraints on its giving either, which allows for more flexibility and individual interpretation.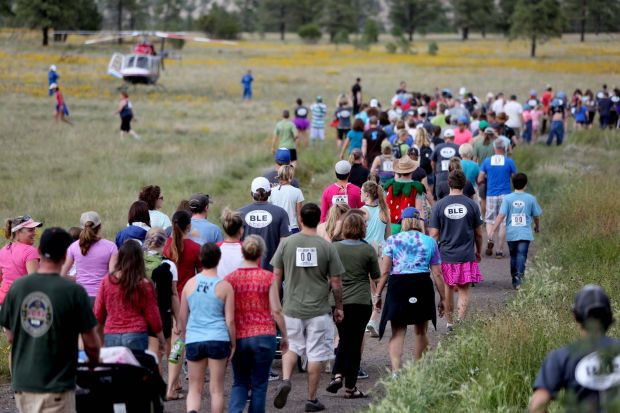 "Some people are giving big hunks to people, others are giving small amounts. No one is telling others how to do it," Taylor said. "I carry five $20 bills in my wallet all the time so I can spontaneously do it."
Giving randomly is "harder than you think it is," Annette Avery said.
Board members say they get ideas by talking to people in the community or hearing what others on the board are doing. Because the foundation's impact is so dependent on board members themselves, there is an effort to include a mix of people from different sectors of the community.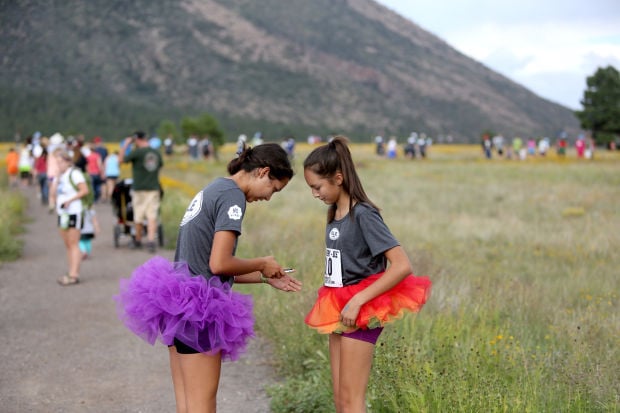 The idea of buying a steer and donating its meat came from a few board members who thought it would help not only 4H but also many people in need in the community.
As far as next weekend's BLE run, the goal is purely fun and features everything from a bouncy castle to costumes. Last year, the event had about 500 participants, Annette Avery said. Each year's race has a "Nate-ism" slogan, with this year's being "indecision is the key to flexibility."
While it was inspired by Nate Avery, the race has evolved to encompass much of what people love about the community, Annette Avery said.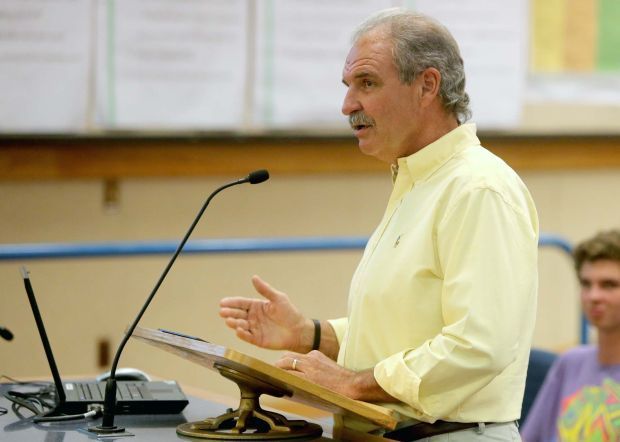 "There has been that shift. There may be a lot of Nate that's in that event, but the event is what it is because of people who live here," she said. "What I want the event to be is a reminder that we live in a great place and it's an incredible community."
The growth of BLE Flagstaff has moved beyond the board as well by inspiring others to take on random giving. A dentist in town picks one patient per year and pays for all of their braces costs and one store owner recently decided to outfit one person in the community for free.
Saunders said she sees the nonprofit as one in its infancy stages. She wants it to grow to the point that Flagstaff becomes known as "that BLE town," she said. "Everything is so serious, it's reminding people that it's not that hard to be nice and caring and have a little fun."