How much fun would it be to don a helmet, hop in a car and smash into every car you see, totally legally? On Saturday, you can. The annual Flagstaff Sunrise Lions Club Demolition Derby is held every year over Labor Day weekend in conjunction with the Coconino County Fair. Special this year is the chance for any licensed driver to compete. An auction will be held Saturday before the derby begins and the winner will be provided with a custom-built derby car to drive in the novice heat with the potential to advance to the finals.
Lions Club member Clint Bleeker said it's the first time in several years that the club has had a car to auction.
"We've auctioned a few cars off in the past and it's amazing," Bleeker said.
The winner, in addition to getting to drive in the derby, will be contributing to the charity work done by the Flagstaff Lions Club. Proceeds from the event will help the club buy eyeglasses and hearing aids for those in need in the community. The all-volunteer club also contributes to a camp in the White Mountains for the blind and disabled and helps provide guide dogs to the blind. This year, a portion of the proceeds will also go toward relief efforts in Houston.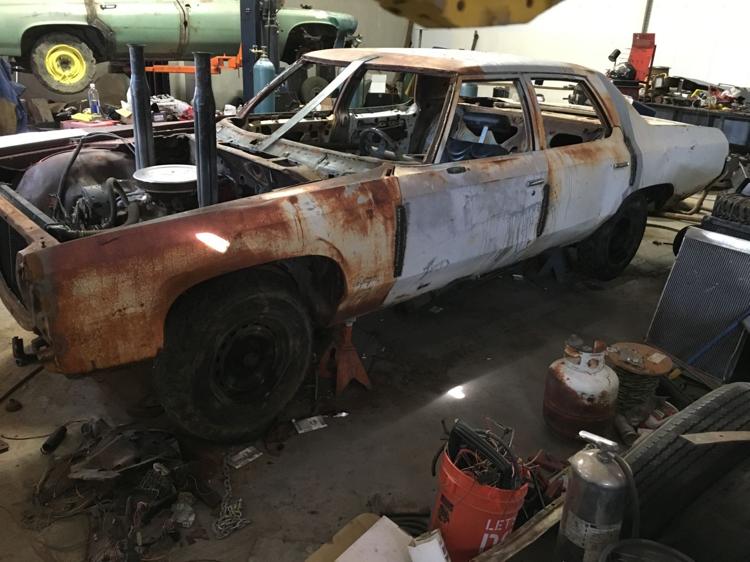 Last year's Flagstaff Demolition Derby winner, Glenn Madden, is taking a break from the Flagstaff track this year and has been working on the auction car. On Wednesday, Madden was in his Phoenix-area garage putting the finishing touches on the car that he will bring to Flagstaff on Friday in advance of Saturday's auction.
Madden has donated the entire cost of building the car which he will bring back to Phoenix with him after the Flagstaff derby.
Bleeker said the winner of the auction will have a chance to win the top prize of $1,000.
"If anyone can build a really, really competitive derby car, it would be this guy," Bleeker said of Madden.
Madden is a professional driver who has been entering demolition derbies since he was 16.
"I tried it and I've been hooked every since," he said. In the past couple of months he's earned $11,000 in derby winnings at a Utah event and won first place in a derby in Illinois.
He found the car he'll bring to Flagstaff in Globe.
"It was sitting in a farmer's field. We brought it home, stripped it out. Put an engine and transmission in it. I should be done with it already so I'm trying to finish it now. It should be done today," he said. Madden paid the farmer $350 for the 1972 Chevy Impala which he hauled to his garage where he installed a drive train worth about $1,500 and another $1,000 worth of other materials. He said he's enjoyed driving in the Flagstaff demolition derby for the past three years and wants to give back to the community.
The winner of the auction, he said, is in for a wild ride.
"Twenty years later I still get butterflies," he said. "It is literally, your gut is wondering if you made the right decision. But after the very first hit, everything goes away. It is the most fun you'll have in your whole life."
Bleeker concurs. He's been driving in every Flagstaff Demolition Derby since it began in 1984. This year two of his sons have also built cars to enter. And even though it's a competition, Bleeker said there is a lot of camaraderie among the drivers.
"It's so competitive, but yet after you've wrecked your car and are in the pit area trying to fix them, the same guy that wrecked your car will help you fix it. It is honestly, it's so much fun."
Bleeker said he expects anywhere between 25 and 50 cars from all over the state to enter this year's derby. He recommends that serious auction bidders bring a helmet, safety goggles and a neck brace, although all of the safety equipment will be available to loan to the winner.
For those in the stands, Bleeker said it's a fun family event with food vendors, beer for sale from Mother Road Brewery and live music. "All the proceeds, every penny goes to help people." The demolition derby is the club's main fundraiser.
Bleeker said even when it rains, the muddy track makes for great entertainment.
"Every year I think it can't get any better," Bleeker said. "(But) it gets better every year."
In the Valley, Madden is busy putting the finishing touches on the car. And while he won't be driving this year, he's still participating. Madden will be inspecting derby cars for safety and compliance and officiating derby heats. After this, he'll getting ready for a demolition derby he's promoting that will be held Sept. 23 in Globe.
But first, he needs to wire the Impala, run the fuel line, put the hood on and paint it.
"Then we should be good to go."