To the locals, it's "garish;" to the tourists, "cool."
At least that seems to be the informal divide confronting the "Destination for all Seasons" mural painted on the pavement at the intersection of Aspen Avenue and Leroux Street in Flagstaff.
"Responses have been pretty negative, honestly," City Councilman Scott Overton said. "People aren't really excited about it."
Overton said he was sure the city's Convention and Visitors Bureau, which created the project, had "good reasoning" for the design of the mural and its placement.
"Marketing takes on all different formats, and there are creative differences," Overton said. "I don't know if this fits Flagstaff as well as we hoped it would."
The project never went before the city council for approval, and was instead supported by the city's Tourism Commission. The image was created by a partnership between the CVB and the Downtown Business Alliance.
"In this case, it was outside of the council purview," Councilwoman Eva Putzova said. "Of course, we see people reacting, mostly negatively."
Putzova said after seeing the mural and people's reactions to it, she thinks it would be a good idea to look at the city's sign code to see "how to address and hopefully prevent something that the community doesn't embrace."
The city's Tourism Commission was briefed on what the mural would be, but the choice did not come before the city council, Putzova said.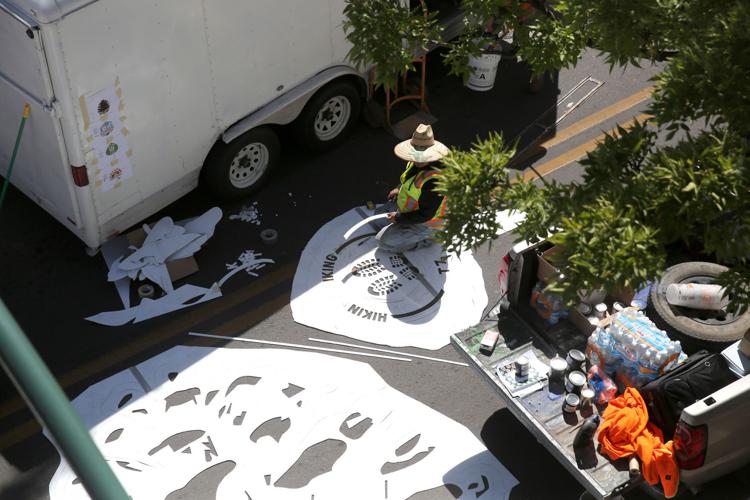 "I think that advertising Flagstaff is not necessarily a bad thing, but we need to think about what we are going to say and in what forms," Putzova said.
Vice Mayor Jamie Whelan said she thought the mural was "certainly an advertisement."
"I think the biggest piece is that citizens really want to be involved in decisions," Whelan said. "This is how we learn, hindsight's 20/20."
Whelan said she "really enjoyed the (mural) at the Visitors Center in the train station, which she said was "appropriate."
Councilwoman Celia Barotz said she felt that more locals who had expressed an opinion about the mural felt negatively about it, but she had seen comments on social media from locals who said they felt like they could live with it.
"I think there's a sense of dismay as far as the aesthetic, and about the process to put such large advertising on a central corner in downtown," Barotz said.
"Residents of Flagstaff really do have a strong sense of ownership of the community, and I hope that in the future when these projects come up we can engage the community in such a way that the concept has broad support," she said.
PROJECT HAD EARLY OPPOSITION
Coconino County Supervisor Art Babbott, who originally opposed the project when it was presented to the board, said the project could have been done with more of a public art aesthetic, rather than a design perceived as just advertising.
"Flagstaff has unbelievable examples of public art installations," Babbott said. "This is not a public art installation from where I sit."
In March, Babbott wrote in an email to County Manager Cynthia Seelhammer, "If you want my two cents worth I would recommend against this at this point without engaging a conversation."
In the same message, Babbott said he had seen many other on-street paintings that look "kind of trashy after they get really dirty and (torn) up."
The lack of community engagement in the painting's design was a "missed opportunity to have a conversation to make sure this was something the community wanted," Babbott said Friday.
In an email sent to the mayor and city council, City Manager Josh Copley said the reaction shows a need for more thorough communication between the city and the public.
"I remain confident that we as city staff will take away from this experience a new perspective and better understanding of the need for improved all-around communications and thorough community conversations about things that profoundly affect the look and feel of a place we all hold so dearly in our hearts," Copley wrote.
Meg Roederer, the spokeswoman for the Flagstaff Convention and Visitors Bureau, said the graphic project cost $11,000 and was funded by the bed, board and beverage (BBB) tax, which was approved in the CVB's fiscal year 2018 advertising budget.
The vendor, Phoenix-based Creative Paving Solutions, "was selected due to the fact of the guaranteed sealing process for better wear and tear as well as project completion in three days -- but four days were necessary due to rain," Roederer said in an email.
Roederer said the Tourism Commission approved the idea of street graphics, and this particular project is meant to have a social media focus, with the hope people take pictures of it and share on various online platforms.
The mural is temporary and not meant to last long-term, Roederer said.
TOURISTS LIKE IT
The mural was popular with tourists walking through downtown Flagstaff Friday afternoon.
One couple, visiting from upstate New York, said their town also does street paintings, but theirs are "a little more artistic and fantasy-like." The two added that the street mural looked "stenciled," but said they thought it was a nice addition to a central intersection in the downtown area.
Another couple, visiting from Scottsdale, said they thought the project was "really cool."
"It's street art, literally," they said.
LOCALS UNIMPRESSED
The mural has not been received as kindly by locals.
"How many tourists are going to back into the street trying to get the perfect selfie with the pine cone painted on the street?" Flagstaff resident Cindy Dorfsmith said on Twitter.
Downtown resident Robert Larkin said he thinks the mural is "ugly," especially when compared to the high quality public art in downtown Flagstaff.
"We have great-looking murals in abundance in Flagstaff, a couple are even in sight of someone crossing Aspen and Leroux, so by comparison, the work looks a little cheesy, like it was produced by a committee of businesspeople, not artists," Larkin said in an email. "I appreciate the desire to show civic pride, but those of us who live here are already pretty darn proud of our mountain town, and any tourists who see it are already here and know what the weather is like."
Larkin said he is also worried the painting may become a distraction for pedestrians, and said he would have preferred the design to be on the actual crosswalks, rather than in the middle of the intersection.
MORE PUBLIC INPUT IN THE FUTURE
James Hasapis, a former member of the Tourism Commission, did not mince words when describing the project.
"I think it's garish," Hasapis said. "That's something you'd expect to see in Vegas or New York City, not something you'd expect to see in a small town. It's way too commercial. It doesn't reflect the culture of Flagstaff."
Hasapis said he met with CVB leadership to discuss the mural and voiced his concerns.
"I do feel like my voice was heard," he said. "We will have a follow-up meeting about putting together a focus group to give input on these types of projects."
Although he is not a fan of the execution, Hasapis said he does like the idea of finding creative ways to share messaging and leveraging social media.
"It's rather blatant," he said. "I think it could have been a welcoming message, or a message thanking people for coming to Flagstaff."