The 800-mile-long Arizona Trail that spans the length of the state is getting a new level of management.
It will come in the form of a comprehensive plan aimed at better protecting and preserving the trail's resources, whether they are located on federal, state, county, municipal or private land.
Federal agencies released an initial draft of the plan earlier this month and as a first step, are reaching out to the public for feedback.
Among the dozens of people who showed up to Flagstaff's public comment meeting on Thursday evening, three major concerns about the trail's future came to the fore: trail condition and maintenance, urban growth near the trail and nearby energy and minerals projects.
Right now, there aren't enough resources to maintain the trail, said Andrea Michaels, who lives part-time in Flagstaff and is a designated steward for part of the trail north of the San Francisco Peaks. Trail construction and maintenance rely largely on volunteers at this point, and it has become known as the state's largest volunteer project.
On other parts of the trail, nearby mining projects are forcing the route to be moved or are posing a threat of tailings being deposited near the trail, both of which were major concerns for Steve Chaffee. Chaffee, who has hiked the trail in both directions, said he also worries about overcrowding along the part of the route that passes through Grand Canyon National Park on the popular North Kaibab and South Kaibab trails.
"Every five minutes you had people saying, 'Hi how are you?'" Chaffee said. "It really diminished my experience because there were so many people down there."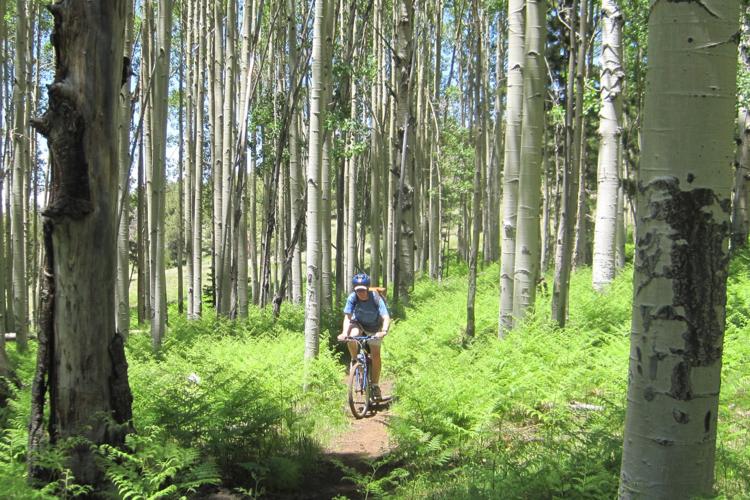 Attendees at Thursday's meeting included bikers, runners, hikers and lots of Arizona Trail Association members, reflecting the trail's broad user base.
Scott Heinsius, the owner of Cosmic Cycles, was carrying his bike helmet as he looked over posters and maps on display. He said he decided to attend just to see what was going on with the trail. Standing beside him, Absolute Bikes General Manager Anthony Quintile spoke about the Arizona Trail's value in connecting many trails in Flagstaff's system and providing a wilderness-type experience for bikers, who aren't allowed in designated wilderness on the San Francisco Peaks.
The trail is also an important asset for Ian Torrence, who attended the meeting and is the director of the Flagstaff to Grand Canyon Stagecoach Line 100 Mile race, which follows the Arizona Trail. The new comprehensive plan will consider how to allow new special uses like trail races, which Torrence conceded is a "pretty sticky subject."
Even with his background, Torrence said he supports limits on special use permits that would prevent events if they duplicate what's already being done. At the same time, though, he said his event introduces people to the trail, brings awareness to its less-traveled parts and potentially creates new advocates for the trail in the long run.
While Torrence said he wants to see many parts of the trail stay wild, heavily used places like Aspen Corner on Snowbowl Road could use additional infrastructure like toilets and better signage.
PLAN FEATURES
Federal officials acknowledged that Flagstaff residents have a unique relationship with the Arizona Trail as it passes right through the city. There's also the fact that the single biggest chunk of trail is on the Coconino National Forest, said Adam Milnor, a planner with the National Park Service who is helping with the trail plan.
The trail, which was completed in 2011, is one of 11 congressionally designated national scenic trails nationwide. It's official name is the Arizona National Scenic Trail. With that designation comes a requirement for agencies to create a comprehensive trail plan.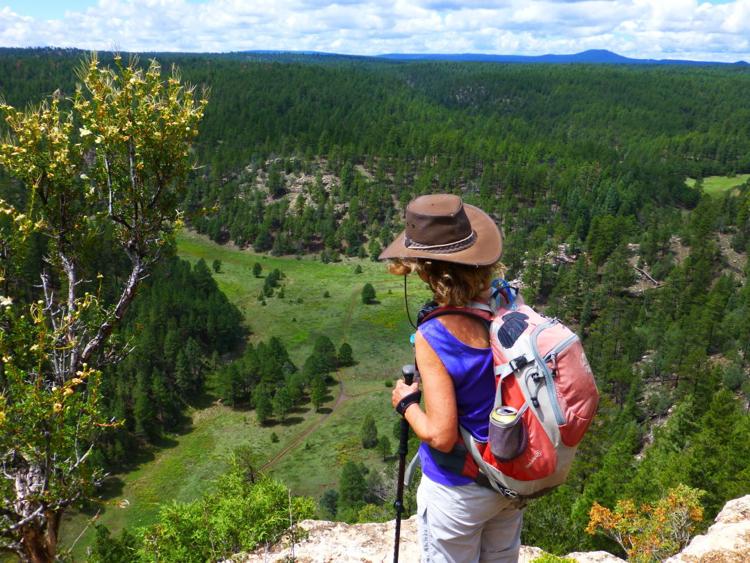 The plan will guide everything from land use decisions within the trail corridor to trail reroutes to determinations of visitor capacity.
Included in the initial draft of the comprehensive plan is:
A framework for locating or relocating segments of the trail. One specific priority is to reroute the trail where it shares an alignment with dirt roads so that hikers, bikers and equestrians aren't traveling alongside motorized vehicles, Milnor said.
Establishment of a corridor that extends one-half mile on either side of the trail on federal lands that will be managed to benefit the Arizona Trail experience. The proposal would prohibit new energy or mineral-related operations to be located directly in that corridor, for example. It would also call for forest thinning projects slated for the trail corridor to be modified to protect the scenery for trail users, Milnor said.
A list of certain side and connecting trails proposed for designation as part of the Arizona Trail system, which opens them up for more funding opportunities, said Laura White, trail administrator with the Forest Service.
A process for estimating visitor capacity to determine how much use the trail can take before the resources become damaged or degraded or the user experience is compromised. It would also include suggestions for how to mitigate trail crowding, like encouraging people to hike the trail at different times or access it from different locations. But the agencies are "a long way out from any sort of a limitation on use" Milnor said.
Calls for working with local governments, landowners and other entities to maintain the trail corridor and natural character of the surrounding landscape. That could mean incorporating design features and mitigation into nearby projects that would preserve trail, White said. 
GOOD RESPONSE
Matt Nelson, who is the director of the Arizona Trail Association and was not at Thursday's meeting, said he is pleased that his organization has been given a voice in the planning process.
He called the plan's draft components "progressive" and said that most importantly, it better protects the trail.
"Up until now, without this in place, any land manager could entertain a project proposal without special protection for the trail," Nelson said. "Everybody has a different language they speak and a different style of management of a trail system. This comprehensive plan provides direction to everybody."
"This is something we have been waiting for for years," he said.