Here are some events happening around Flagstaff in celebration of Arizona Beer Week that runs February 8th - 18th. Drink Responsibly 
Beer Week Map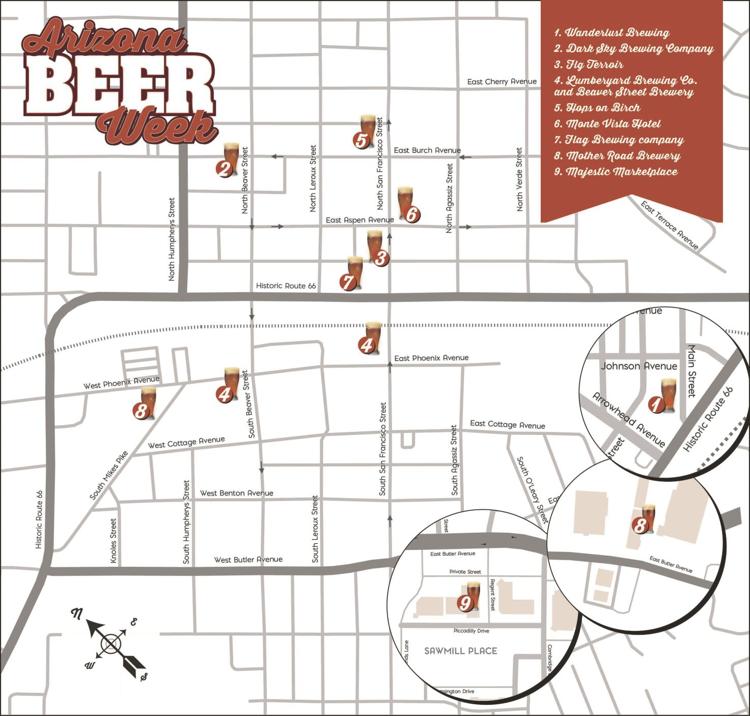 Wanderlust Brewing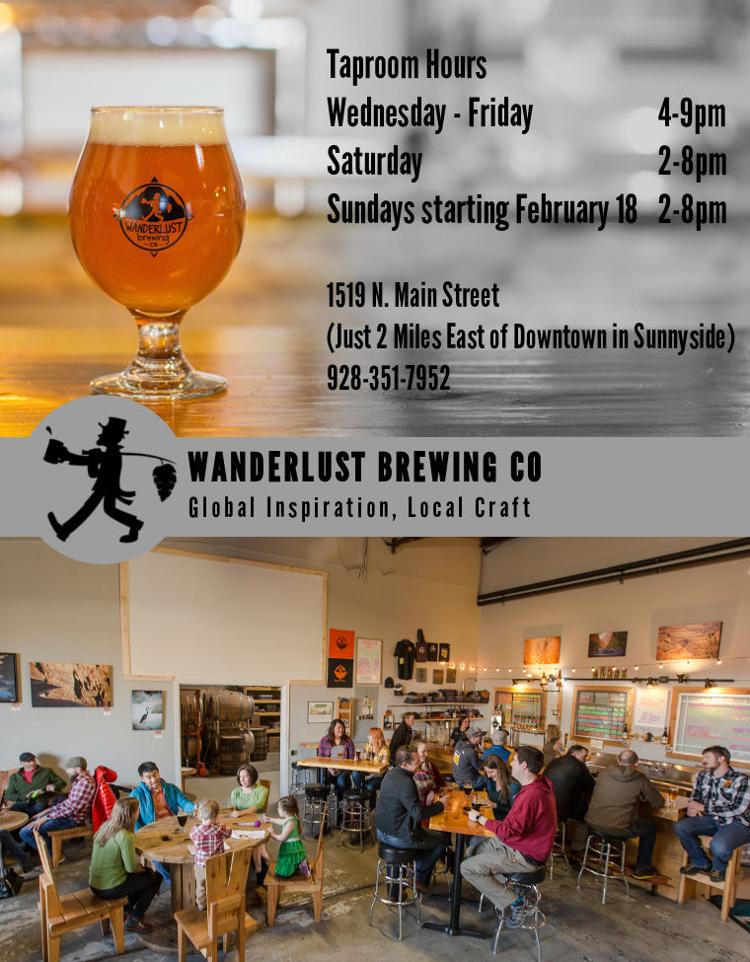 Wanderlust Brewing is a bit off the beaten path here in Flagstaff, both literally and figuratively! We focus on Belgian and German style beers plus put our modern twist on classic American and English styles. Located in the Sunnyside neighborhood just west of 4th street, we are a short jaunt east of downtown Flagstaff.
Our flagship beer, "928 Local", is a Belgian-inspired Farmhouse ale that is brewed with a local wild yeast and a healthy dose of local honey. The rustic and earthy dryness of this beer is balanced by the floral aromas contributed from the honey, resulting in a very approachable, yet unique interpretation of the style. The 928 Local sits alongside our other diverse beers currently in the lineup including a German Dunkelweizen, the "Vermilion" Red IPA, and "Southbound Snowbird" sour Saison.
Our welcoming taproom is situated in the heart of our production facility and is open Wednesday through Saturday. www.wanderlustbrewing.com
Dark Sky Brewing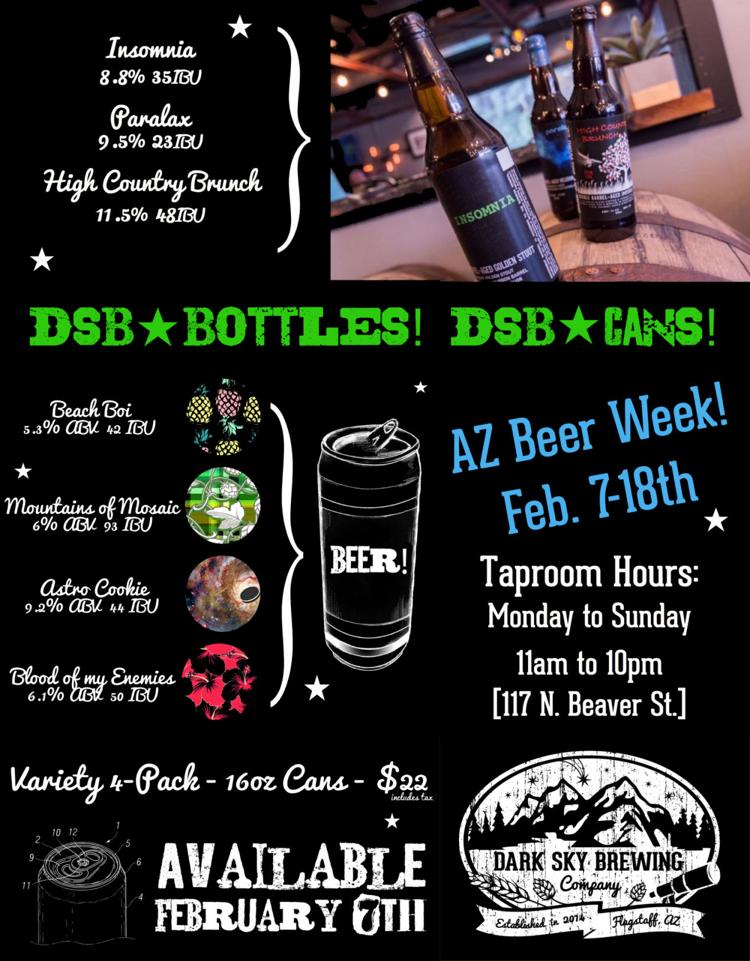 Dark Sky Brewing Company is pushing the limits on flavor and style combinations with over 250 receipts to date.  We strive to introduce a new beer [or 3!] every week. Our downtown taproom offers a comfortable, relaxing atmosphere to enjoy your pint or taster board.  You can even grab a 32oz Crowler®️ can of your favorite beer to go. We love to brew beer for the city that loves to drink it! Established in 2014 in Flagstaff, Arizona the first international Dark Sky city.
FLG Terroir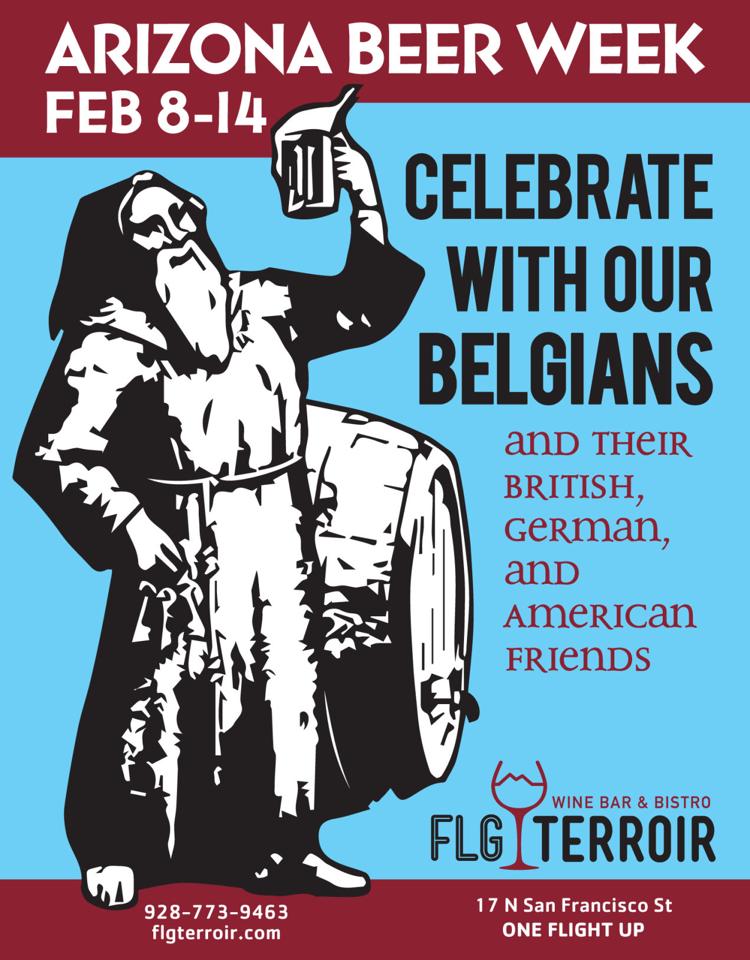 FLG Terroir is a wine bar with a Belgian Beer problem.  Featuring over 30 beers with a focus on Trappist ales, Saisons and Sours, as well as classic German, British and American beers. Our scratch kitchen produces our take on traditional food to pair with beer as well, Oven baked poutine, german style pretzels with beer cheese and the freshest oysters flown in from cape cod bay. FLG Terroir is located downtown on the second floor of the historic Finley building in a beautifully restored space. And yes we do have an amazing well curated wine selection. With over 500 bottles to choose from and 30 wines by the glass. Check us out at flgterroir.com
Mother Road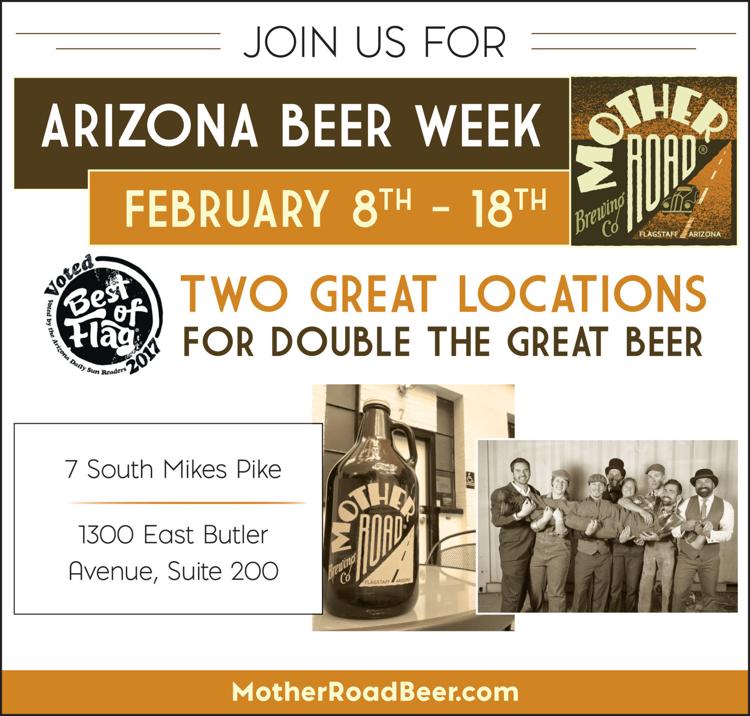 Not all know that every one of our mainline beers is dedicated to a different destination on Route 66. Tower Station is named after the U-Drop-Inn in Shamrock, Texas; Kölsch Style Ale, originally Gold Road, was named after the 'Gold Road' stretch of Route 66 by Oatman, Arizona; and Lost Highway is dedicated to, "the road less traveled." Lost Highway's story: When interstate highways were being built across America, many parts of Route 66 became obsolete and untraveled, eventually leading to run-down and impassible sections. Lost Highway is dedicated to a lost stretch of Route 66 in-between Williams and Ashfork, Arizona. If you find yourself on Interstate-40, you can turn-off on "Welch Road" to see this part of the forgotten, famed highway.
Hops on Birch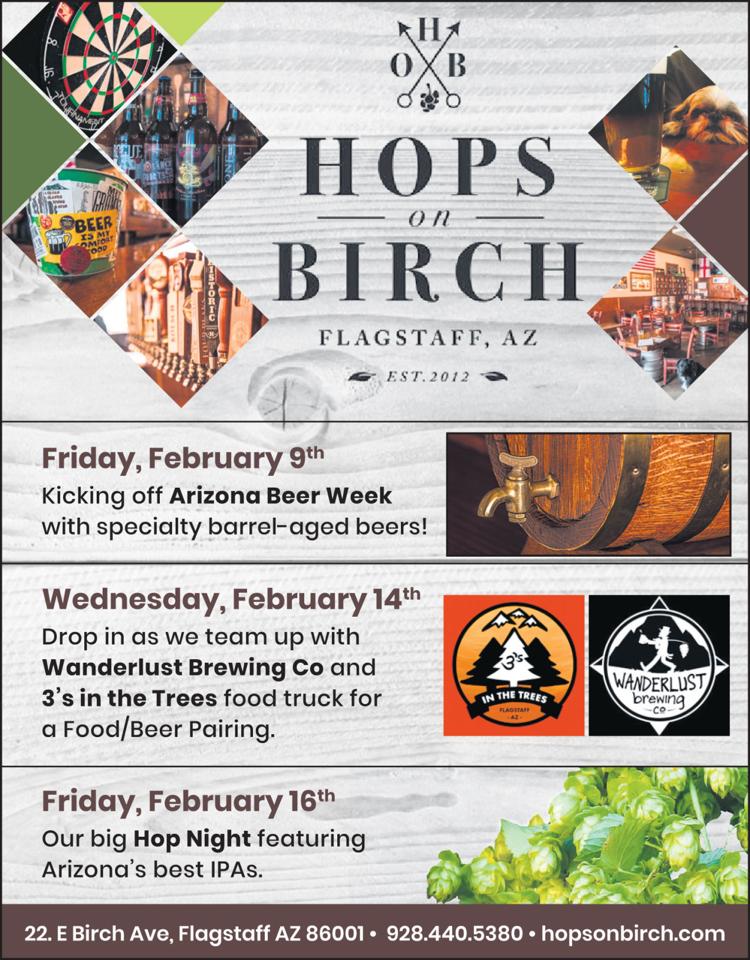 Kicking AZ Beer Week off with specialty barrel-aged beers on Friday, February 9th featuring beers from Historic, Four Peaks and some more to come
On Wednesday the 14th Hops is teaming up with Wanderlust Brewing Co and 3 in the Tree's Food truck for a drop in Food/Beer Pairing Tap takeover (no reservations      required).
Friday the 16th is our big "Hop Night" featuring Arizona's best IPAs
We have 34 rotating taps, so allow our certified bartenders to serve you something that fits your taste buds just right. We've carried everything from your Belgian strong ales, to your IPA's. Russian imperial stouts, to strawberry blondes. At Hops we like to carry a couple beers for every one of our fellow beer enthusiasts. Don't feel obliged to leave your dog at home, when you are at Hops, all are welcome at Flagstaff's finest craft beer destination.
Flagstaff Brewing Company
Flagstaff Brewing Company provides a casual and friendly atmosphere, which anyone should expect from a genuine brewpub. Nestled in the heart of downtown Flagstaff, we share the patio with our own Flagstaff Coffee Company. So sit back, enjoy a coffee drink or pull up a pint, order some delectables from our kitchen, and take pleasure in the casual pub atmosphere of FBC. To celebrate AZ beer week, Flag Brew is pairing our traditional style beers alongside carefully chosen whiskeys from our extensive selection.  Come join us to enjoy a unique beverage experience amid a quintessentially Flagstaff mountain atmosphere.
Monte Vista Hotel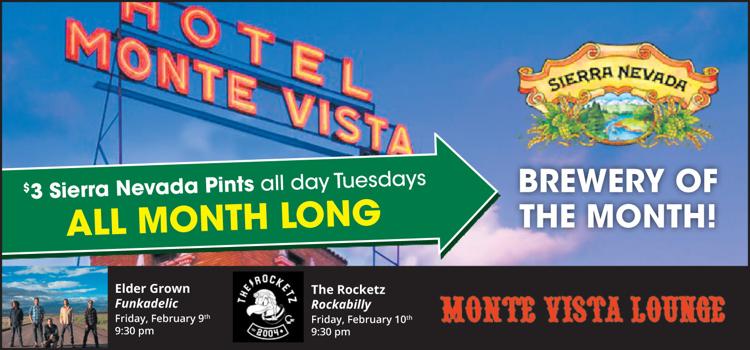 Enjoy the house-installed custom bar fashioned from local alligator juniper. Our seasonal cocktail menu features house made bitters, syrups, shrubs, tonic, pickled vegetables and brandied cherries. Citrus juices are squeezed daily. The Rendezvous also features an extensive and classy selection of liquor and rotating taps from several local brewers. We use as much fresh and local produce as possible to infuse unique high desert flavors to our expertly crafted cocktails. Our bi-level lounge offers a wide variety of live music most Wednesday, Friday and Saturday nights, karaoke every Tuesday and Thursday nights, and trivia every Sunday night all kicking off at 9 p.m. Happy hour at the Monte V runs daily from 4 p.m. to 9 p.m. This includes $1 off wells, wines and drafts in addition to free billiards and darts in our spacious upper level bar.
Lumberyard Brewing Co and Beaver Street Brewery

Brewery Arizona Beer Week is about the celebration of beer culture and the breweries in Arizona.  To celebrate, Lumberyard Brewing Co and Beaver Street Brewery put out numerous events for you to help us celebrate beer! 
 Come to one of our pairing events such as Whiskey and Beer, Cheese and Beer or Cookies and Beer!  Try one of our collaboration brews: Murder She Oat IPA (AZ Women's Collaboration hosted at Lumberyard Brewing) or the Flag 8 Baltic Porter (Brewed by all the Flagstaff Breweries).
 Each year we end Arizona Beer week by giving back to the community that has supported us throughout the years.  Lumberyard and Beaver Street give back to the community by donating a portion of their beer sales on February 16th (Beaver Street Brewery) and February 17th (Lumberyard Brewing Co).  So come out help us celebrate beer and grab a Pint for Camp Colton!
Majestic Marketplace
Majestic has 41 craft beers and 4 wines on tap.