THURSDAY | 11.9
When Matthew Paul Miller first began making music in 2000 under the stage name Matisyahu (Hebrew for "Gift of God"), he went for a traditionally Jewish look, sporting a long beard and yarmulke. These days, he's not quite as recognizable, as demonstrated by a video last year where he began singing with a busker in Hawaii who was performing his song "One Day." The video, which went viral with over 1.5 million views in just a matter of days, shows a man playing ukulele and singing the song with Matisyahu watching on the sidelines before joining in with his voice harmonizing along to the unsuspecting street performer's. "I didn't want to mess up his game," the singer recalls in an interview with Billboard. Despite his 2005 song "King Without a Crown" reaching Top 40 and releasing a total of six studio albums, Matisyahu remains down to earth. A press release describes his growth, saying, "The trajectory of Matisyahu's career has seen continual transformations, his once orthodox lifestyle has emerged into a world of increasing openness. Matisyahu has broken down the walls and bounds of traditionalism and seeks to apply the universal lessons of his faith into a modern context." With his most recent release earlier this year of Undercurrent, he took a more jam-centric approach to the music and brought his backing band more into the spotlight. Matisyahu will be bringing his unique brand of reggae and hip hop to the Orpheum Theater, 15 W. Aspen Ave., along with Common Kings, another band coming from humble roots. Both groups have dedicated their time and energy into transforming their live shows into memorable experiences not to be missed. The show begins at 8 p.m. and tickets are $30 in advance, $33 at the door.
THURSDAY | 11.9
Take some time out of your week to indulge in the pampering that you deserve. Now in its seventh year, HomCo Lumber and Hardware's annual Ladies Night Out offers product demos, chair massages, drinks, catering by local restaurants and more—all for free. Shoppers also get 20 percent off of all purchases made during the night. Local restaurants La Vetta, Horseman's Lodge and Northern Pines will be providing food and there will of course by the infamous Carhatt fashion show. Raffles throughout the night will give away high end products such as a Canyon Cooler (plus two 20-ounce tumblers), a new Bronson 20 grill, gift cards to HomCo and more. While the event is free for all ladies, VIP tickets are also available and include early entry, a gift bag and 10 raffle tickets just to name a few. Proceeds from the raffle and VIP tickets benefit Sharon Manor, a transitional housing organization for women and children escaping domestic violence situations. Visit www.myhomco.com or call 779-6111 for more information.
MONDAY | 11.13
LESSONS IN LIFE AND DEATH
Hopefully, most of you haven't had to experience too many deep losses in life, whether of family members or friends who are no longer around. If you have though, you're certainly not alone. Grief is a strange process that doesn't seem to have a defined endand Long Island-based pop-punk band Iron Chic explores this on their third album, "You Can't Stay Here," released this past October on SideOneDummy Records. Following the death of their founding guitarist Robert McAllister in January of 2016, the band trudges on, trying to make sense of human frailty. "My heart feels heavy but it's still pounding steady," vocalist Jason Lubrano sings on "Profane Geometry." Life goes on no matter how much it feels like time should have frozen at the exact moment a loved one takes their last breath. Catch Iron Chic when they roll through town Monday to play The Green Room, 15 N. Agassiz St., with openers The Blunts and Nothing ADD All. Tickets are $8 in advance, $10 at the door. www.ironchic.net.
TUESDAY | 11.14
NOT YOUR GRANDFATHER'S BLUEGRASS
In an interview with HuffPost earlier this year, The Kitchen Dwellers shied away from being labeled as a straight up bluegrass band: "This band is more into the exploration of the often unheard capabilities and dynamics of traditional instruments. That doesn't mean we don't ever play traditional style bluegrass, but it does mean that we are trying to branch out from the tether of being labeled by the genre itself." Fans of the Montana-based group have even dubbed their sound "galaxy grass" to encompass the unique sounds they create with strings which blends rock, psychedelic and even Celtic influences. The band (made up of Joe Funk, bass and vocals; Shawn Swain, mandolin and vocals; Torrin Daniels, banjo and vocals; and Max Davies, guitar and vocals) formed while the members were all attending college at Montana State. Since their humble beginnings of playing local shows first as a trio, The Kitchen Dwellers have shared the stage with names such as Greensky Bluegrass and Head for the Hills, been named "Best Local Band 2013" by the Magpie Awards, toured nationally and have played the long-running Telluride Bluegrass Festival in Colorado. Now, they will be delivering a fast-paced performance to Flagstaff folk music gormandizers at the Orpheum Theater, 15 W. Aspen Ave. Doors open at 7 p.m. and the show starts at 8 p.m.—show up on time to catch local favorites Viola and the Brakemen. Tickets are $14 in advance, $17 at the door. www.kitchendwellers.com.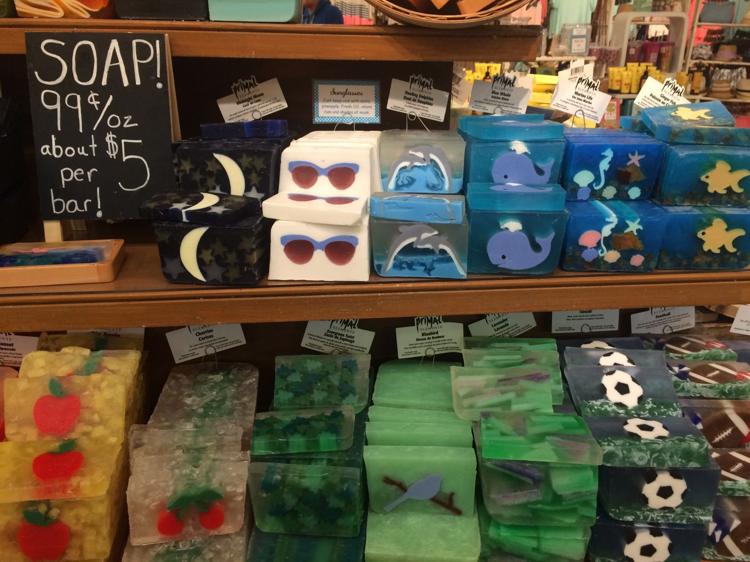 WED | 11.15
HOLIDAY GIVING AND UGLY SWEATERS
What says you care more than a handmade gift? This year, instead of buying gifts at the last minute, do something special. PJ Chilcottage, located in the Old Town Shops downtown, is hosting their annual Holiday Soap Party where they invite everyone to come and make a free bar of soap. If inspiration hits and you don't want to stop at just one, you can make more bars for $5 each. And, in the spirit of giving, all proceeds will go towards a local family who lost all their belongings in a house fire. Channel your inner _ and make some soap with friends and family this Wednesday during one of two time slots: 5-7 p.m. or 7-9 p.m. Ugly sweaters are encouraged. Visit PJ Chilcottage on Facebook at www.facebook.com/thatsoapstore to RSVP for one of the time slots.