THURSDAY | 2.15
The banjo has become somewhat of a mainstay of old-time American music. When emigrants returned to Ireland, they brought with them the unique instrument and have implemented it into their own traditional and folk music. For the members of the Celtgrass group We Banjo 3, the banjo's history and influence was worth exploring. "We all grew up playing traditional Irish music. With the banjo as our main instrument, there was a strong leaning toward American roots music," says Enda Scahill. "The banjo challenged us musically and stretched us out of Irish music. We wanted to explore the influence of banjo on root music in America and banjo itself." Growing up in Ireland, Scahill and the rest of We Banjo 3, Fergal Scahill and David and Martin Howley, were exposed to numerous musical influences, but never thought they'd be where they are now, an award-winning act with four albums under their belt and another one in the works. "I never considered music a full-time career. We Banjo 3 evolved so quickly. We're so inspired by the social aspect of the music, how when you play this Irish music and this roots music, it's a great way to socialize. It develops from person to person in a really organic way." Being a touring band traveling across the world can be hard when it's your brother you're traveling with, but We Banjo 3 takes on the challenges of life on the road like a family. "The road can be a lonely place, but we look after each other very well, and it's very democratic. There no boss, everyone has a voice, and most of time works really well," says Scahill. "It can be a gulling lifestyle, but we take it from a family point of view. Everything is equitable, open and honest, and I think that translates on stage. Catch We Banjo 3 tonight at Sinagua Middle School, 3950 E. Butler Ave., presented by Living Traditions Presentations. Tickets are $30, $12 for children 17 and younger. Doors at 6:30, show at 7 p.m. Tickets and information at www.livingtraditionspresentations.com
THURS-MON | 2.15-19
For 16 years, the Flagstaff Mountain Film Festival has been sharing the beauty of the outdoors. By highlighting films that inspire and promote conversations on social and environmental issues, as well as outdoor adventure and indigenous films, the FMFF is committed to preserving the natural world. What began in 2003 as a single-day event that half-filled the Orpheum Theater, this year's festival includes multiple events at various locations across four days. Beside the films, you can catch special events around town such as a Lounge Talk with Craig Childs and the Scatterlithics at the Rendezvous on Thursday, a celebration of The Life & Legend of Katie Lee at Dark Sky Brewing Company on Friday, Late Night Tales at Headspace Salon on Saturday, featuring films, poetry and music, and an Anniversary Wrap Party with the Earthtones at The Orpheum Theater on Sunday. Cap off the weekend with a Director's Pick Wrap-Up & Local's Night at Dark Sky Brewing Company. For a full schedule, visit www.flagstaffmountainfilms.org
SATURDAY | 2.17
EVERYTHING BUT THE KITCHEN SINK
Hold on to your hats folks, because this next act is going to blow you away. With a growing collection of aerialists, pole dancers, stilt-walkers and musicians, MarchFourth seems to have it all. Phoenix New Times has tried to describe them as "Sergeant Pepper leading a freaky Cirque du Soleil performance from the bandstand or European Gypsy camps stumbling upon the rhythms of Brazilian jungle tribes," but they're really something that has to be experienced in person to believe. If you missed all the other times MarchFourth came to town this is chance to be awed and inspired. The force that is the performance troupe will take to the Green Room stage this Saturday. Tickets are $20 and local band Tiny Bird will be the opener at 8 p.m. for this 21 and up event. www.marchfourthband.com
SATURDAY | 2.17
THE JOURNEY IS WORTH IT IN THE END
Ace Slim is an idea, not a person. The man behind the curtain is singer-songwriter and multi-instrumentalist Trevor Turville. In branding his musical project, he borrowed names from people he looks up to: Ace from his pilot grandfather and Slim from one of his all-time favorite musicians Memphis Slim. The music, which Turville has been writing and recording over the past 10 years, draws inspiration from a wide range of music genres, from blues and jazz to rock and country. "I am kind of a perfectionist, but I also understand that things should be perfectly imperfect and that in the end, that is what makes them perfect--If that makes sense," he says of his long process. "So to get that balance, and since I had the time and was doing it all myself, I would take 10 or 30 takes or whatever was necessary." Although he's had the outlines of an album turning around in his head for a long time, most of the production was completed over the course of two years with mixing and mastering done by Enormodome's Jeff Lusby-Breault. Turville and the rest of Ace Slim, made up of bassist Matt Sarnoski and drummer Cayson Morrison, will celebrate the release of their self-titled album with a show at Firecreek Coffee Co. this Saturday beginning at 8 p.m. Archie Carry On will open the night and Enormodome will take the stage after Ace Slim to close it out. Entry is $6. Visit www.aceslim.com for more information and www.flaglive.com for an extended write-up of the album's recording process.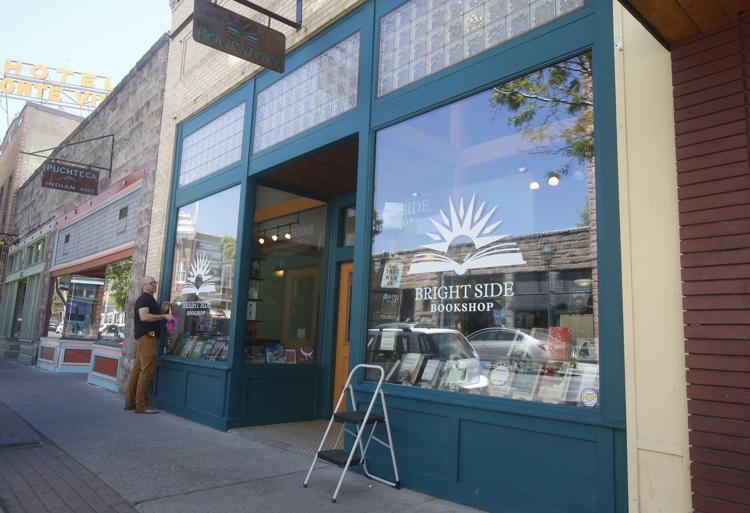 TUESDAY | 2.20
MORE THAN JUST A BOOKSTORE
It's been almost a year since Annette Avery and Lisa Lamberson joined the Flagstaff literary community by opening Bright Side Bookshop. "Another bar or restaurant downtown was not something we were excited about because you need a good mix of food and retail," Avery said in an interview with the Arizona Daily Sun when the store debuted. "An independent bookstore really rounds out the downtown area." Since then, Bright Side has hosted a handful of local author readings, workshops and musical performances, creating something more than a bookstore: a community. "An independent bookstore is a community resource and a chance for people to take a moment and sit down with a book," said Avery. To celebrate its one-year anniversary, Bright Side Bookshop will host an all-day event, One Year and Counting, starting with a 9 a.m. coffee wakeup at Firecreek Coffee Company, with breakfast treats provided by Shift. Following that, the store will feature various raffle drawing and special discounts throughout the day, as well as a 5 p.m. champagne toast. For more information visit the event page on Facebook.