FRI-SAT | 2.9-10 & TUES-WED | 2.13-15
In a culture obsessed with celebrity, what does fame actually mean? There seems to be no real basis or bare minimum individuals must reach in order to get the attention of the public; as long as you have a camera and an internet connection it's possible to grow at least a small niche following within the realm of "YouTube celebrities." At the end of the day though, we're all just human. Everyone has the potential to do great things even though some get noticed for their actions more than others. Cheyenne River Sioux artist Cheyenne Randall explores themes of identity and celebrity obsession in his art. In his series of wheat paste murals titled Shopped Tattoo, Randall reimagines well-known faces throughout history, decorating their bodies in Photoshop with faded tattoos as commentary on the stigma surrounding body modification. The Seattle-based artist travels to remote locations to install his work on forgotten buildings, giving the occasional visitor a chance to contemplate their place in society and relate to the familiar subjects. His newest collaboration brought him to Phoenix's Heard Museum where he is utilizing some of the unused surfaces across the campus. "This is a pretty different thing for the museum," says Erin Joyce, fine arts curator. "We haven't really done much with street art before and wanted to bring in more contemporary art to show what young Native artists are doing now." Some of the public figures he's pasted on the walls of the museum include Elvis Presley, Audrey Hepburn, Steve McQueen and John Trudell, an artist and activist who was the spokesperson for the United Indians of all Tribes during their 1969 takeover of Alcatraz Island. Randall will be traveling north to install a mural in downtown Flagstaff and then go on to the Navajo Nation and collaborate with artist and activist Chip Thomas, also known as "Jetsonorama." Thomas helped Randall find the right wall for his large-scale artwork downtown and they will be installing it this weekend and next week in an alley on East Aspen Avenue near the Hotel Monte Vista. This series will be part of a larger exhibit titled NDN Now, scheduled to open at the Heard Museum next year. Visit www.ndnnow.org for more information.
[EDITOR'S NOTE: Due to inclement weather, the installation is postponed until a future date which will be announced later]
FRIDAY | 2.9
NOTHING SHORT OF THE BEST
Named after late painter and long-time arts advocate Viola Babbitt, the Viola Awards recognize businesses, educators and artists who contribute positively to the arts and sciences in Flagstaff. And this year, Flagstaff saw some great nominations. Some finalists in the new categories are Tow'rs' album "Grey Fidelity" for Excellence in Music, Dark Sky Aerial's TILT performance in Innovation, Dawn Tucker of the Flagstaff Shakespeare Festival for Community Impact (Individual) and the Flagstaff Foundry for Community Impact (Organization). Not familiar with some of the nominees? Luckily for you, the community can check out all the talent Flagstaff has to offer at the 2018 Viola Awards Showcase Friday night at the Coconino Center for the Arts, featuring live music, storytelling and visual art from this year's nominees, with a suggested donation of $10. www.flagartscouncil.org
FRIDAY | 2.9
A TIME OF MUSICAL SIMPLICITY
Some musicians look forward to new music tech, gadgets and gizmos to help them create new sounds and new music. For Hot Lunch's Noah Kelly, he's looking backward, to a time of musical simplicity: the '80s. His new album Motion Sicknesslayers dreamy lo-fi sounds and surf-jazz guitar on top of 8-bit drum beats, creating a distinct nostalgic sound. "What I think makes this album and my work stand out is that I write, record and produce independently, using only a Tascam Porta-One Ministudio 4 track Cassette Tape recorder," says Kelly. "The result is a humble yet innovative sound that I believe evokes deep, troubling emotions, as well as represents my experience as a self-sustaining artist who has never fit into current norms." Catch Kelly this Friday, Feb. 9, at Firecreek Coffee Company for his Motion Sickness album release show, with performances by Phoenix favorites Twin Ponies and Dent, as well as Drive-By Dunk. The all-ages show begins at 8 p.m., with tickets for $6. For more information, visit the Facebook event page. 
SAT. & WED. | 2.10 & 2.14
BURNING QUESTIONS FROM HUNGRY HEARTS
Has technology ruined dating? How do you know if you're in love? Is it possible to have a healthy open relationship? While themes of sex positivity have seen an increase in our society, sometimes there are questions that people may be too nervous to ask. Whether that's because they fear revealing too much of their personal lives and hidden insecurities or that their question would be considered dumb, there's no such thing as a dumb question for the experts at the Hungry Hearts Cabaret & Love Advice Show, presented by Momentum Aerial. The event offers a steamy combination of aerial dancing and a panel of local experts who will be answering anonymous questions from the audience. Before the 2016 performance, founder Joanie Garcia explained in an interview with one of our former staff writers: "Aerial and dance is so sensual, and what a better time to celebrate our sensuality and the body in this art form than through the holiday when we celebrate love?" The 4th annual Hungry Hearts Cabaret & Love Advice Show is set to dazzle attendees Saturday night beginning at 8 p.m. at Prochnow Auditorium on the Northern Arizona University campus, 317 W. Dupont Ave. Tickets for the general public are $15, $10 for NAU faculty/staff and free for NAU/CCC students with ID. They can be purchased online at www.nau.edu/CTO. There will also be a more intimate Valentine's Day performance at Momentum Aerial's studio, 1802 W. Kaibab Lane, Suite 170. Both events are suited for ages 18 and up. Visit www.momentumaerial.org for more details.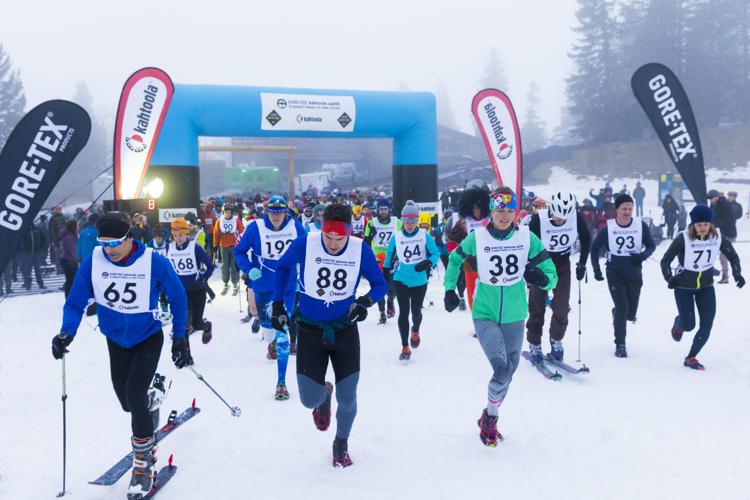 SATURDAY | 2.10
This winter has been, among other things, surprisingly warm and dry. With only one or two days of proper snowfall, Flagstaff has certainly seen better winters. If you worry that this year's lack of snow will affect the annual Kahtoola Uphill race though, worry not. As event organizers proudly display on the website's homepage, "Snow or no snow, this year's Kahtoola Uphill is happening." So bust out your snowshoes (or hiking shoes provided there is no snow), and get ready for the 11th Annual Kahtoola Uphill race at Arizona Snowbowl, presented by Gore-Tex. As with every year, the annual mountain race acts as a fundraiser for Friends of Camp Colton, the non-profit organization supporting Flagstaff Unified School District's outdoor education center. This year, the proceeds from the race and raffles will go toward funding improvements at Camp Colton, a new 1st and 2nd grade day-trip program and the Friends scholarship program. Starting this year, children 12 and under can race for free with a registered adult. Go for fun or go for a challenge with courses such as the Subaru Fun Climb, the Double Midway Climb and the Lumberyard Brewery Agassiz Climb. After conquering the mountain stay for food and festivities at the Arizona Snowbowl Hart Prairie Lodge. Visit www.kahtoolaagassizuphill.com for more information.