Art of any form isn't always made simply for art's sake. There's a passion backing its creation, long-term goals, a search for clarity in a mixed up world and, sometimes, it can even become a lucrative career path.
Even so, "life cannot just be career or art," says Sedona musician and Northern Arizona University alum Brandon Decker, 38. "It just can't."
He's worked to find a balance between music and making a living while releasing a full-length album almost every year since 2009's Long Days.
"I was supposed to stop about three albums ago and take a break," he says. "Sometimes I feel like one of those people addicted to gambling, but with music."
Now two years since decker.'s latest release, 2016's Snake River Blues, the singer-songwriter is back in the booth recording his seventh studio album at Raven Sound Studio in Prescott with friend and audio engineer Dylan Ludwig.
"I wrote the album, 10 songs, in like three weeks, and I felt like I had to go in and do it," he says.
Decker's recorded some of his past albums at various studios around Arizona such as WaveLab Recording Studio in Tucson and Flying Blanket Recording in Mesa but enjoyed the flow he had with Ludwig when they worked together on a cover of The Stooges' "I Wanna Be Your Dog" last year.
With this upcoming album, due out on indie label Royal Potato Family by mid-July "if all goes as planned," he focused on writing songs that were more lyrically-driven and could stand on their own with just a guitar and vocals if need be. To be a musician is to be vulnerable, but Decker has been able to avoid the worst of his vulnerabilities by keeping one or more bandmates on stage with him as he bares his soul.
"I've probably played almost a thousand shows, and I've always had at least one member that I would kind of hide behind," he says. "This is the first time in my career I feel I could play a solo. It's not something to do forever, but it's nice to know I have an option."
Decker says his songs have generally been about the lyrics rather than background music for dancing, so this shift was a welcome way for him to pen more personal songs, one of which, a lullaby, he co-wrote with his six-year-old son.
Although this recent batch of songs came together easily for him, the songwriting process isn't always as straight forward.
"The songs come out of the ether, they really do," he explains. "You might have a vision, but as you write them and record them they kind of do their own thing."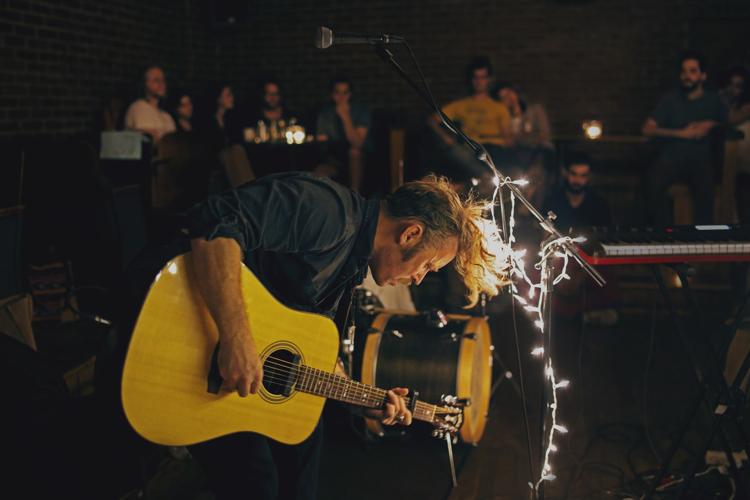 Decker grew up in Denver, but living in Sedona for almost 15 years has given him a new perspective on life and how certain things such as a sense of belonging can come to be.
"I love Sedona because it's my home," he says. "It's so healing and nurturing and mysterious."
That doesn't mean he doesn't appreciate the more fast-paced lifestyle though. He and the band traveled to bustling New York City in 2016 for the release of their last album. By the end of their tour, despite originally having only booked four shows when they set out from the West, the band played 20 gigs in 23 days.
"To me, New York is, in many ways, the opposite of Sedona, and you kind of just go until you drop out there," he says. "It's the heartbeat."
The experience was documented by friend and fellow NAU alum Matty Steinkamp. The resulting film, titled Snake River Blues: A documentary of an American songwriter, was released last summer and condenses the entirety of the recording process and subsequent tour to 20 minutes of highlights that show Decker and keyboardist Amber Johnson driving across dusty roads and dissecting songs in the recording studio before making it to New York where they played shows and busked on street corners and in subway stations.
"So much of the time with doing this stuff it goes by in a blur," Decker explains. "You've got this tour and you're looking forward to it, but it just grabs you by the collar and throws you in a locker and you close your eyes and it's done. So it was really nice to have that year, this retrospect just for myself."
Throughout all of this, he's stayed realistic in his goals and recently got his first job in six years as a tour guide to help ease the strain of trying to make a living as a musician.
"I did it for my art's sake, meaning, trying to extrapolate every penny I could out of music had started to take a toll on it," he says. "I think one thing I've realized is if I continue to want to chase art as a career, the art itself will suffer because there's less to draw on."
And with more life experience will hopefully come more of the evolving twangy desert rock northern Arizona fans have come to expect from decker. over the years.
decker. will give a rare solo performance this Friday, Feb. 23, at the Hotel Monte Vista, 100 N. San Francisco St. The free show begins at 9:30 p.m. with Phoenix punkgrass band The Haymarket Squares opening. Visit www.deckermusic.org for more information.