"I would like to change the world with art, so we'll start here," says Jill Sans as she sits inside the newly designated space for the Indigo Art Collective.
"One tiny space at a time, one indigo wall at a time," adds Tiffany Blevins.
The modest room in a historic downtown building on North San Francisco Street has hosted a number of businesses over the years, most recently Mountain Mojo Group. The bold transformation, taking it from marketing office space to an intentional place of healing, began with the deep indigo wall to the east.
A large indigo plant painted by Sans continues the theme on the south wall, and a lounge area near the front door to the west offers a cozy couch and a small bookshelf waiting to be filled with art-themed books.
The words "community" and "together" come up time and time again during a conversation with the five artists who make up the collective. While covering a range of artistic mediums—Sans and Kayley Quick paint, Blevins and Amanda Elisabeth make and sell jewelry under the names PinkLune and Etherea Jewelry respectively, and Lucy MacRobert sells her knit and crochet wares as Earth Lotus Arts—the tight-knit group is united in the shared goal of fostering a supportive environment to work on personal business goals and provide unique wares to customers.
When customers purchase directly from artists, they know to expect one-of-a-kind pieces that have been made with care as opposed to more generic items produced in a factory and sold to the masses. When buying from artists, people aren't just paying the wholesale cost of materials used; the cost also reflects the time an artist put into their work and is reflective of their own personal worth.
"We all are constantly telling each other to charge more or crazy ideas like, 'Let's paint a giant wall indigo,'" Quick says.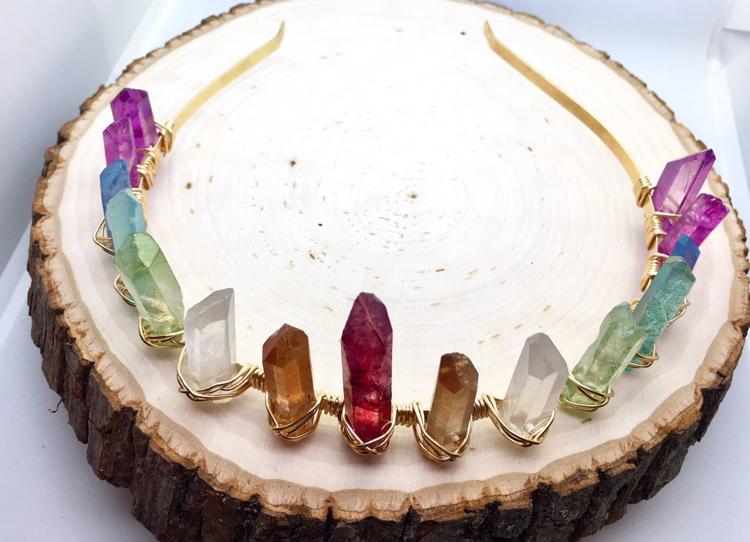 What she began in 2015 as a pop-up market at the Green Room during First Friday ArtWalks has steadily grown to encompass a much deeper well of inspiration and ideas.
"I don't think there's any way I would be as far along in my artistic process and business if it wasn't for this," says Elisabeth.
The shift toward setting up a permanent space has added more chances for collaborations and tips between the artists.
"I've been feeling like, for all of us, it's a point of healing to have this centered space we kind of treat with reverence," Quick says, with the other artists voicing affirmations.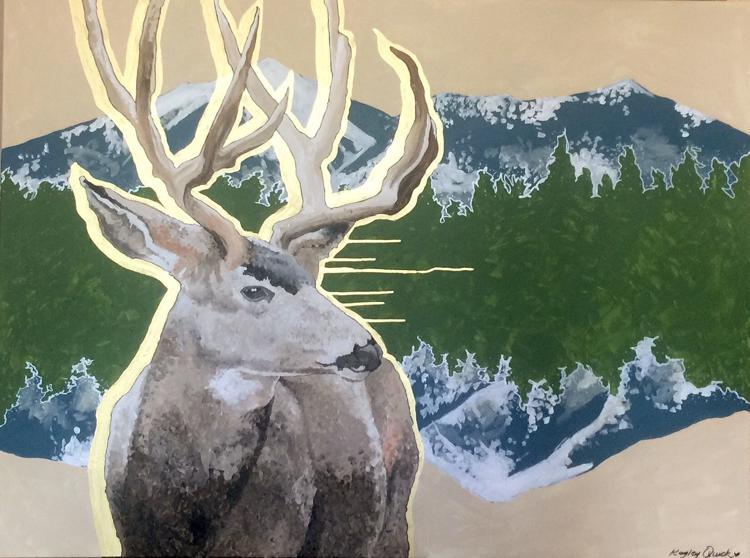 "It's not just this sort of ephemeral idea of this market," Elisabeth adds. "It's an actual place we can come and touch and be in and create in."
"And it's exciting too because, especially this last year, every time we were doing events people would ask, 'Oh, where are you guys, where can we find you?'" says MacRobert.
While it wasn't necessarily a goal for them to find a physical location, everything just came together.
"It's been a very organic process," Sans says. "Spaces would pop up and we would check them out and they wouldn't feel right and then this space came up and it just kind of felt perfect."
"What was cool was it felt right for all of us too," says Quick.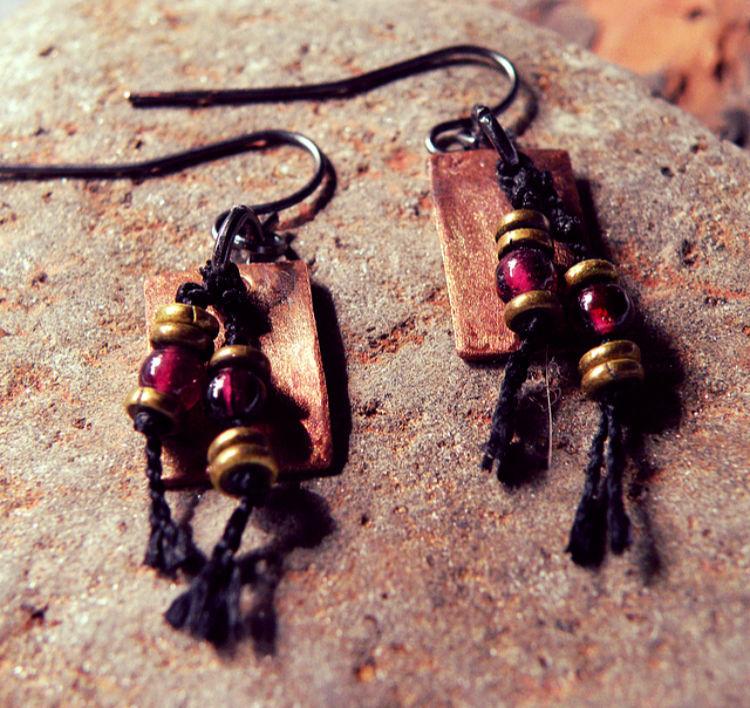 The space will act as a workshop space for the artists, allowing them to focus on creating away from the busy world outside, as well as a market and classroom. Each of the artists had to start somewhere, and now they want to give back to the community by helping others realize their artistic capabilities.
"I'm really hoping to bring in some aspects of classes that kind of touch more on our humanness," Sans says. "I do a lot of mandala work and I've done a lot of mediation, so somehow doing a class that combines the two. I also really want to do a class called 'The Art of Effing Up' and teach people how to make mistakes and be comfortable with that."
While learning a new skill can admittedly be frustrating, Sans wants to remind students that no one's immediately perfect. Too often people will give up on a hobby if they're not good at it right away, but growth doesn't always occur in a straight line. It's the dedication to work toward a specific goal that brings about success in spite of any small downfalls along the way.
Classes will be announced on the Indigo Art Collective website as they are scheduled and participants can sign up there as well. Some planned classes include miniature acrylic paintings with Quick and macramé plant holders with MacRobert as springtime arrives.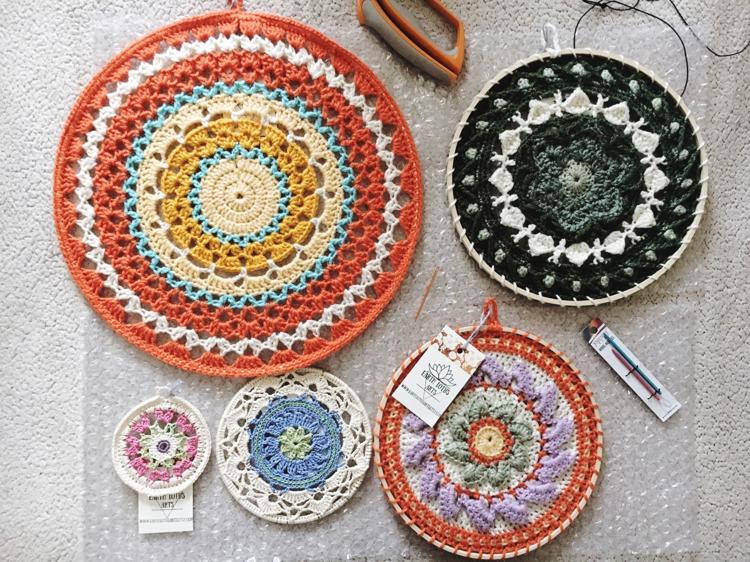 "It's going to really teach people the tricks of the trade so they can start developing themselves as an artist," says Quick who earned her degree in art education from Northern Arizona University and currently works as an art teacher at Flagstaff High School. "The space is so intimate that class size is limited and students will get that extremely personalized attention."
To involve the community in other ways, the collective plans to feature a new artist each month and debut their work during First Friday ArtWalk. Quick will be the first artist on display for the grand opening this Friday.
"I've been creating a lot of work that has not been shown before," she says. "I'm really happy with them, and I'm not always really happy with my work, so it feels good."
MacRobert will follow her as featured artist for April, but the collective is hoping to get different artists' work on the indigo wall as time goes on.
"We want to give artists the opportunity to maybe show new stuff here, we don't want to just be another circuit that artists kind of flow through," Quick says. 
As all the pieces have come together with final touches added over the past week leading up to their grand opening, the artists reflect on the various circumstances that led them to this moment and how they plan to spread the joy of being creative as part of something bigger.
"Over the last couple of years water has become this deeper connection for me and once we painted the indigo wall it just felt like one more layer down because this whole process has also kind of felt like water," Sans explains. "It's just constantly moving. Sometimes it stops, sometimes it moves fast, and then sometimes we go off on our own little tributaries before coming back to the bigger river."
"I hope that by us doing this it gives other people permission to also do other stuff like this," says MacRobert. "That's how change is made."
Visit the Indigo Art Collective for their grand opening celebration on Friday, March 2, during the First Friday ArtWalk at 17 N. San Francisco St., Suite 1B, behind the Artists' Gallery. Enter through the teal door in the alley across from the Gringodillas food truck. Visit www.indigoartcollective.com for more information.