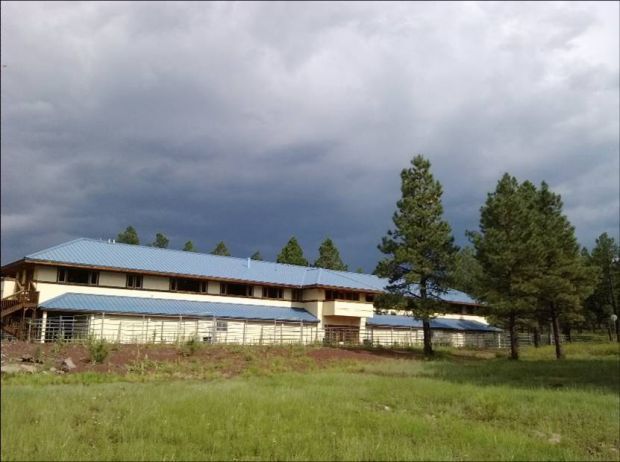 Coconino County is on the lookout for potential uses for a 30-acre housing compound at the edge of Rogers Lake that it received as part of a 240-acre donation in 2011.
The property, located about 10 miles southwest of Flagstaff, includes a six-bedroom residence above a 16-stall equestrian stable, a three-bedroom caretaker quarters with a five-car garage and a 6,000 square-foot unfinished foundation.
For the past three years, Northern Arizona University has used the property for a summer artists-in-residence program, but has decided not to renew its contract after February.
"We have a sense that this property might fulfill a community need for a unique meeting venue, a unique place to have weddings and family reunions and that sort of thing," said Cynthia Nemeth-Briehn, director of the county's parks and recreation department. "It is an opportunity, frankly, to capitalize on a very unique space with some magnificent views."
Tucked into ponderosa pines, the property looks out on the expansive Rogers Lake wetlands backed by the San Francisco Peaks. The county has permitted two weddings and one meeting at the site, but so far hasn't actively marketed the property for those uses. The charge is about $1,000 per day to rent the entire property.
The property was donated to the county by the estate of the late St. Louis Rams owner Georgia Frontiere, who died in 2008. She bought the property in 1999 and built the living quarters and caretaker residence but never lived there. It sat unused until NAU started the artist residency program in 2015. 
Last week, Nemeth-Briehn presented county supervisors with two options for future management of the 20-acre compound area and buildings: find a private partner that would manage the site, including event rentals or other uses, or take those responsibilities in-house.
Supervisors quickly decided the county didn't have the expertise for that sort of management and decided to begin a search for a private entity that would operate and maintain the property and use it in a way that is compatible with its surroundings, including the nearby Rogers Lake County Natural Area.
"We shouldn't be in the tourism business. I think we should let the private sector be in the tourism business," County Supervisor Art Babbott said.
It will be up to the board to decide if the proposal has to make money, Nemeth-Briehn said.
She also developed conceptual cost estimates for a public-private partnership model. They took into account a basic county investment in operations and maintenance and potential revenue projections if a private partner were to use the site for a bed and breakfast, just as a campground, or as a meeting and wedding venue. In nearly all of the scenarios, the county would lose money each year, based on it receiving either a 5 percent or 10 percent cut of the private operator's total gross revenues.
The county receives a portion of revenues in other public-private partnerships like the Pepsi Amphitheater and the North Pole Experience at Fort Tuthill.
Although the majority of the board was supportive of going forward with a public-private partnership on the Frontiere property, Babbott said he also wanted to discuss the option of disposing of the property.
"This is a facility that is beautiful in location but is a financial black hole for us and that is going to continue to suck resources and capacity at a level that I don't think we've even prepared for yet," Babbott said.
Supervisor Jim Parks was hesitant as well, but gave the go-ahead to solicit private proposals. He said he would like to reevaluate the arrangement in two or three years, then discuss if selling the property would be a better option.
In that case, there's a need to consider whether selling off the property runs counter to the county's goals in acquiring the Rogers Lake area for open space and managing it into the future, Supervisor Matt Ryan said.
Supervisor Liz Archuleta pointed out that the county has already rented the facility three times without doing any advertising.
"I do believe there is a niche for it," Archuleta said.