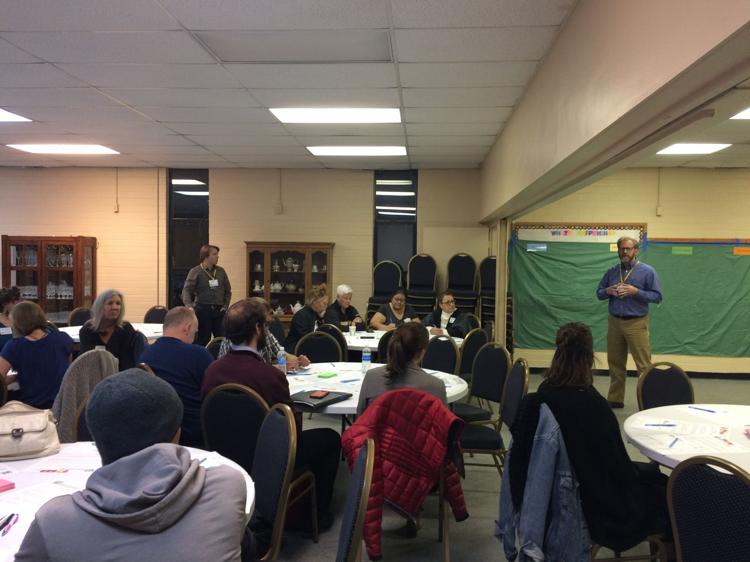 What do you think is the biggest issue affecting the Southside?
The question was posed to a group of about 45 people gathered at the Murdoch Center for the first meeting to help construct the Southside neighborhood plan. The city has done a similar plan for the La Plaza Vieja neighborhood.
Once the plan is created it will go before the Flagstaff City Council for adoption. If adopted, the plan will be an amendment to the regional plan to more closely govern the goals and policies adopted for the neighborhood.
Participants at the meeting were asked to create a vision statement for how they see the Southside now and what they would like to see in the Southside in the future. Ways to describe what the Southside is now included "unique," "vibrant," "family-forward" and "distinctive." When asked what they liked about Southside now, participants listed features like the walkability of the neighborhood, events in the neighborhood and surrounding areas and the cultural heritage of the area.
When asked about things that need improvement, participants listed sidewalk and street connectivity, the need for an affordable grocery store, a lack of parking spaces and new building projects as some of their biggest concerns.
Responses for the good and bad aspects of the Southside were hung on a wall under topics to which the feedback corresponded. Topics included new residential development, existing homes, Rio de Flag, traffic and parking.
Several respondents listed Northern Arizona University as both a positive and negative aspect of the Southside. One response said NAU creates much needed jobs and economic opportunities for people in the Southside and throughout the city, but unbridled growth of the student population has created the scarcity of rental housing available for nonstudents. A respondent also said loud parties in homes and apartments rented by NAU students make the neighborhood less attractive for families and adults who are not students, and said absentee landlords do not keep their properties clean or give buildings the upkeep they need.
Participants were also asked to identify places in the Southside that they consider a positive place and places they consider negative on a map. Some participants chose to mark favorite restaurants and bars, which included The Mayor and Cornish Pasty, others chose to mark historic sites, which included the Our Lady of Guadalupe Church and some of the area's oldest homes.
Flagstaff Comprehensive Planning Manager Sara Dechter said the planning team will consider all of the comments received at the session, as well as all upcoming sessions, when crafting the draft plan.
The next planning session will be scheduled for either the end of January or the beginning of February, Dechter said.