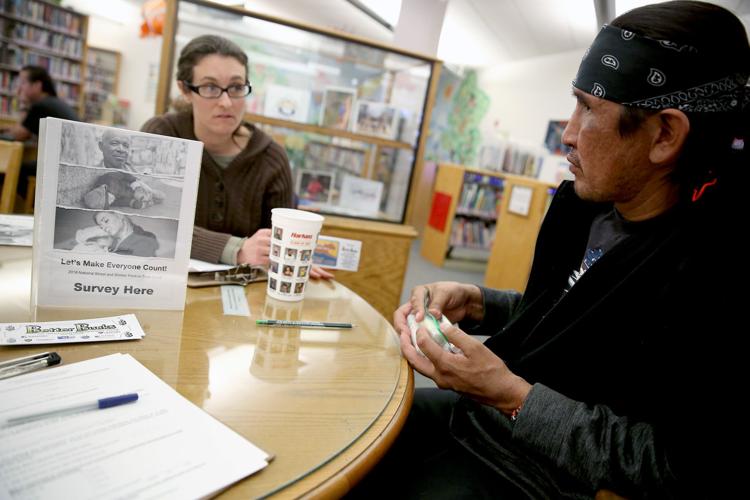 By 2 a.m. Wednesday, the temperature had slipped to a frigid 6 degrees in Flagstaff. On that night, Jamie Cly and Avery Gonnie, the man she calls "her other half," were sleeping outside behind a building that used to house a restaurant, just off Milton Road.
They dress in warm clothes, layer their sleeping bags on top of them and try to sleep close to keep each other warm, Cly said.
Without a tent or sleeping pad, they sleep on the cold, hard concrete.
"We just try to keep our minds off of it," she said.
Sometimes her mother will buy them a hotel room for a night, but for the most part they have been homeless, mostly sleeping outside, for about the past two years, Cly said.
She was one of hundreds in Coconino County who were surveyed this week as part of an annual Point in Time count. The goal is to document the number of people experiencing homelessness who were unsheltered at a single point in time — in this case Tuesday night. The same counts are happening across the state and the country as well.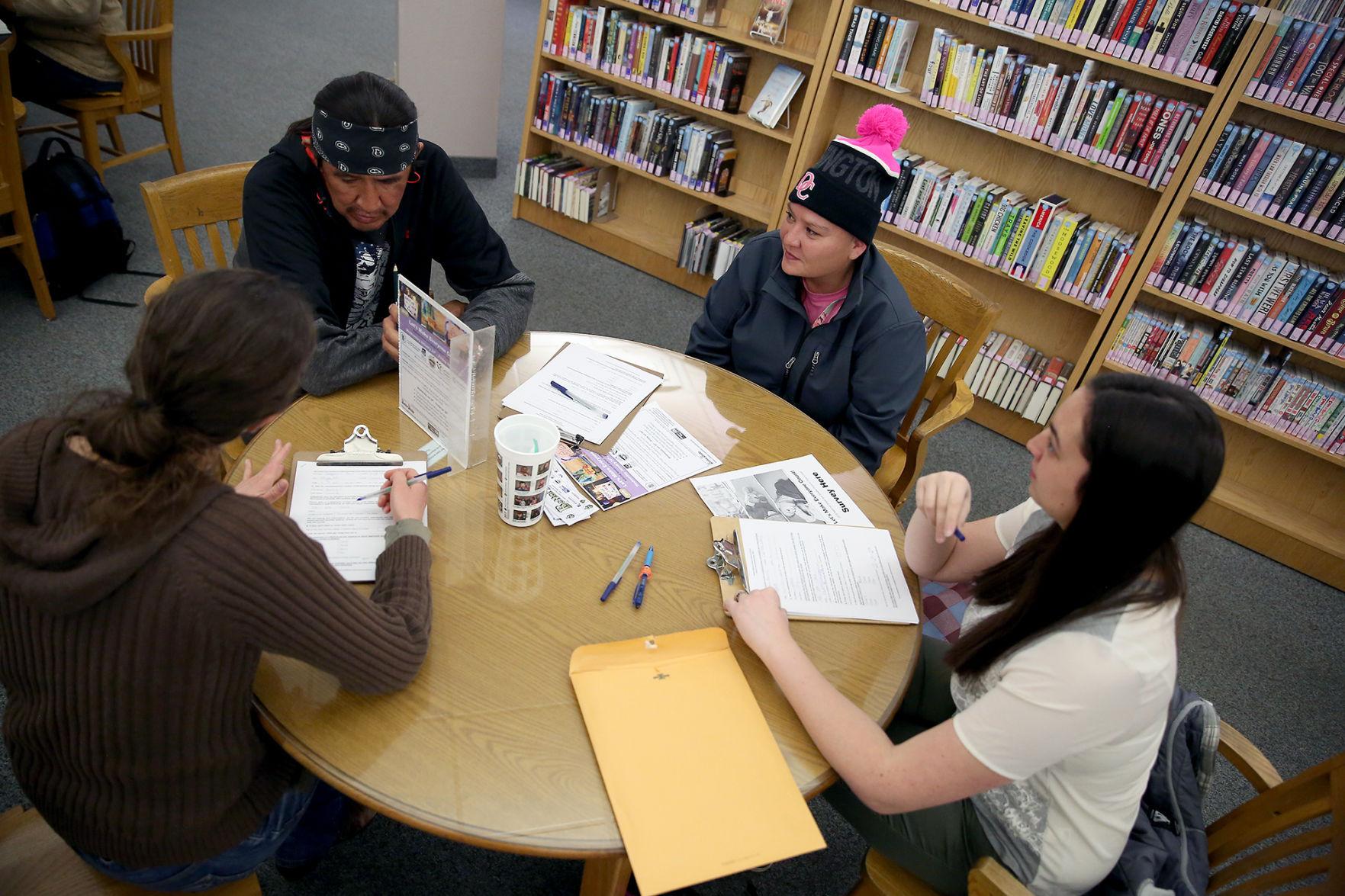 The term "unsheltered" covers a range of situations, from people who were camping in the forest outside of town, sleeping in their car, staying in a trailer or camper without water and electricity, or spending the night outside or in an abandoned or substandard building not meant for regular sleeping, said Leah Bloom, who works for the city of Flagstaff and is the county lead for the Point in Time count.
The data collection is required by the U.S. Department of Housing and Urban Development and helps determine funding for homeless services in Coconino County. It's also used by local organizations to shape program development, apply for funding and gain a better picture of what kinds of people are experiencing housing crisis, said Ross Altenbaugh, executive director of Flagstaff Shelter Services.
"It is the piece of information that helps us make real decisions about our community and the community resources that we do have," Altenbaugh said.
Beginning Tuesday night, groups of volunteers fanned out across Flagstaff and other communities in Coconino County, from Fredonia to Page, Williams to Tuba City. They are going to places like soup kitchens, shelters and other community centers in search of people who spent Tuesday night without an adequate place to sleep. Other volunteers are scouting out popular camping spots outside of town in places as far away as Happy Jack, Bloom said.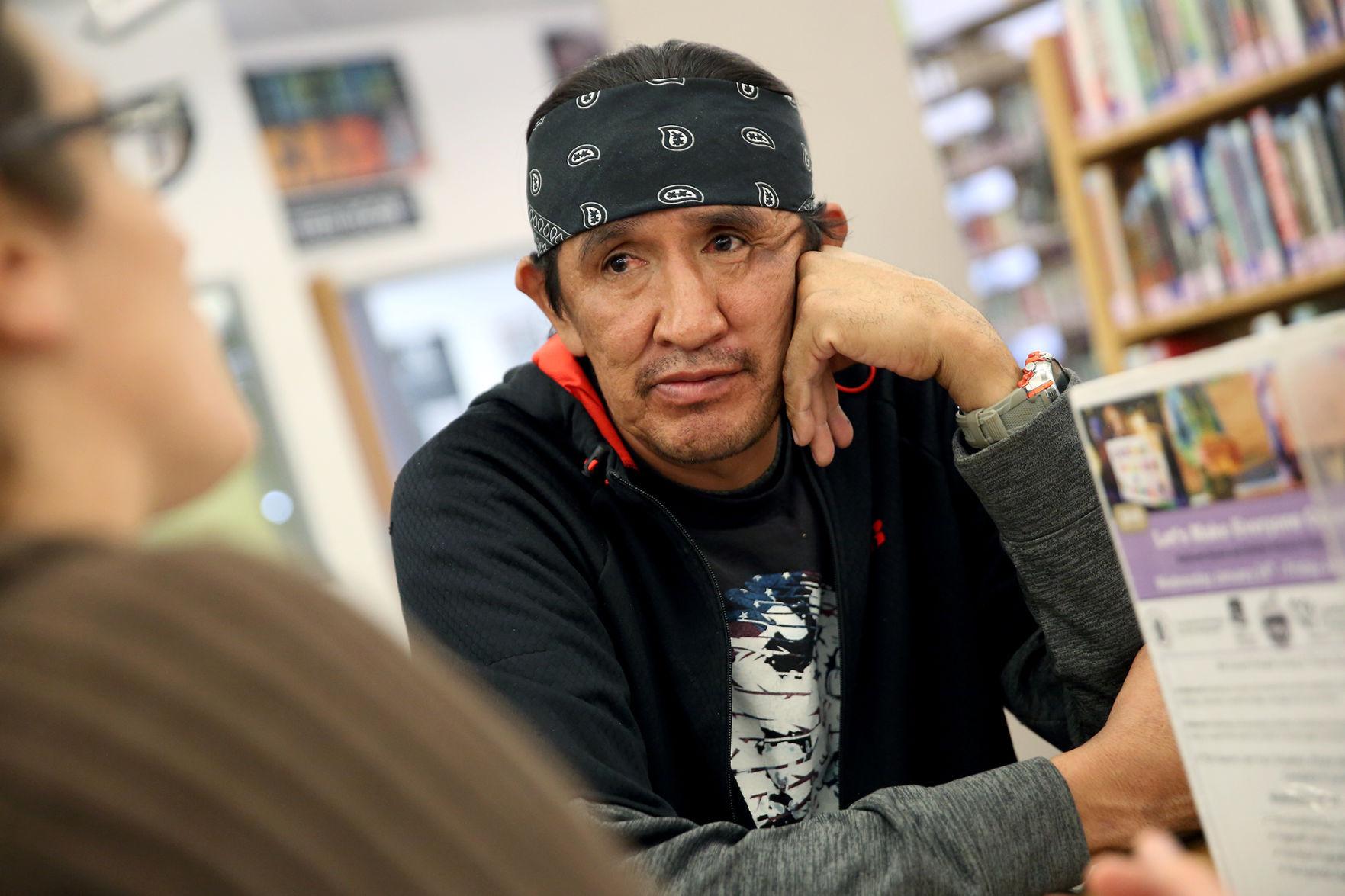 Beyond asking people about Tuesday night, the eight-page Point in Time Housing Survey includes questions about the person's current living situation, history of homelessness, medical and economic condition and household unit. People are also given information about local resources and asked for a contact number or email so local agencies can get in touch about other services available to them.
GETTING COUNTED
On one Thursday morning shift, volunteer surveyors Stephanie Hall, Tom Isakson and Danna Durney set up shop at a table at the East Flagstaff Public Library. Cly and Gonnie were among the first to approach the volunteers and agree to be surveyed.
People have generally been pretty open to participating in the survey, Isakson said.
"People wanted their constituency to be counted," he said.
Other groups of volunteers were in mobile units that drove around Flagstaff looking for people to survey. One trio spent several hours on Thursday scouting around Flagstaff's east side, checking places like the Safeway and the big box stores near the Flagstaff Mall. A chilly wind had picked up by the time they found three men sleeping under a tree behind an Office Max. Two of the men agreed to take the survey.
"What we've got is what we sleep with," said one of the men, who didn't want to give his name.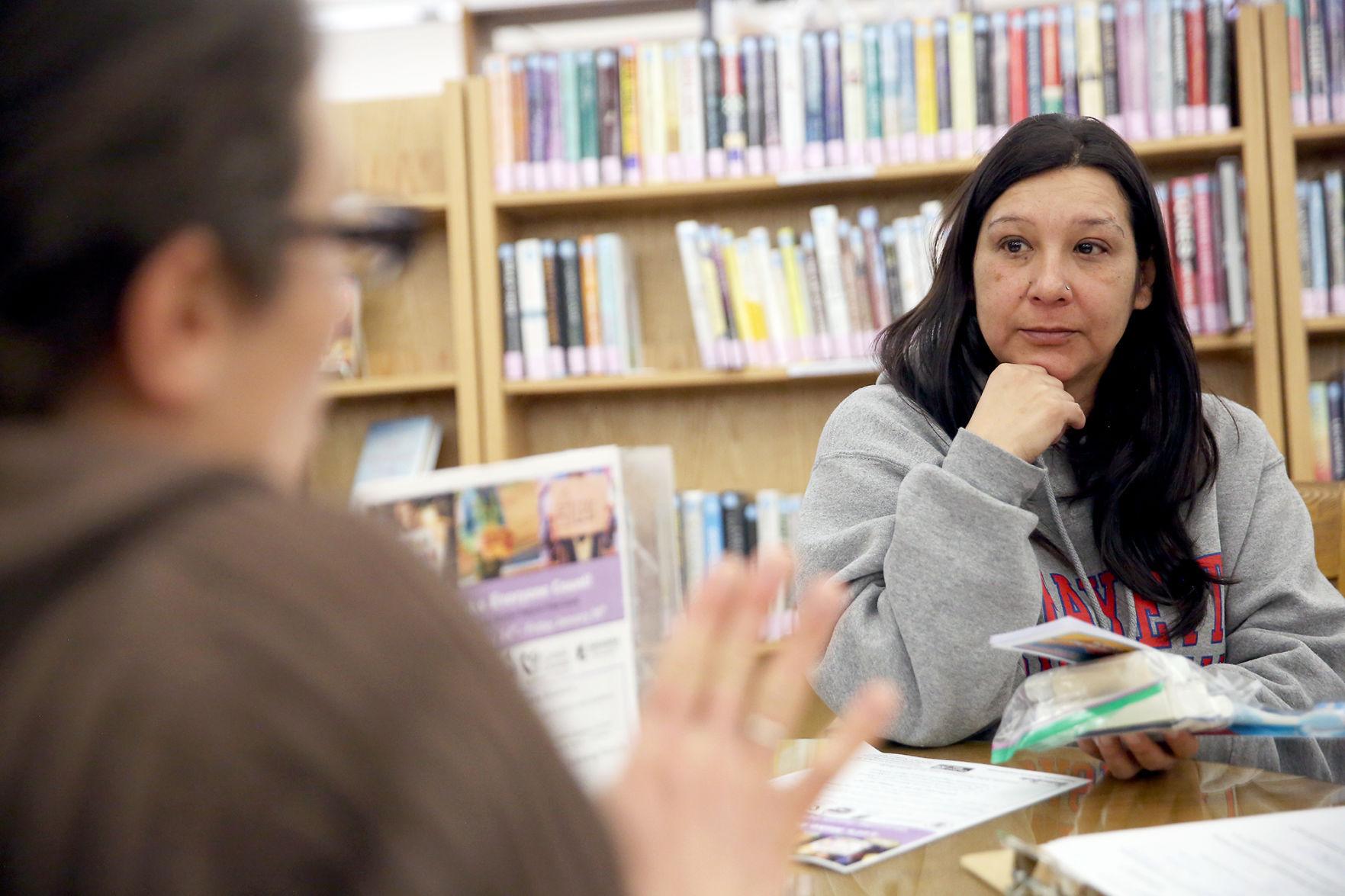 In response to the question about where he slept Tuesday night, the other man answered only that he "froze."
They were both grateful for the Better Bucks, all-day bus pass and toiletries that survey participants receive when they finish.
Tatum Covey, who was part of the mobile unit, also works with Catholic Charities and has been surveying people who come to the nonprofit's office in search of services and resources. Most people she spoke with are camping or sleeping in their cars, Covey said.
OVERFLOW CAPACITY
While there are still people who spend the night outside in and around Flagstaff, it's not for lack of capacity at emergency shelters. On Tuesday night, Flagstaff Shelter Services had room for 15 more people, and Northland Family Help Center, which runs a domestic violence shelter and a youth shelter, had 11 beds available, those organizations said.
To ensure Flagstaff never faces a lack of shelter capacity during the winter months, Flagstaff Shelter Services partners with local churches that make their spaces available as overflow shelters for a week at a time, Altenbaugh said. Since the partnership began in 2014, the shelter hasn't had to turn anyone away due to lack of space, she said.
Still, there are people who avoid the shelter for a variety of reasons, from mental conditions to a resistance to sleeping with dozens of other people, Bloom said. Cly is one of them, saying she doesn't like sleeping at the shelter because it's stuffy and too loud. Plus it smells like cigarette smoke, she said.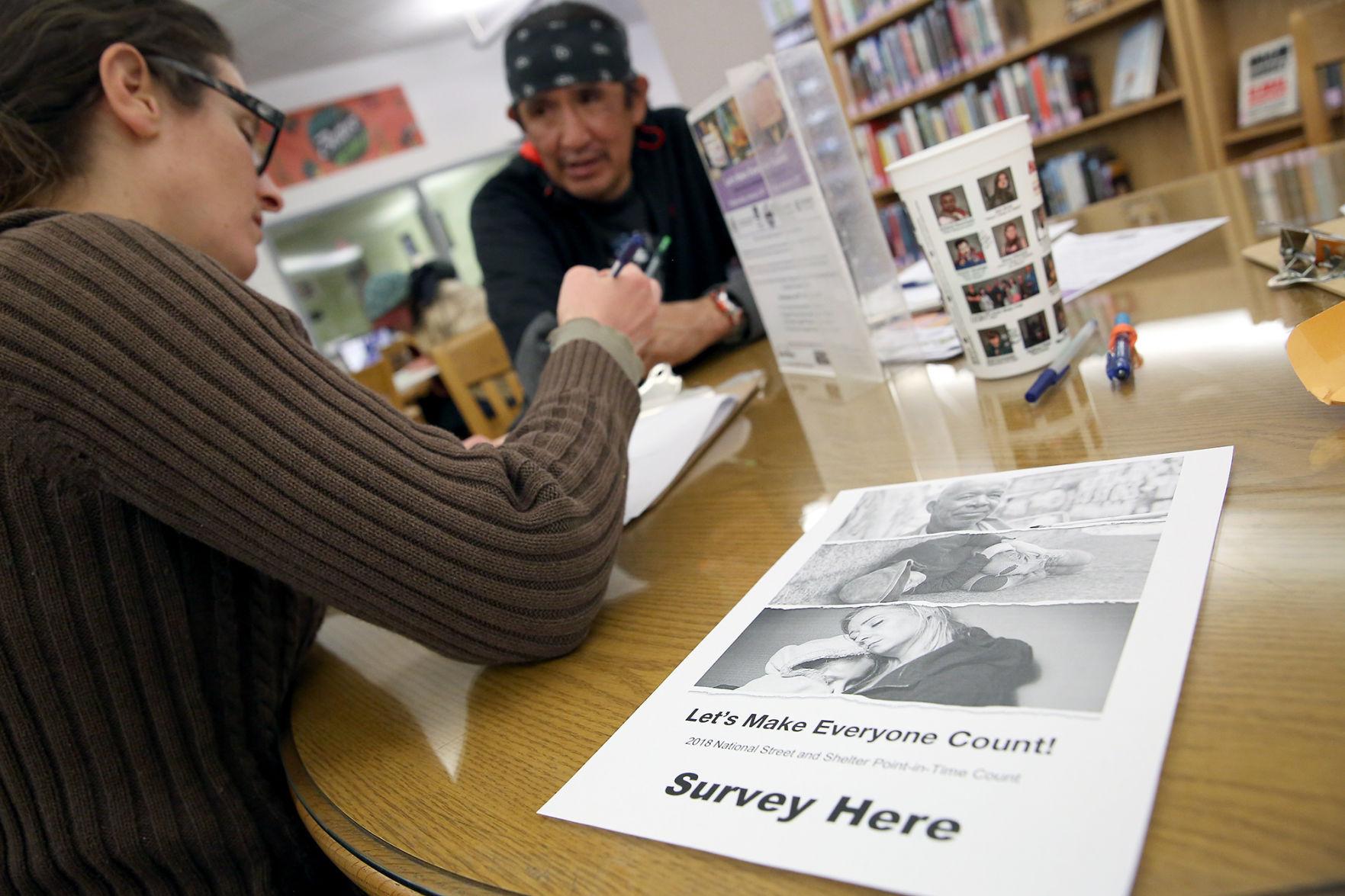 For those people, Bloom encouraged them to still come to Flagstaff's emergency shelters or its Front Door coordinated entry program so agencies can try to find another place for them to go and not risk an exposure death.
EYE OPENER
The Arizona Department of Housing will compile the point in time survey data collected from Arizona counties, then deliver county-specific reports in June, Bloom said.
While that final data serves an important purpose, the surveying itself is a valuable experience as well, allowing volunteers to connect with people in their community who are experiencing homelessness, Bloom said.
"It's an eye opener that just a few unfortunate events can put somebody in homelessness," she said.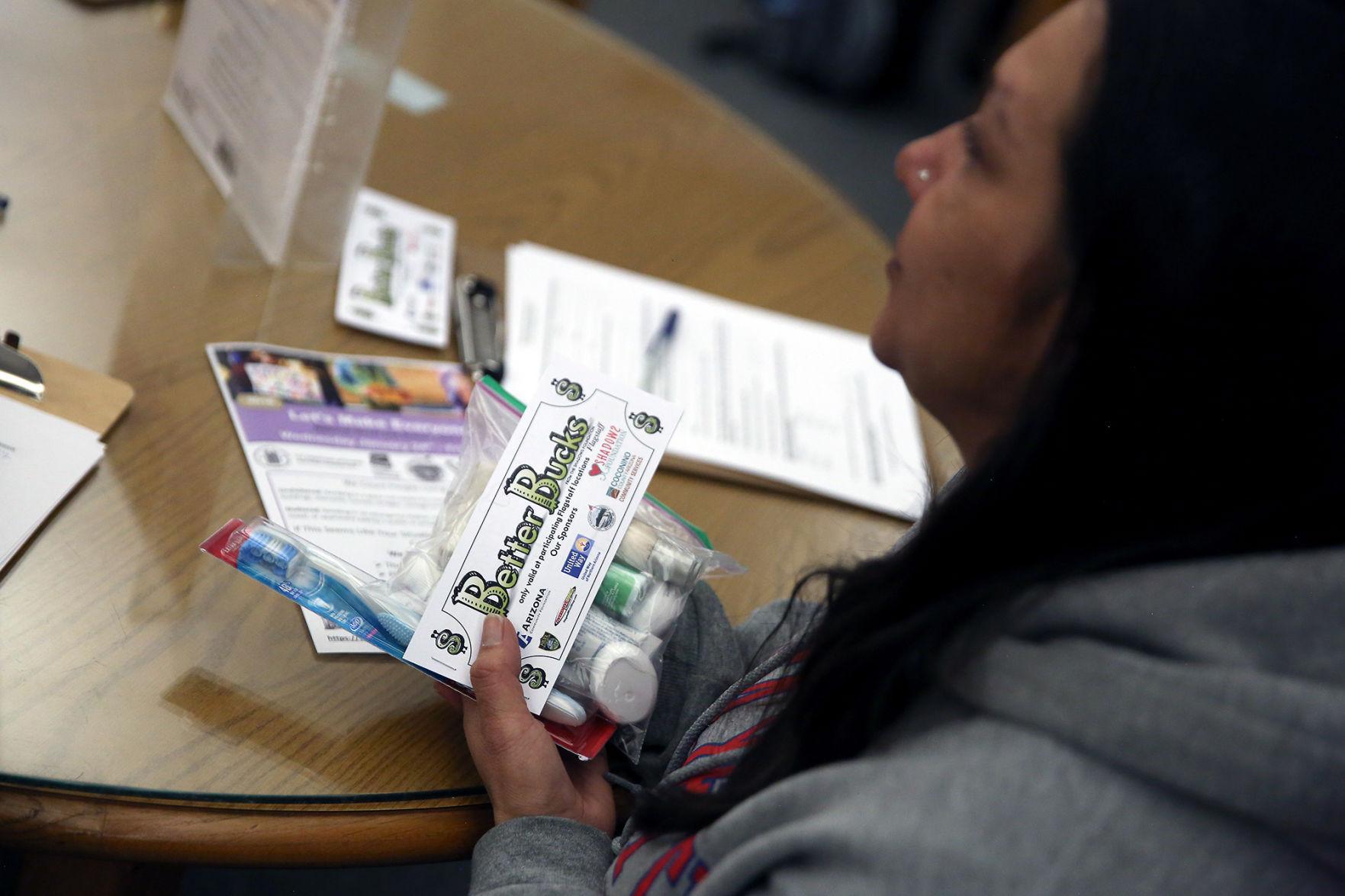 That was the case for Rebecca Snowden, who lost her house while getting out of an abusive relationship in Kentucky, lost her job after getting injured at work and then unintentionally ended up in Arizona even though she was trying to get back to her children in Missouri. She had arrived in Flagstaff four days ago and was doing all she could to find money for a bus ticket to Springfield while staying at the shelter in the meantime. 
"Everybody's situation is different," she said after completing the survey at the East Flagstaff Library. "It doesn't mean that one is better than the other or vice versa."