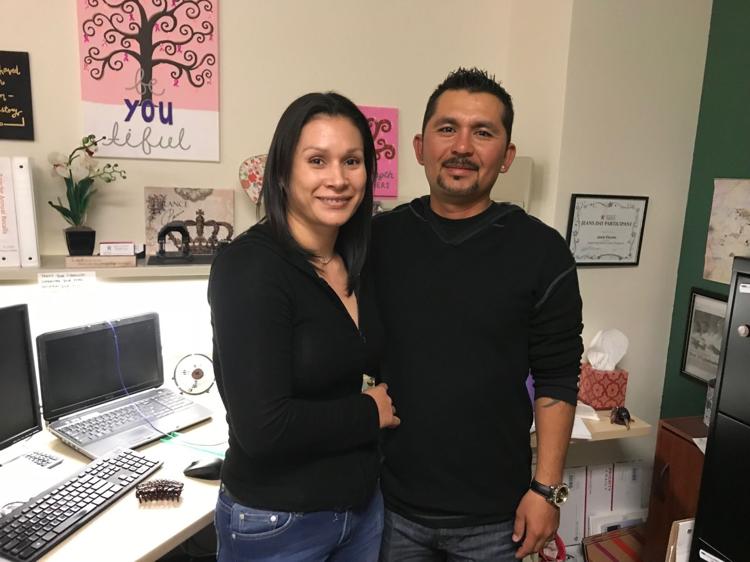 It was by chance that Eva Ramírez Ríos noticed a small lump in her right breast while taking off her blouse one day in July 2015. She couldn't sleep that night, knowing what the lump likely meant.
Two months later, Ramírez Ríos was preparing for surgery to remove both her breasts and both her ovaries after doctors diagnosed her with invasive breast cancer. After surgery it was four months of chemotherapy, then another six weeks of radiation.
There were times when she thought she couldn't do it anymore, when her hair and eyebrows were falling out and when her skin turned black from the radiation, Ramírez Ríos said.
But sitting next to her husband last week, more than two years after she was first diagnosed, Ramírez Ríos said she wouldn't be here today without those treatments and the program that allowed her to access them.
Ramírez Ríos is undocumented and doesn't have insurance. She and her husband say they never would have been able to afford her breast cancer treatment on their own.
That's where North Country HealthCare's Well Woman Healthcheck and Treatment Link programs come in. Together, they provide free breast and cervical cancer screening and diagnostic services as well as low-cost or free treatment for women diagnosed with breast cancer who are low income, don't have insurance and don't qualify for other sources of assistance.
They are known as a payer of last resort.
But after this March, the Treatment Link program will face deep financial cuts that could force it to reduce its services or put them on hold until it finds another source of money. 
Almost 100 percent of the program's funding for breast cancer treatments comes from the Susan G. Komen organization, which closed its doors in Arizona in July. The organization said the closure was due to declining donations and event participation. But that means an end to the $150,000 that Komen Arizona has donated to the Treatment Link program annually for at least the past 15 years, said Elizabeth Markona, North Country's Treatment Link program coordinator.
The organization already reduced its donation to $50,000 this year, but an anonymous $100,000 donation will help the program get by until its fiscal year ends in March, Markona said.
The money pays for breast cancer treatment, from chemotherapy drugs to surgeries to radiation, for about 25 women each year, she said. The program can treat that many women thanks to several financial breaks. Care providers in the community donate their time or have agreed to provide surgeries and radiation treatments at Medicare rates, which knocks about 70 percent off the billed amount, Markona said. At those rates, a typical surgery costs about $4,000 and radiation treatment costs about $20,000, she said. 
Sometimes those Medicare prices are less than the cost to administer the treatment, but providers agree to them because they support the cause, Markona said. The providers involved in just Ramírez Ríos's case, for example, included Northern Arizona Radiology, Flagstaff Surgical Associates, Arizona Oncology, the Cancer Center of Northern Arizona, Flagstaff Ob/Gyn and Plastic Surgeons of Northern Arizona. 
Individuals served by Treatment Link also can qualify for programs through pharmaceutical companies that provide their drugs for free if no generic version is available. Without that, chemotherapy drugs can run into the hundreds of thousands of dollars, Markona said. Instead Treatment Link pays just the administration costs of the drugs that run between $15,000 and $25,000.
NO WAY TO PAY
Now healthy and cancer-free, Ramírez Ríos said she has no idea what she would have done without North Country's services. The programs covered all of the costs involved in her nine months of treatment besides the medication she bought for pain and nausea. Ramírez Ríos' husband, Marco Carillo Solis, said even if he got on some kind of payment plan, he wouldn't have been able to pay back the full treatment cost in his lifetime.
"To be honest, we were just really lucky to get that help," Carillo Solis said. "If we didn't get help from the program, she would have died."
Ramírez Ríos now tells all of her friends to get screened regularly in hopes they will never have to experience what she went through.
But the Well Woman Healthcheck program, which provides free breast and cervical cancer screenings for all who qualify, will also see deep reductions due to the loss in Treatment Link funding. While the Healthcheck program is funded by state and federal dollars, that money comes with the condition that North Country only screen people if it can guarantee that if they are diagnosed with cancer, it can link them to and assist them with treatment costs.
That is the role of the Treatment Link program.
If Treatment Link's services go away, then North Country staff estimate they would have to reduce the number of women they screen for breast and cervical cancer by about half, Markona said. The health center currently screens more than 1,000 women each year, she said.
"That's a very significant chunk of women we screen who we wouldn't be able to screen," she said.
Funding for a similar program in Prescott is going away as well, which means there will be no funding for breast cancer treatment in northern Arizona, Markona said.
"There just aren't other grants that pay for treatment," she said.
Those helped by the Treatment Link program include undocumented immigrants like Ramírez Ríos, people with high deductible health insurance plans, men diagnosed with breast cancer and new immigrants because even documented immigrants will not qualify for assistance until they have been here with documentation for five years, Markona said.
In terms of other resources, Northern Arizona Healthcare, the parent organization over Flagstaff Medical Center, offers $89 mammograms in Cottonwood and Sedona during the month of October and has a financial assistance program for people who don't have insurance and don't qualify for Medicaid, spokeswoman Sophia Papa wrote in an email. 
The American Cancer Society also helps cancer patients and their families in the Flagstaff area. But the nonprofit has no plans to take over the services formerly offered by Komen, spokeswoman Brittany Conklin wrote in an email.
"We recognize there are some gaps in funding and resources available in Arizona since Komen has left," Conklin wrote in the email. The American Cancer Society is working with the state's Well Woman program and other hospitals and Federally Qualified Health Centers like North Country to develop a state approach for addressing these gaps, she wrote.
The American Cancer Society made its own changes to cut back on costs in July when it closed its Flagstaff office and switched its two local representatives to working out of their homes.