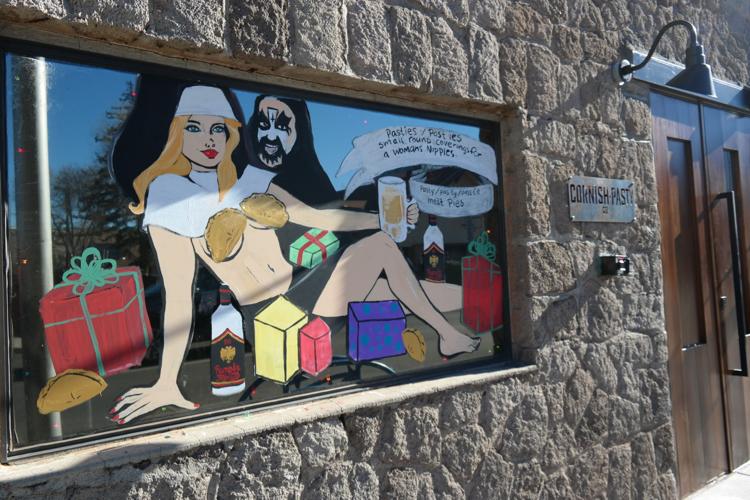 As the holiday season makes its way through the mountains, Flagstaff is getting into the spirit with the Second Annual Window Decorating Contest sponsored by the Flagstaff Downtown Business Alliance, with more than 20 downtown Flagstaff businesses participating.
But for Cornish Pasty, its window display has turned a few heads.
"We thought it would be a funny joke, but I guess to a lot of people it wasn't," said Cornish Pasty co-owner and general manager Ryan Hays.
The painting is a cartoonish rendition of a woman, nude save for a red Santa hat on her head, holding a mug of beer. Covering up her nipples are two pasties (pronounced pass-tee), as in the English baked pastry, being used as pasties (pronounced pay-stee), as in adhesive coverings for breasts. The joke, according to Hays, is that customers often mix up the two.
"I was just trying to make a good joke about pasty [and] pasties. It's just a pronunciation thing, but it's just kind of funny to us. Like pasty, pastie, what's the difference? Well there's the difference. Those are pasties, and we serve pasties."
CONFLICTING VIEWS
When Cornish Pasty posted a photo of the painting on its Facebook page, it provoked a considerable response from the community, some supporting the painting and some opposing. Within a few hours, Cornish Pasty's Facebook was flooded with comments. For some, the joke was apparent, even harmless.
An associate at another participating business in the competition, Zani Cards and Gifts, who wished to remain anonymous expressed their view of the painting, saying, "I think it's funny. I went there last night and thought it was great. I don't really think it's that big of a deal."
For others, the joke cut deeper, with many arguing the painting should be removed. Among those who opposed the painting was Flagstaff resident Luna Südekum-Thompson.
"Cornish Pasty's decision to feature a painting of a naked woman with pasties covering her nipples on the window of their business purports the commodification of the female body – specifically a sexualized, hairless, thin, white body – as a means of advertising and encouraging profit," said Südekum-Thompson in a written response to the Daily Sun.
Hays, however, said the painting was not intended as a marketing tool.
"For me, it was for fun. It's not so much 'look at this woman, come buy a pasty,' or 'look at this woman, here's our beer special.' I just thought it would be a funny joke," he said.
Though the joke was meant to be harmless, many took offense to its portrayal of women, some asserting it was pornography and that Cornish Pasty was perpetuating a culture of rape and mistreatment of women.
"Viewing this window painting as harmless, as separate from the realities of people's lives, means rejecting the fact that the images we consume and the contexts we use them connect deeply to systems of power operating within our society," said Südekum-Thompson. "The consistent sexualization and objectification of women within the media we consume purports and parallels rape culture, commodity culture and the marginalization of women."
For Kari Watson, owner of The Garden Thrift, which is also participating in the competition, she feels the conversation is complex.
 "I think there are just so many aspects. I mean, parents with teenage sons, they have to walk past that. I have a teenage son, too, so I understand, but they do have a right," Watson said. "It's not what I would have done, but it's kind of genius. There were no rules. They were allowed to do it, and everyone has a right to freedom of speech."
THE ARTIST'S VIEWS
While many voiced their opinions or concerns on the Facebook thread, one voice was absent from the discussion: the artist's, Kathy Darby. For Darby, the female form has always been artistic.
"I just think it's something that will never go out of style as far as being beautiful," she said.
When Cornish Pasty approached Darby about painting something for the window decorating contest, she was upfront about what she wanted to draw.
"I said, 'well, I draw naked women, so that's what I'm going to paint,' and they said it was OK. It was supposed to be a joke, and that's kind of the main thing I want to put out there. The fact that it was taken to this level, I think it's absurd," Darby said.
Darby, who took inspiration from the painted woman on the Sweet Nothings Lingerie and I Do I Do Wedding Boutique's sign, said she understands the arguments about modesty in a family restaurant, "but what people are saying about rape culture and all that, it's just people are arguing to argue."
The Flagstaff Downtown Business Alliance did not comment specifically regarding Cornish Pasty's window decoration, but executive director Terry Madeksza expressed the goal of the window decorating competition is to bring a spotlight to all of the businesses involved.
"At the DBA we don't offer directions; the business chooses. [The competition has] a total of 22 businesses, so we're trying to generate positive exposure for everybody involved."
Less than a week after posting the image of the painting, Cornish Pasty has responded to the criticisms and has since changed the painting to include definitions of both types of pasties, more Christmas presents and larger pasties to cover up the woman's figure, and a rendition of Danish metal musician King Diamond. The new image, Darby said, is a way to make everyone feel comfortable and safe in Cornish Pasty while attempting to keep the humor and edginess of the original.   
"I feel bad that I offended any families or anyone that would want to walk around downtown in peace without seeing that kind of stuff," Darby said. "The fact that an image that I've drawn can provoke so much emotion throughout town is baffling, but I have to stick up for what I paint and what I draw because it is my art and no one else's."