Sedona volunteers bring smartphone mapping, art-inspired graffiti removal to red rocks district
The graffiti is everywhere once you start looking for it, said Jerry Checchia as he hiked the well-worn path to Bell Rock just south of Sedona last week.
Checchia carried a bottle of water and an abrasive sponge and every minute or two knelt down and started scrubbing where someone had decided to carve their own mark on the sandstone. At the first place, someone had scratched out a circle with a few shapes inside. Initials and hashtags were etched onto rocks nearby. Farther up the trail someone had carved a big heart with "I (heart) you L+D" inside. Initials or happy birthday messages are other common sightings, Checchia said.
A 55-year-old retired UPS driver and Sedona resident, Checchia is one of nearly 500 members of Friends of the Forest Sedona, a volunteer organization that works in partnership with the Forest Service's Red Rock Ranger District.
The group works on nearly every aspect of the forest, from manning the visitor center to helping with trailwork to removing graffiti painted and etched into rocks and other objects around the district.
This year, the group logged a record 35,465 volunteer hours and was honored on a national level for putting in more service hours than any other volunteer group in the Forest Service.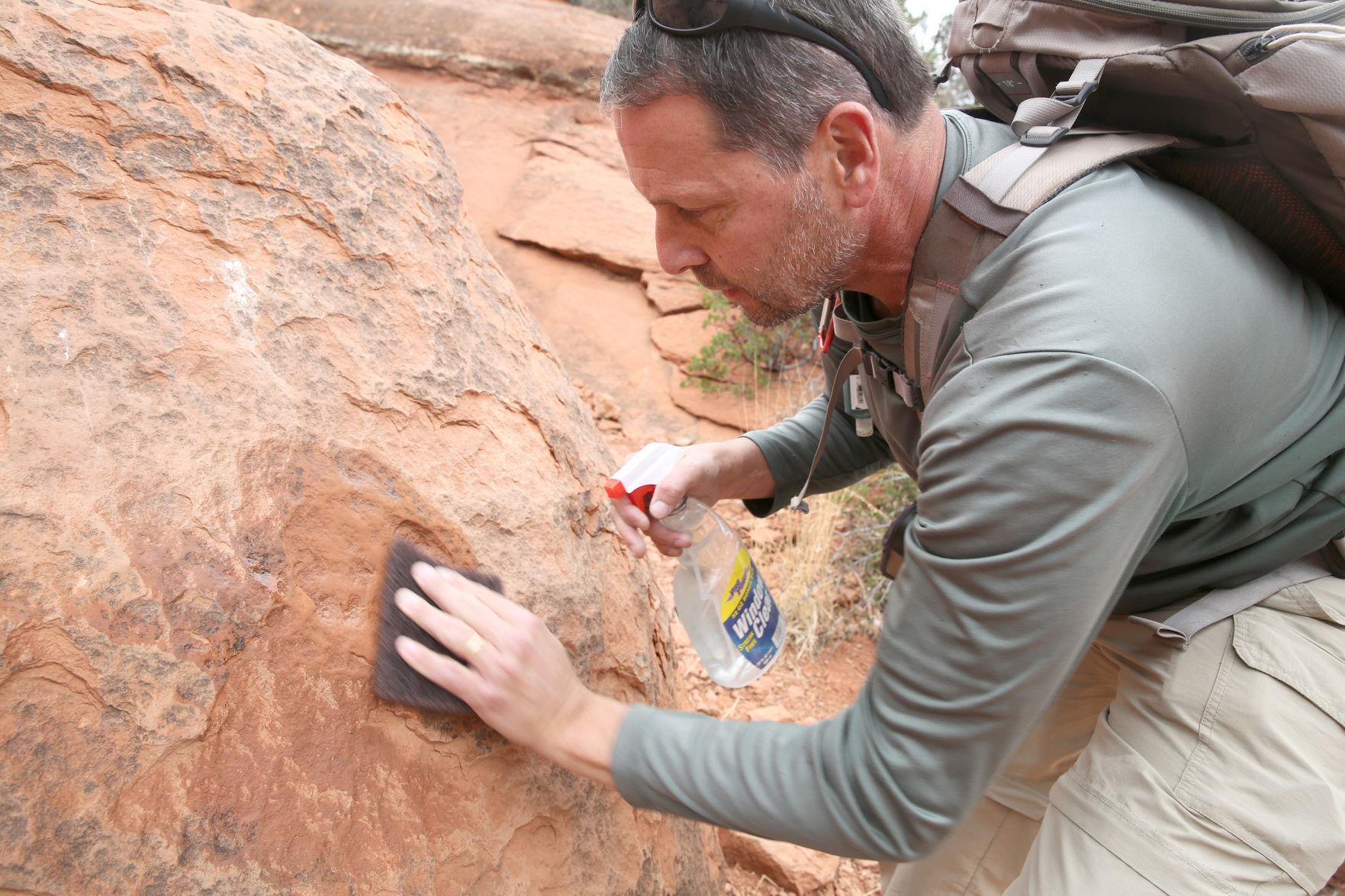 The group is crucial in helping the agency meet and adapt to the challenges posed by the 3 million visitors who come through the Red Rock Ranger District each year, said Nicole Branton, the district ranger. The 160,000-acre district includes not only the red rock formations around Sedona, but also the heavily visited Oak Creek Canyon, a stretch of the Verde River and part of the popular Fossil Creek area.
"With everything we do, the Friends are there to help," Branton said. "It's no exaggeration at all to say the experience people have when they visit the Red Rock Ranger District, they couldn't have that experience without the Friends of the Forest."
EXPANDING MISSION, BRINGING INNOVATION
When it was founded in 1994, Friends of the Forest Sedona focused mostly on trails and trailhead enhancement. Now, the group's volunteers are involved in nine field work areas, six administrative groups and various other special projects, according to Manny Romero, president of the nonprofit group.
This year those projects included building a fence to protect a species of rare daisy on the district, monitoring peregrines and collecting native seeds.
The group is also bringing new innovations to aid in managing and improving the local landscape.
Among them is a new way to cover up rock graffiti developed by Friends member Nori Thorne. Trying to erase markings people carve into the soft sandstone has long posed a problem because scrubbing it off leaves a whitish mark that stands out on the rock, Thorne said. The mark is especially evident on rocks with a thin black or reddish mineral coating called patina or desert varnish.
Thorne is an artist and started experimenting with a way to cover up the markings, rather than just rub them away. After studying the pigments used by ancient Sinagua people in their pictographs in the Verde Valley, Thorne developed a method of using iron and manganese oxides mixed with egg yolk to create a type of tempera paint that mimics the rock colors and can be dabbed over the markings.
Volunteers have used the paints on rock graffiti and then returned two years later to find that it appears to be holding up well to water and light, Thorne said.
Another member of the friends group developed a smartphone app people can use to highlight places on the district that need work, such as a place where erosion or a fallen tree are affecting a trail or a sign that needs fixing.
The app allows the user to take photos and immediately record the GPS location of the problem spot, then sends that information to the appropriate Forest Service contact.
Another technological innovation developed by Friends volunteers combines photographs of archaeological sites on the district into a 3-D image that a user can turn around and examine from different angles. Those images help document the sites in case they are damaged in the future and could be put online in the future for people to view from afar, Branton said.
With all of the Forest Service's other responsibilities, from restoring forests to taking care of watersheds, the agency's own staff simply do not have the capacity to do projects like that on their own, Branton said.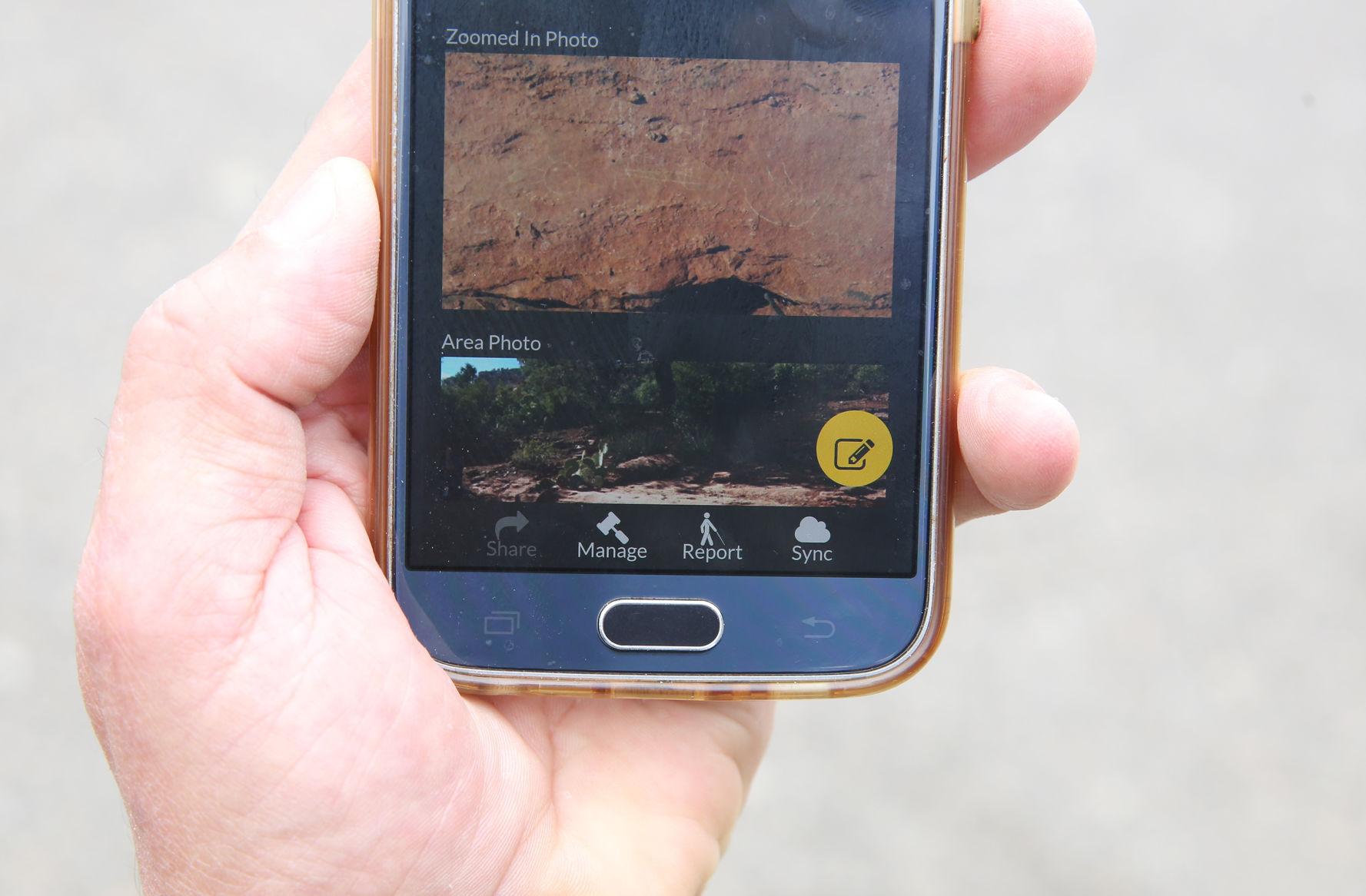 Also helpful to the district is the expertise that Friends members bring to their work, Branton said. One man, for example, is a lichen expert who volunteered to survey and document lichen species on the district, which was much appreciated but far outside the agency's own capacity, she said.
LOVE OF THE LAND
In 2017, members of Friends of the Forest Sedona contributed almost a third of the 125,000 volunteer hours logged on the Coconino National Forest. Group members cited a number of factors that make Sedona's group so engaged.
For many, the landscape attracted them to the area and now they want to preserve and protect it, Romero said.
"The reason people move to Sedona in the first place is in large measure because of the environment," Romero said. "The people who move here want to do something. They love the outdoors here."
The large retiree population helps as well.
"A lot of retired people live out here and they're out on the trails so a lot of them volunteer," Checchia said.
Checchia said he volunteers on the forest about four days per week. The work is fun, gets him outdoors and allows him to meet new people, he said.
"We get to live in this beautiful place, I feel like I'm giving back," he said.
Over its more than two decades in existence, Branton said the friends group has never shied away from jumping into a new project or responsibility.
"Even if we were focused on 10 things right now, if an 11th things emerges the Friends will be there to help with it and step up to whatever new, emerging challenge there is on forest," she said.