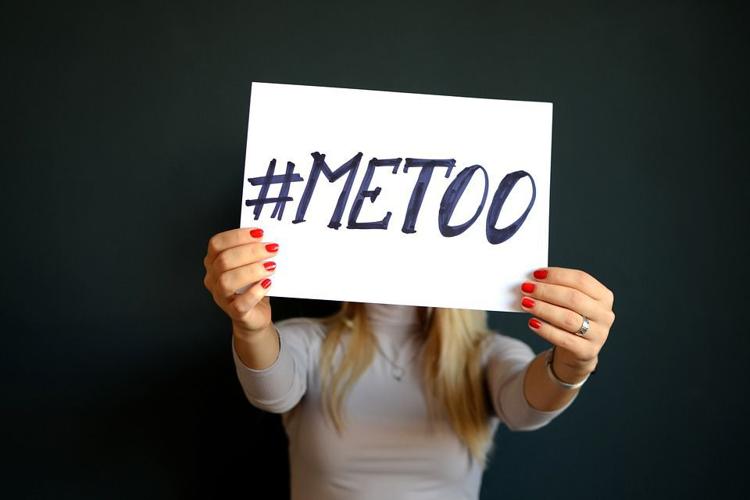 With the #MeToo movement growing nationwide, the Daily Sun asked readers about their own experiences with sexual harassment in Flagstaff. Their names have been changed or withheld upon request.
Here are a few of their stories.
LYNN
"Me, too. Over and over and over again."
That's how Lynn started off her Facebook post joining the #MeToo movement. Having worked in the service industry for 15 years, "sexual harassment is considered just part of the culture," Lynn said.
In her former job working at a restaurant in town, Lynn would regularly get patrons commenting on her body.
"It's like they had no filter or something," she said.
Over her four years working at the restaurant, Lynn also dealt with nearly constant harassment from the head chef, who texted her incessantly.
"It was like, 'I like you, you look good in those jeans, you're so beautiful,' and it got to the point where the person was saying, 'can't we just have sex, just one time,'" Lynn said.
She never reciprocated his advances.
"I could never figure out why this person wouldn't stop, even though I had said, 'you need to stop. This is uncomfortable, this isn't professional, you're married you have children I'm not interested in you,'" she said.
He also treated her differently than others at the restaurant, offering to cook her food, for example.
She said she hopes that the #MeToo posts will help raise awareness.
"It doesn't have to be a huge movement, it can just be a conversation that people are all of the sudden more comfortable to have in the workplace, saying this is happening and now that it's out there we can talk about it," Lynn said.
ELIZABETH
An experience with a more senior male colleague was one of the triggers for Elizabeth to post a #MeToo message on her Facebook page last month. When the experience happened, Elizabeth was 23 years old and working in sales. She and the colleague went out to lunch and ordered drinks. The man had gone through at least two margaritas when, out of nowhere, he asked her how old she was when she lost her virginity.
"I made some snarky comment like 'in high school like most normal people' or something and tried to change the subject," Elizabeth said.
But then the man, who Elizabeth estimated is in his 60s, went on to ask her how many sexual partners she had had since then and told her about his and his wife's sexual history.
Uncomfortable and not sure of what to say next, Elizabeth excused herself and went to the restroom.
When she got back, the man didn't bring up the subject again.
It took her three or four months to report the incident to her bosses.
She said she kept quiet about the experience for so long because she thought maybe she should excuse the man's behavior as bar talk — like locker room talk — or give him the benefit of the doubt because of how much he had been drinking.
"I remember thinking that if I were a guy he probably would have had that conversation and it probably wouldn't have been a big deal," Elizabeth said.
ANGELA
During past jobs as a bartender and server in Flagstaff, Angela said she experienced sexual harassment on a daily basis from both coworkers and customers.
"My boundaries got blurred a lot between what was OK and what was not OK," Angela said.
It also happened with her bosses.
One day, it was the boss who commented on her bra, telling her he could see it through her shirt and it was sexy.
Another time it was a different boss who came up to her, telling her if he wasn't married he would grab her ass right then.
"Because he's in a position of power it's difficult for me to lay down my boundaries because it could affect my scheduling. If I piss him off it would be a problem," Angela said.
Most of the time in those situations, she said she smiled and laughed or said "thank you." She was often too afraid to confront the commenter.
What she went through at work in the service industry wasn't her only experience with harassment — Angela still goes to therapy weekly for sexual assault she experienced in college and high school.
She has also been grabbed from behind repeatedly at music events in town and had one man suddenly and randomly threaten to rape her as she picked up trash after an event outside of town.
Angela said she didn't make her own #MeToo post because it felt too personal, but she appreciated others doing so.
"It helps me not to feel alone," she said. "The MeToo hashtag in my opinion was to call attention to women in solidarity."
SARAH
For Sarah, her experience with what she calls "low grade" sexual harassment made her compare it to an East Coast driver becoming desensitized to road kill.
Sometimes she has to recalibrate, Sarah said.
"It's like, no, they're saying really profane things," she said.
Sarah said she gets approached at least two or three times a week, usually by people saying something inappropriate.
She recalled walking with her friend when a man they didn't know asked her friend, "Wow, are those real?" referring to her chest. When they tried to ignore him, the man went further asking, "Is that a** real too?"
"I know that's not the same as being groped, but it kind of feels just as (bad)," Sarah said.
She knows from experience.
Last summer, when she was walking home from downtown, Sarah noticed a man walking across the street from her. As she neared her apartment, the man started running down the street away from her. Unbeknownst to her, he turned and looped behind her apartment. When she got near her door, the man approached her from the other direction and, sweaty and nervous, grabbed her breast and rear, then ran away.
It wasn't something like a bear hug, "it was like, groped," Sarah said.
She posted about the incident on Facebook and reported it to police, but the case was a dead end. She said she wanted to say something about her experience because she has stuffed so many others away, desensitizing herself to that type of harassment, she said.
Sarah posted her own #MeToo message and said the movement "makes it feel like somebody has your back."
HANNAH
Hannah's experience with sexual harassment in Flagstaff includes what she says are "the normal catcalling, following, whistling." In one instance it was 6:30 a.m. on a workday and Hannah was walking downtown. As she passed by two men, they began calling her "princess" and asking to touch her hair and her dress.
Another time, Hannah said she was whistled at out of a car window. When she didn't respond or acknowledge it, the man called her a vulgarity.
Hannah said she never confronted any of the men that spoke to her inappropriately.
"Usually I ignore them and walk faster," she said. "I try to kind of not give myself any more attention."
She wrote her own #MeToo post and had many of her friends do the same.
"It felt very powerful to know there were multiple friends feeling or experiencing these same things," Hannah said. "A lot of them had never admitted to something happening before so (the #MeToo posts) gave women an opportunity to speak up for maybe the first time publicly about abuse or assault or harassment."
FIVE COWORKERS SPEAK OUT
For five women who worked at the same business, hearing other women speak out about sexual harassment brought back memories of years working at the business and being subjected to inappropriate comments and unwelcome touches from the owner.
One woman, who did not want to give her name, said she was working with a client when the owner of the business walked by and patted her on the rear, and the client saw the incident. The woman said when she told the owner she did not like being touched there, he said she was just asking for special treatment.
When asked by the Daily Sun about the incident, the owner said the business is small and any touches were accidental.
The woman said when workers would quit, the owner would joke and make fun of the women for their sex lives, and would make sexual jokes in front of clients.
A second woman said she also experienced "a** slaps" while at work, and said the owner's words about women were "degrading and inappropriate" and said he would comment about workers and clients, and would say things like "nice boobs."
A third woman said the owner once cornered her and yelled at her at work, and then when he went to apologize, tried to kiss her on the lips, which she said he did to everyone.
That woman, who also did not want to be named, said when she told him she did not want to eat candy because it would make her "butt get bigger" the owner made a comment about improving sexual acts.
The first woman, who worked there about 10 years ago, said she hired an assistant who was in high school at the time. When the assistant, who also did not wish to be identified by name, was going to move away for college, the owner suggested she get a job in a topless bar, she said.
When asked by the Daily Sun about the suggestion, the owner said his brother owns the bar and the assistant was looking for a new job, so he suggested that she get a job there.
A fifth woman, who also did not want to be identified, said once, when she was working with her sister as a client, the owner approached her and said "nice rack." The owner proceeded to "grab my left boob," the woman said. The woman said she did not think the owner knew her sister was in the room and saw the entire interaction.
When the woman wanted to quit her job, she said the owner called her a "tramp" and threw her out that day.
"It is scary when you're young and trying to build a clientele," she said. "And that's a busy (workplace), you can build a clientele really quickly, and I think he knows that and takes advantage of it."