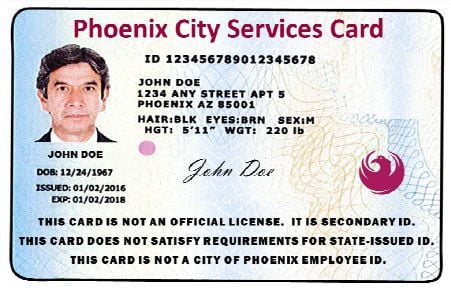 The Flagstaff City Council wants to see what it would take to implement city-issued identification cards that could be used for things like accessing municipal services, renting library books, opening a bank account and dealing with police.
The ID cards wouldn't take the place of state and federal identification verification like a driver's license or passport. Instead, it would be a secondary form of identification available to city residents, including those who may have trouble getting a state-issued driver's license due to barriers like immigration status, incarceration history or homelessness.
On Tuesday night, City Manager Josh Copley presented council with a version of a simple municipal ID card that city staff could create and implement "in a fairly short period of time." It would have a person's name, address and photo and would allow the holder to open accounts for city water, trash and sewer services, prove residency at parks and recreation facilities and get a library card.
Applicants would be required to provide only minimal identifying information for that type of card, and its uses would be limited to city services, Copley said.
But several members of council said they want to go further with a municipal identification card, making it something that displays more information and could be used for a broader range of purposes.
They referenced the identification card that the city of Phoenix is working to roll out. Approved by city council last year, the card will help users access city services, report crimes, open a bank account and visit their children's schools, according to supporters.
Cards were supposed to be issued Feb.1, but the process has been on hold recently to address concerns about data storage of cardholder information and use of the card as a form of identification in interactions with city police, Phoenix city spokesman Nick Valenzuela wrote in an email.
Councilmember Eva Putzova said she would like to see a Flagstaff ID card that could be useful for city services but also acceptable for interactions with city police.
"I want people to feel encouraged and safe to report a crime, not feeling like if they do that they will get into contact with police and with that interaction will get to the (heads of) ICE," said Putzova, referring to the federal Immigration and Customs Enforcement Agency.
Copley clarified that people who are victims of crimes, witness a crime or file a complaint against an officer are asked to provide identification but are not required to do so. But several councilmembers said people feel compelled to provide identification in that type of situation, which could deter some from reporting a crime or speaking to police if they lack an official ID.
Mayor Coral Evans indicated she would like to see an ID card that could be used to open a bank account. One local bank told her they would consider an ID card similar to the one being proposed by Phoenix as an acceptable form of identification to open an account.
Copley said an ID card like Phoenix's would take longer to implement and would require more vetting. He said he will present a budget for making the ID cards, an outline for how an application process would work and options for acceptable forms of validating information at a future meeting.
Two members of the public who spoke during Tuesday's council meeting encouraged the city to create an ID that would have an expanded range of uses.
"I'm wondering if we can't look a little further in terms of how the card can be used," Sarah Wilce said. Wilce said she was hoping for a municipal ID that would help people whose circumstances prevent them from getting other identification so they could complete tasks like cashing a check, renting an apartment, registering their children for school and reporting crimes or filing complaints when they need to.
In New York City, for example, municipal ID cards are a recognized form of identification for interacting with the New York Police Department. San Francisco's ID cards work as public library cards and serve as a form of identification to open a checking account at participating banks.
Copley said that putting more information on an ID card and collecting that information from applicants does come with challenges. Those include a greater risk of identity theft and a concern that more of people's personal information, including that of undocumented immigrants, could be requested or subpoenaed by federal agencies, said Caleb Blaschke, assistant to the city manager.
Anything more than a name, address and photo on such a card "just ups that standard and creates more challenges for being able to get the card issued," Copley said.
He said some municipalities have chosen to partner with a nonprofit in their ID card programs so that entity issues the card and wouldn't be required to respond to a federal request for cardholder information.
Copley also noted past attempts by state legislators to pass bills that would prohibit municipalities and counties from starting ID card programs unless their screening standards are as stringent as those for state driver's licenses. Those bills were voted down in last year's legislative session.
Two councilmembers expressed reservations about the ID card program.
Scott Overton pointed to the challenges that have confronted Phoenix, as well as the legislative proposals to block local ID programs, and said he wasn't sure he wants to spend staff time and energy on a program that isn't going to get through state legislative roadblocks. With time constraints already facing staff, Overton said he isn't sure this program rises to "that level of demand at this time."
Charlie Odegaard also brought up the liability that the city would take on with an ID card program.
"If we go down a path of making this ID card more meaningful than municipal services, we're going to have to take ownership of this," Odegaard said. "It's going to be, I believe, a very costly ownership."